Now I don't think vision boarding it's a magicall tool but I do think it's helpful to keep you motivated on what matters most for you. And we could all use some motivation right now. Are you interested in creating a new vision board? I'm offering a guide on how to create a vision board for 2020 + free workbook to help you create a vision that's fully authentic to YOU. I also included some pretty printables at the end of the workbook! i know we typically create our vision boards at the new year but I've been sitting with the idea of how about instead we do this in the Spring. Spring time carried new blooming and new possiblilities. Plus we are pretty aware by the time spring comes around what kind of year we are actually going to need. This post is all about create a vision board for 2020 + FREE Workbook for YOU!
How To Create A Vision Board For 2020 + FREE Workbook!
First things first, you need to truly understand the meaning and purpose behind a vision board. If you think you can just cut and paste down pictures of things that you want in life, and you will magically receive them because they're on the board, you've got it all wrong.
The vision board is not magic on it's own, but with the correct mindset, and ambition, the results can sure seem that way.
Make sure to read all the way to the end where I explain a little more about mindset!
What is a vision board?
A vision board is a collection of images or words that uses conscious intention to inspire more of what you want into your life. Vision boards can focus on something specific, like career, love life, or the upcoming year. Or, you can make a board that encompasses your general life intentions. There are hundreds of ways you can make a vision board.
You can even make a vision board on pinterest. That's one of my favorite ways to use pinterest! Check mine out for more inspiration on life and things.
Here's want you do. 01. set the tone. 02. get clear and set intentions. 03. gather images to support this vision. 04. put it all together. 05. use it to day dream. And that's it!
Then sit back and wait for the magic to happen! Seriously they work, here's how.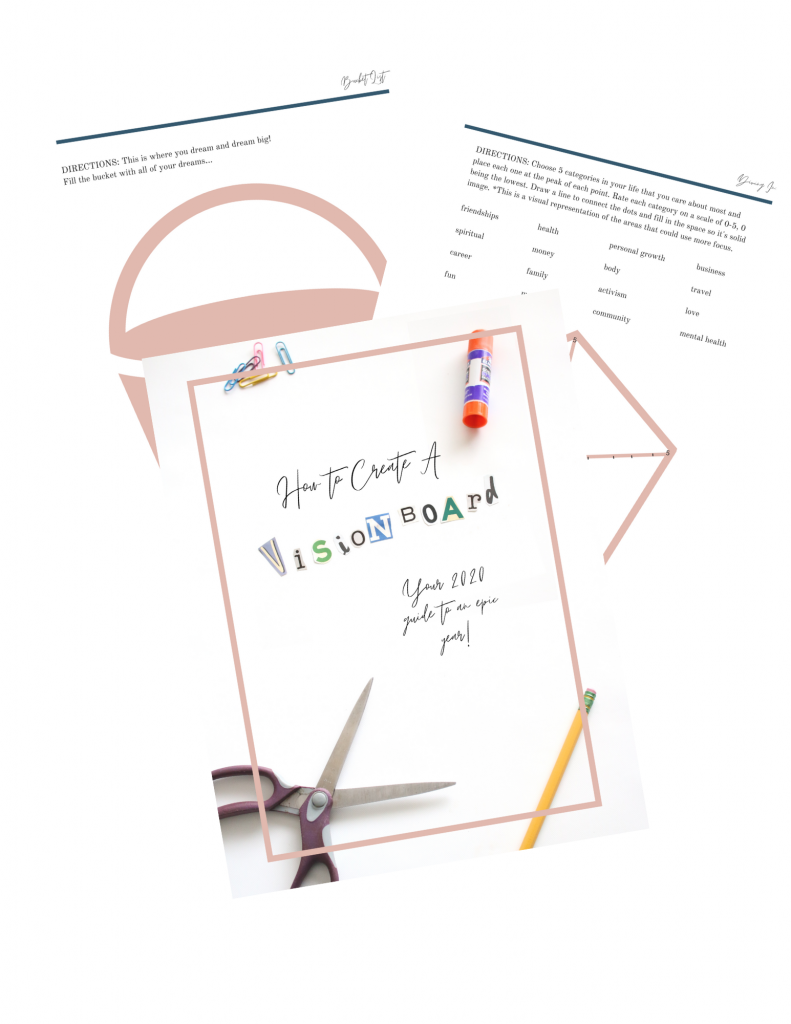 HOW TO MAKE YOUR VISION BOARD WORK FOR YOU
The ultimate goal here is to create such a clear vision of your life/ year or whatever it's center focus is, that with enough emotion, anytime something derails you from your mission, your vision board will immediately align you right back to where you need to be.
Let's get started creating your 2020 vision board!
01. SET THE MOOD
It's really important to create the right space for you to cultivate a positive mindset before putting your vision board together. And when I say right space I don't just mean physical space, I'm also talking about emotional space within yourself.
Light some candles, diffuse some essential oils, play uplifting or calming music, have snacks/drink, do whatever it is that make you feel good, relaxed, motivated, and inspired. Look at this as a self-care practice, because it is!
03. SETTING YOUR INTENTIONS + FREE DOWNLOAD!
This is my favorite part of the whole process, it's like being a kid again and getting to play pretend. This is where all the dreaming happens and it's different for each person. Each of us are working on different things in our lives, at different times, so it's kinda hard to make a one size fits all intention.
But what I often like to tell people is to think of the best version of themselves, who is that person, what are they doing, what characteristics does that person have?
Think of each area of life that matter to you.
Maybe in this season of life it's your relationship, family, and finaces or for someone else it's health, spirituality, and career. It's really so different for each person and really has to be authentic to you.
That's why I designed a 2020 Vision Board Guide! To help guide you through the the steps to creating a vision board that inspires and excites you!
[wd_hustle id="VisionBoard" type="embedded"/]
This workbook has worksheets and journal prompts for getting clear and setting intentions + free printables that you can can actually use on your own vision board!
Download the free Vision Board Workbook for exercise to help you get started!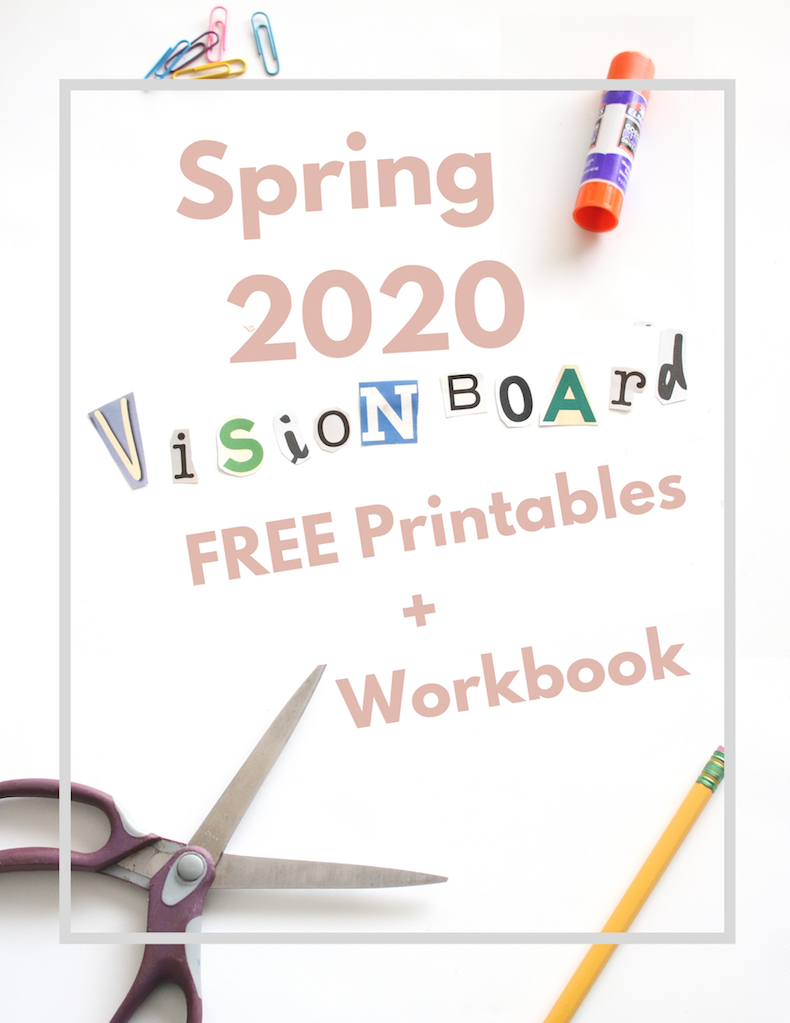 02. GATHER INSPIRATION & MATERIALS
This is the part you've been waiting for right? And it doesn't have to be anything fancy. Use the workbook I included in this post as a guide when intentionally searching for your images. Here is what I suggest…. Use Pinterest as a place to pull inspiration, check out mine if you like.
Ask around for material so you don't have to buy somthing if you only intend on buying it once. Also depending on the type of vision board you will need to get a few things. Here are a few below.
glue
scissors
tape
magazines
printable quotes/words (I included some in the workbook)
canvas/ poster board/ paper
paint/markers/pencil (optional)
oh and my workbook! :)
Once you've found everything it's time to let the creative juices flow.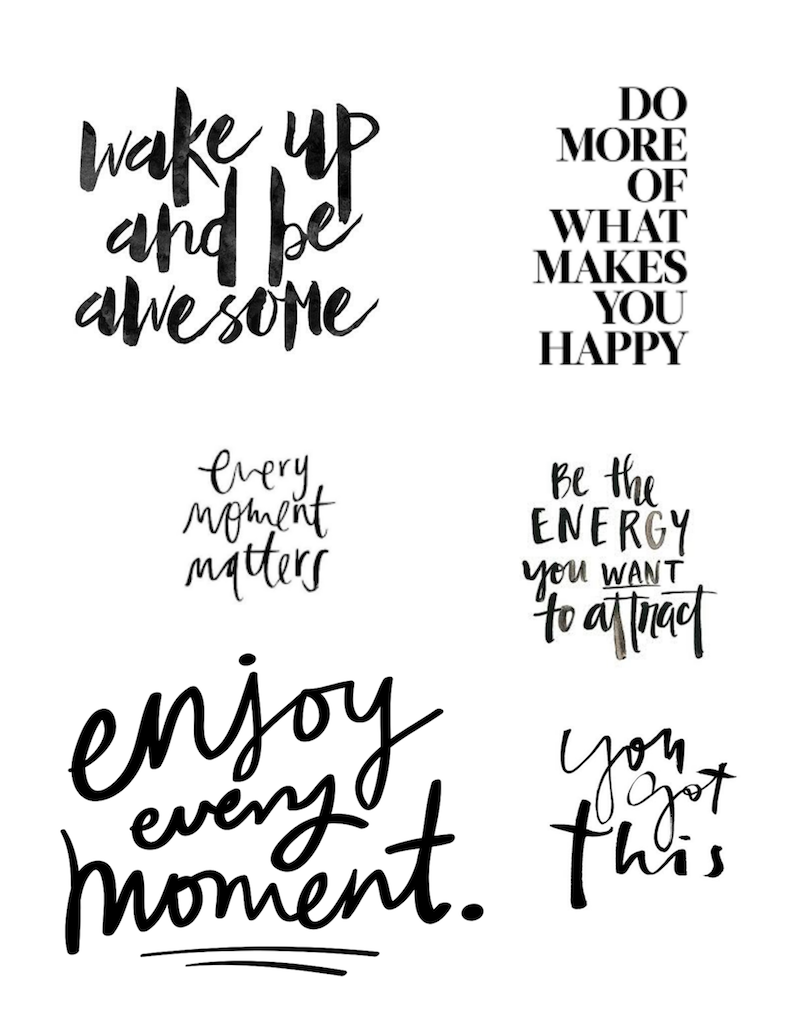 04. PUT IT ALL TOGETHER!
The next step is to think about the areas of your life you want to improve or grow in as you start pulling photos and pictures together to make a collage of sustainable goals for yourself. Reflect on the steps you need to take in order to reach those goals.
There is more about this in the workbook.
Then it's time to really let your creative run free, layering images, adding colors, words, whatever comes to mind that make this exciting and fun. This is my favorite part next to the day dreaming that has to happen.
05. Hanging your Vision Board! It matters where you put it.
Hanging your vision board somewhere in your closet isn't going to be too helpful. Put it up somewhere where you will see it often. If your vision is on an actual board, hang it in your bedroom, office, or any other room where you spend a lot of time in. If it's a virtual board post those pictures on your coverboards or as a wallpaper to your computer screen.
I like to use a whole wall for my vision board. Making it BIG and noticable, makes it easier to remind myself of what I'm working towards, adding to it throught the year as things change and evolve.
When I'm feeling discouraged, stuck, unclear, or disconnected, I pull from it, especially when things feel hard, like right now!
Are You Ready to Create Your Own!?
Yesss girl! You are ready. Make sure to set a date with yourself. And if you want extra support, use the Vision Board Workshop Guide, its free! The worksheets include reflection questions, and exercises to help you identify areas of growth, and recognize your accomplishments of the past year. Plus there are pages of printable quotes and photos at the end of the workbook!
Now it's time to cut and paste your images on your vision board whichever way looks right for you! Just make sure you make it something that you'll be excited to see every day. Something that truly represents YOU.
Let's Chat!
What are your thoughts on vision boarding? Is it a tool you use to get inspired or are you just wanting ways to get creative and gather with your girl gang. Comment below — or tag @livesimplynatural. I'd love to see what's on your vision board <3
Hugs,