My goal is for Live Simply Natural to be a resource to help you feel empowered when making food choices. I'm a big believer that eating a well-balanced diet is the best way to maintain good health. So I'm breaking down everything you need to know to unlock the nutritional powerhouse of the most common whole food ingredients. Today I'm sharing one of my fall and winter time favorites – POMEGRANATES!
Produce Guide: Pomegranates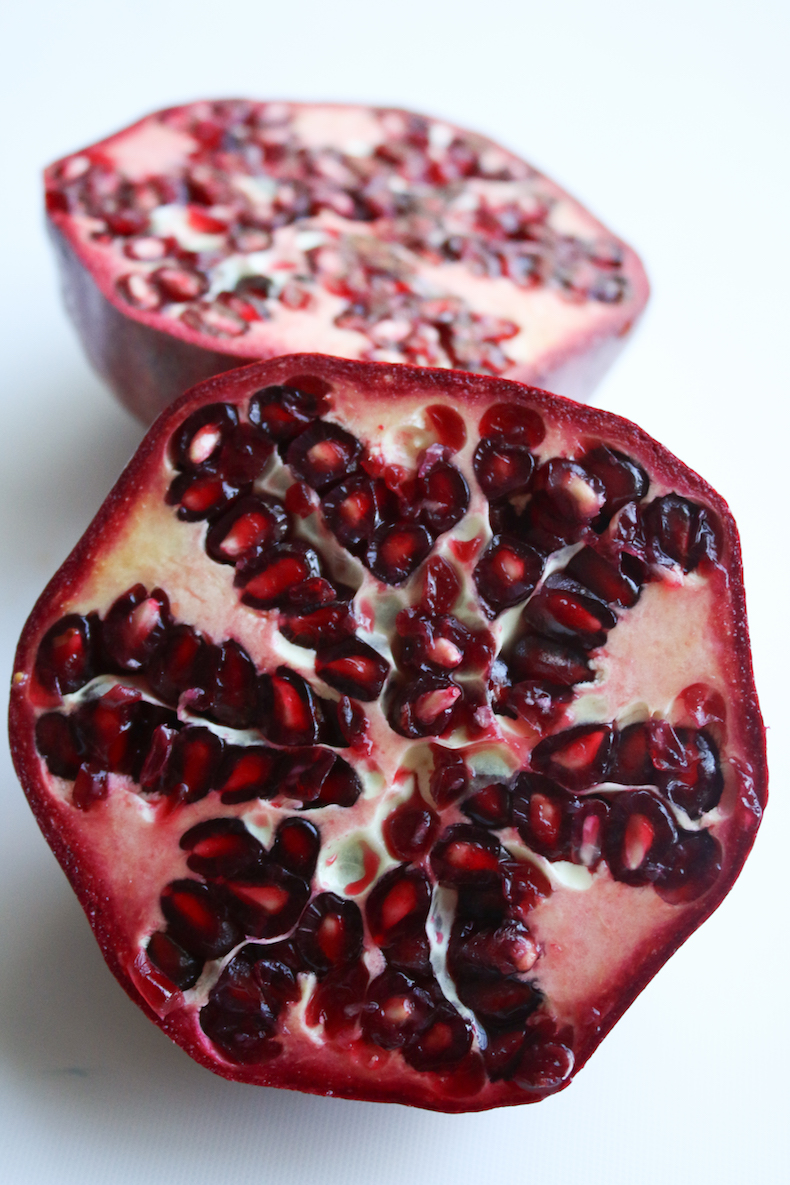 The ruby red pomegranate has been cultivated since ancient times. Categorized as a berry, the pomegranate fruit is red, and round and looks kind of like a red apple with a flower-shaped stem. The arils are what people eat — either raw or processed into pomegranate juice.
Typically the pomegranates we get in the United States come from California and are in season from the end of September through November. Luckily, they store well and are often available through December and even into January some years. Each fruit holds up to 600 of those juicy, jewel-like seeds. The seeds are sweet, tart, and a great addition to salads and other dishes. Although they are known for their laborious removal from the inedible rind, it's worth the effort for the seeds' distinctive flavor and rich color. They have long added a hit of fruitiness to classic Middle Eastern dishes, but work well in all types of recipes, including salads, desserts, and cocktails.
HEALTH BENEFITS

Pomegranates are a rich source of antioxidants and contain higher levels of antioxidants than most fruit juices. It also has three times more antioxidants than red wine and green tea. Low in saturated fat and cholesterol, pomegranates are an excellent source of vitamin C and vitamin K. They also provide high amounts of copper, potassium, folate, manganese, thiamin, pantothenic acid (vitamin B5), and pyridoxine, with ample amounts of antioxidant polyphenols thrown in. Pomegranates have healthy amounts of fiber to help keep your system regulated, while at the same time boosting immunity, improving circulation, and offering cancer protection.

NUTRIENT BREAKDOWN OF CELERY

*per 1 cup of raw pomegranates, 100g (source)

Fiber | 4 g (16% DV)
Protein | 1.8 g (3% DV)
Carbohydrates | 18.7 g (6% DV)
Vitamin C | 10.2 mg (17% DV)
Vitamin K | 16.4 mcg (21% DV)
Folate | 38 mg (10% DV)
Magnesium | 12 mg (3% DV)
Copper | .2 mg (8% DV)
Mangaenes | 1 mg (6% DV)
Potassium | 226 g (7 % DV)
Calcium | 10 mg (1 % DV) 
Iron | .3 mg (2% DV)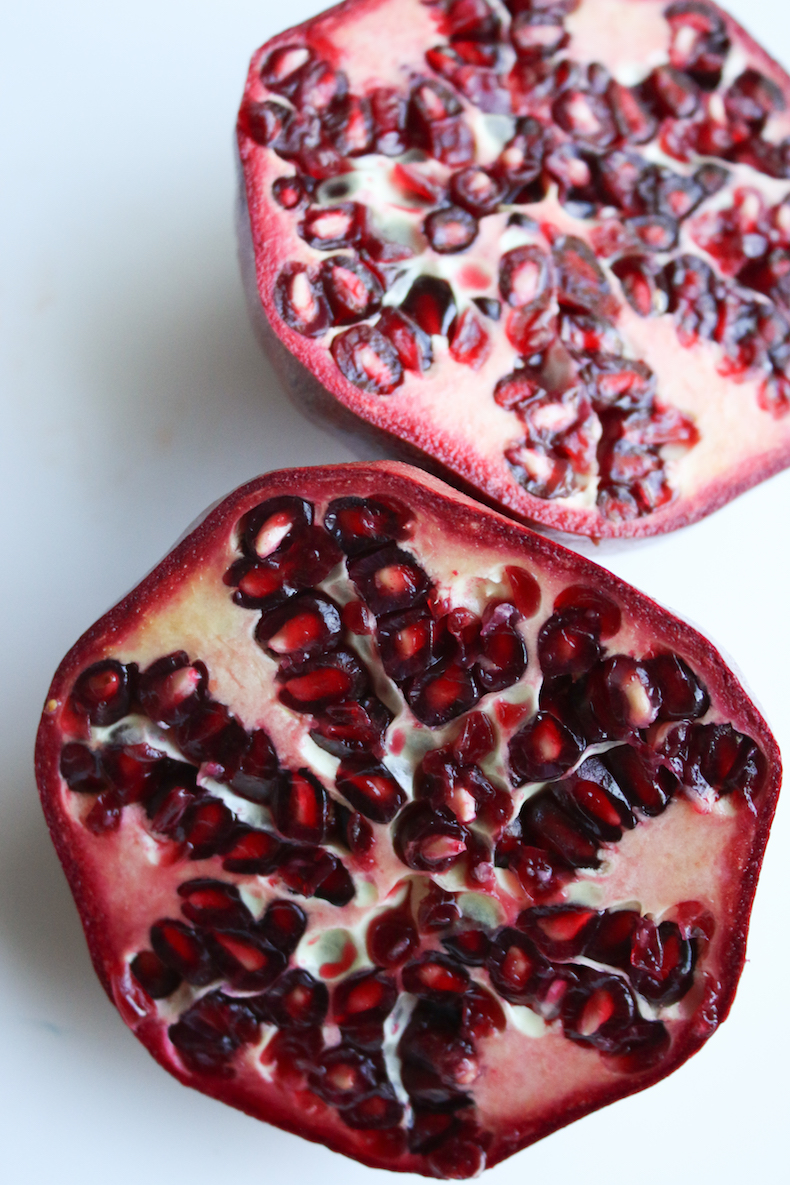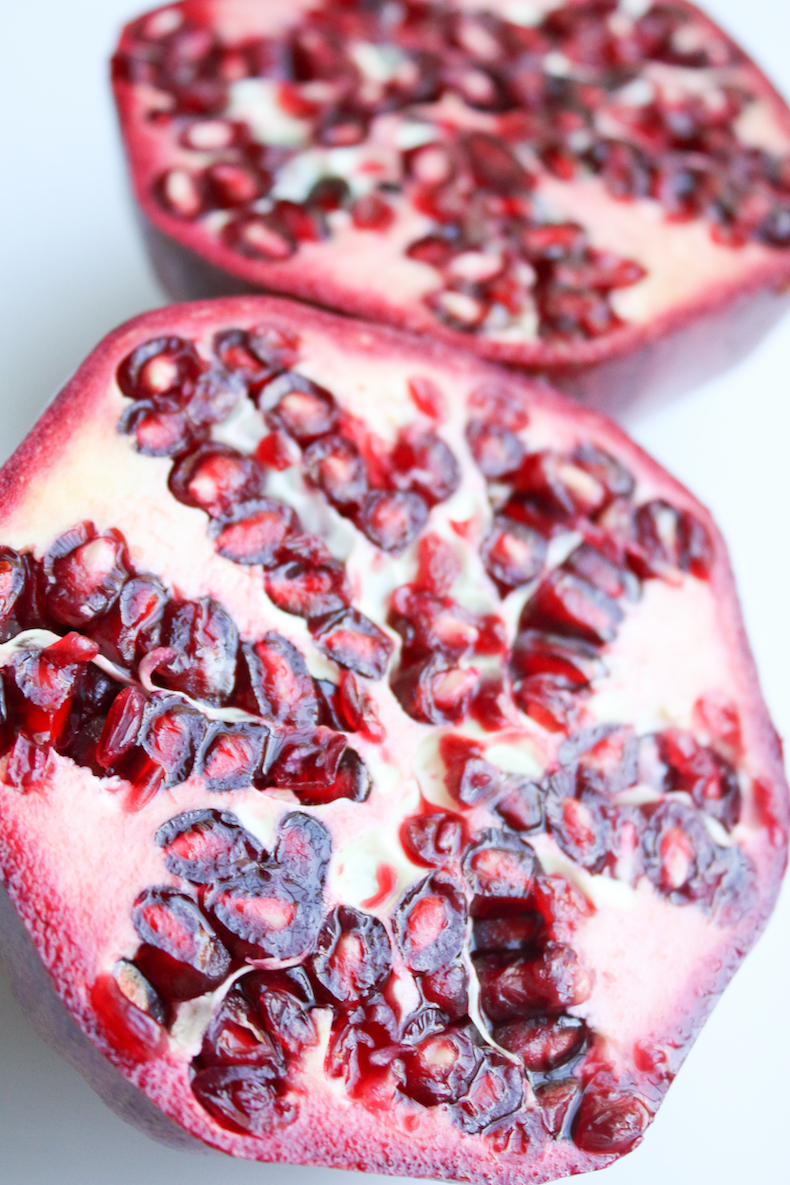 HOW TO BUY

When shopping for pomegranates you should always look for the same things: Select fruits that are large and feel heavy for their size. While you don't want cuts or soft spots, pomegranates that have naturally occurring splits are fine!

Pomegranates do not ripen after they're picked and bruise relatively easily when ripe. This means you are much more likely to find ripe, fresh pomegranates at your local farmer's market. Co-ops are also a great spot as they usually get deliveries directly from farmers.

HOW TO STORE

If you don't have immediate plans for your pomegranates, store them on your countertop at room temperature for up to a week or two. If stored in the fridge, wrapped loosely in plastic and keep for up to a few weeks.

The pomegranates seeds can be kept in an air-tight container in the fridge for up to a week, and frozen for up to a year. Note: Defrosted arils are a bit mushy so I would only recommend using them in cooked recipes, smoothies, and/ or ice creams.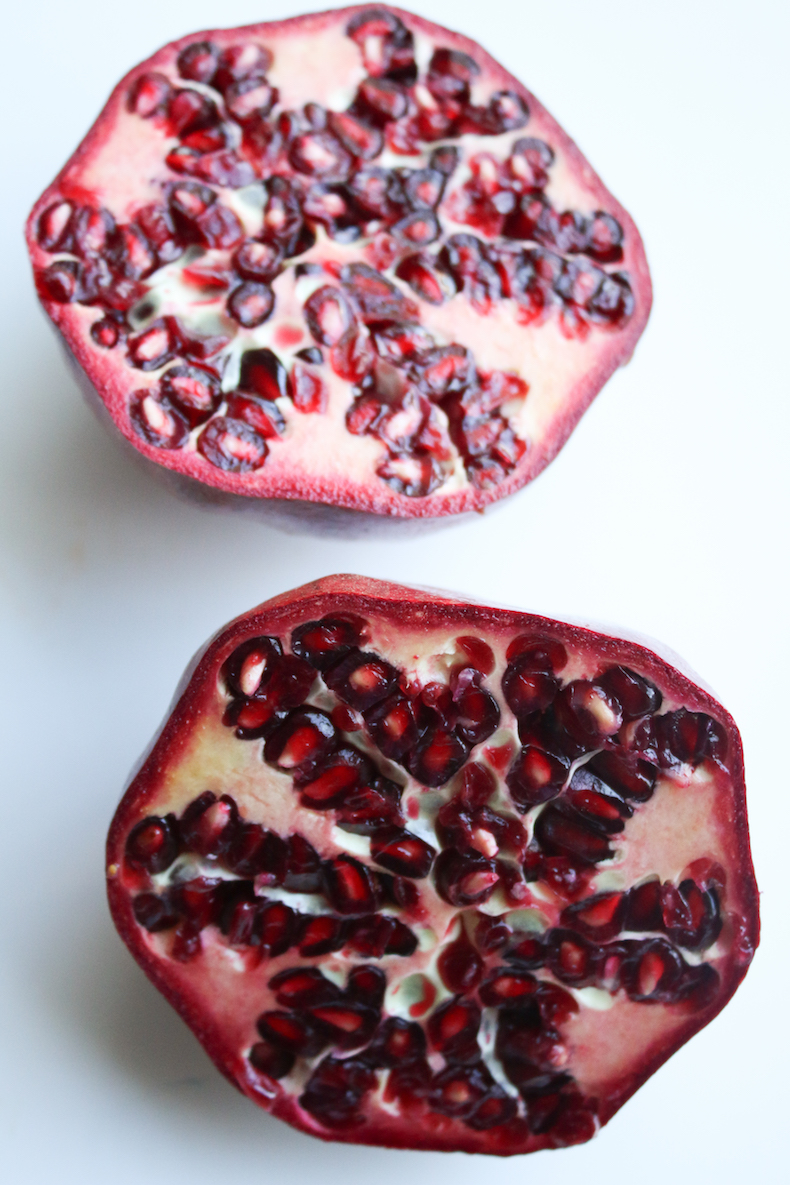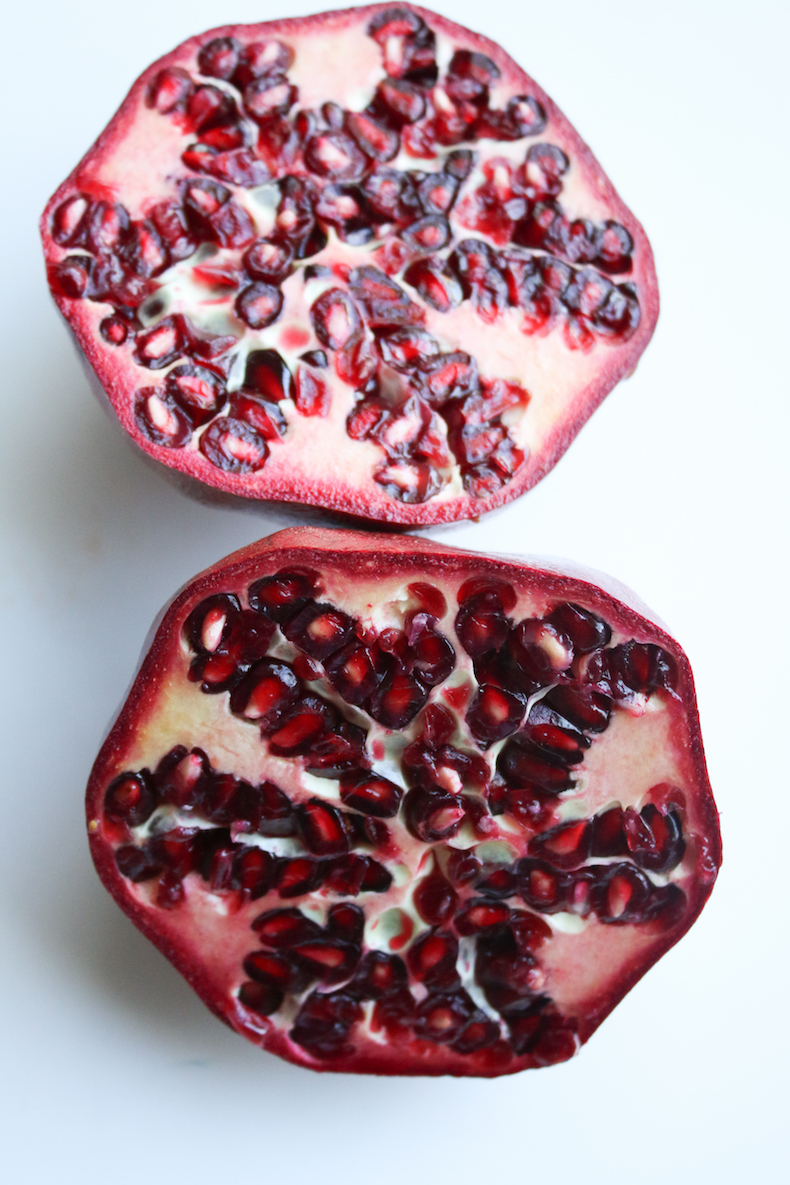 HOW TO PREPARE

To de-seed a pomegranate cut the fruit into quarters and drop them into a large bowl of water. Working under the water, pull apart the skin and nudge the seeds out. The skin will float to the top. Skim out the skin and pith and drain the clean pomegranate seeds in a colander.

Each pomegranate yields about 3/4 to 1 cup of arils or 1/2 juice.

The seeds are delicious all on their own, sprinkled into drinks, added to salads, or used to make jellies and other treats.

POMEGRANATE RECIPES

Looking for more recipes that include pomegranates? Check out our favorites here!
WHAT'S YOUR FAV?
What ingredient do you guys want to learn more about? And if you have a favorite way to eat pomegranates, tag @livesimplynatural or #livesimplynatural so the LSN community can get inspired by your dish too :)
Hugs,