These vegan chickpea meatballs with coconut red pepper sauce are so freakin' good. The savory vegan meatballs are cooked in a creamy coconut red pepper sauce inspired by a fellow blogger. This recipe is easy to make, gorgeous to look at, and even more delicious to eat! I made this for a client of mine and she absolutely loved it and I know you will too.
Chickpea Meatballs | Easy Vegetarian Meatless Recipe
Being part Italian, meatballs were something I use to make for my family growing up and pasta was always the way we enjoyed them, meatballs just went with some form of pasta. But this recipe isn't just for pasta, if you take the pasta out of the equation, a world of possibilities opens up!
Sandwiches. Rice. It doesn't have to only be the marinara sauce, heck, you don't even a sauce!
These chickpea meatballs can be eaten all on their own, or with any form of sauce. And, I mean, if you want to serve this over pasta and marinara I'm not going to stop you. You know that's how this woman ate it.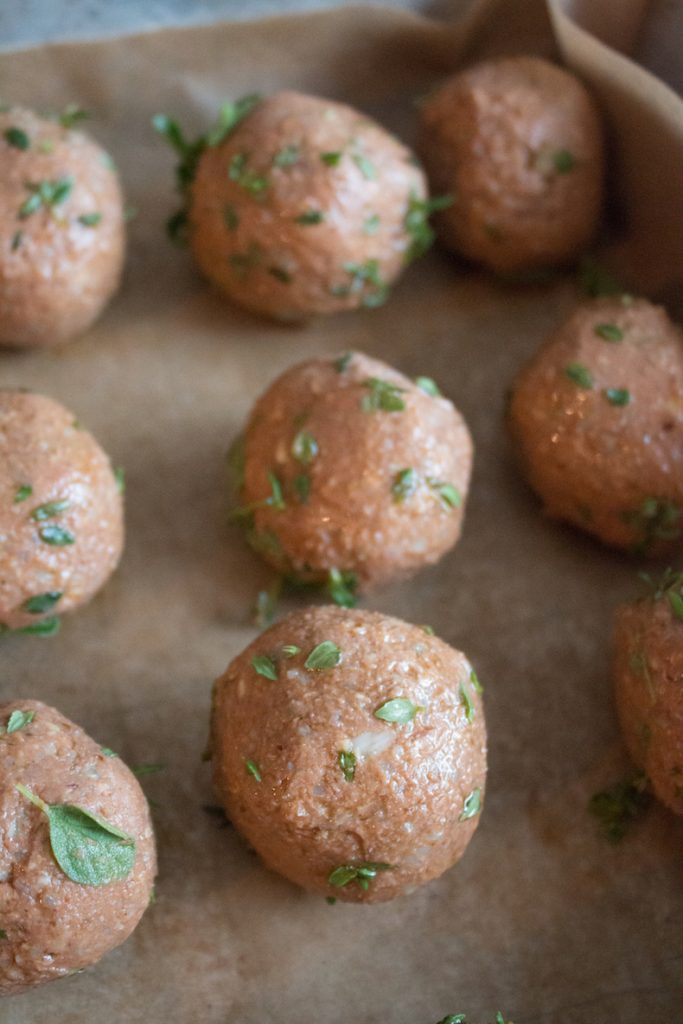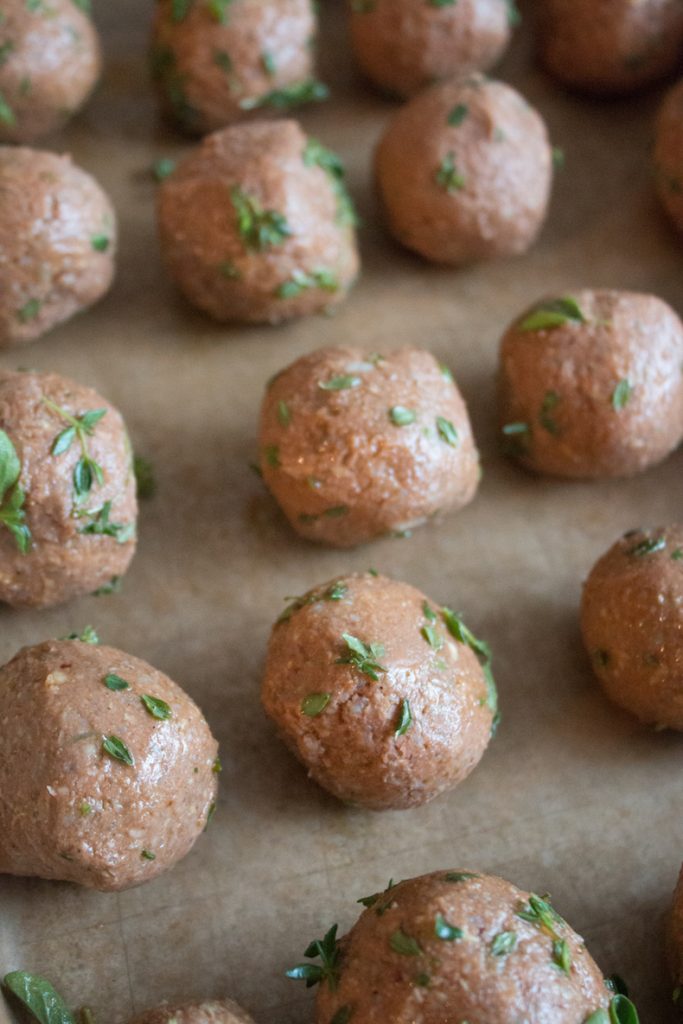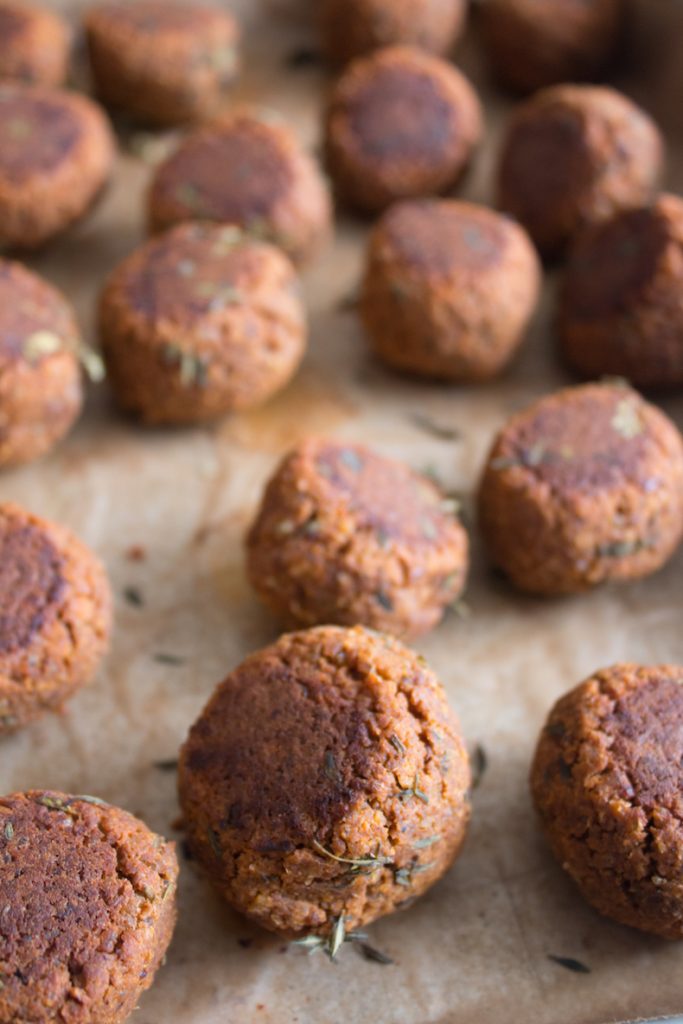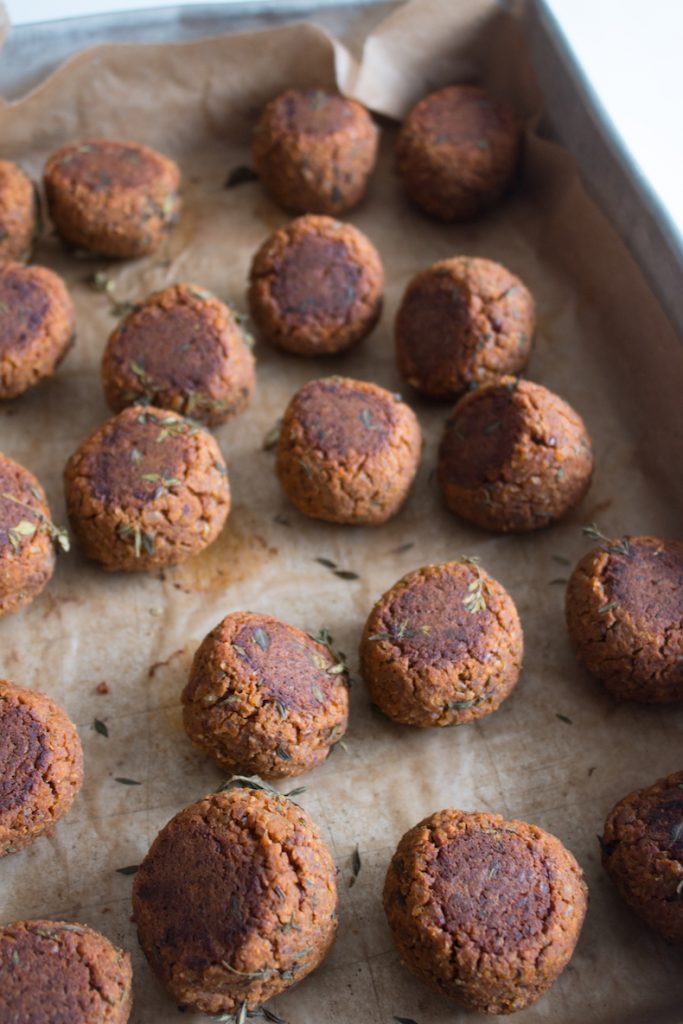 THE CHICKPEA MEATBALLS:
These chickpea meatballs are a personal favorite. I used my Chickpea "Meatballs" with Vegetable Marinara recipe and made a few tweaks to the recipe for today's vegan meatballs. It's even better than the last and even simpler to make.
The bulk of this recipe is made from leftover grain, my personal favorite is quinoa, as it gives everything a nice texture. But you can totally use whichever grain feels good to you. I've used different ones over the years and they all work.
The Roasted Red Pepper Sauce
Typically our puppy @brownie_meets_world will happily eat any peppers, wrinkled or not but instead, I got this spark of inspiration to make something with them. After roasting the peppers my first thoughts were to make a bowl of creamy red pepper soup. You can't go wrong with that, am I right?!
After looking for some inspiration online I landed on this roasted red pepper sauce which was inspired by The Curious Chickpea, she has an amazing recipe and when I saw this sauce I knew I needed to try it. I made a few adjustments for my clients and it comes out amazing.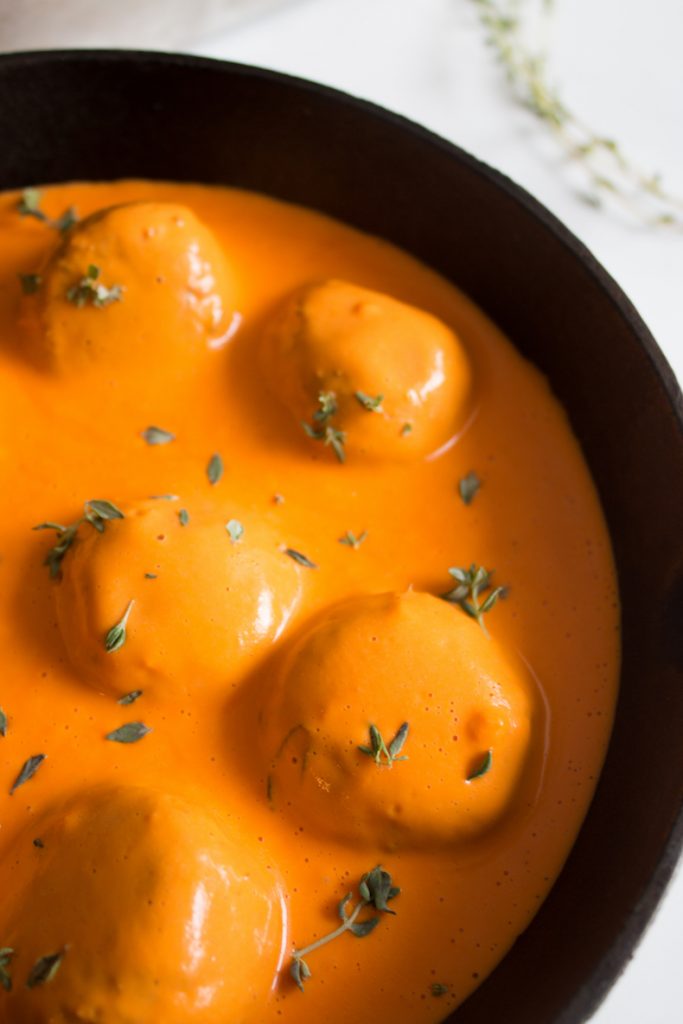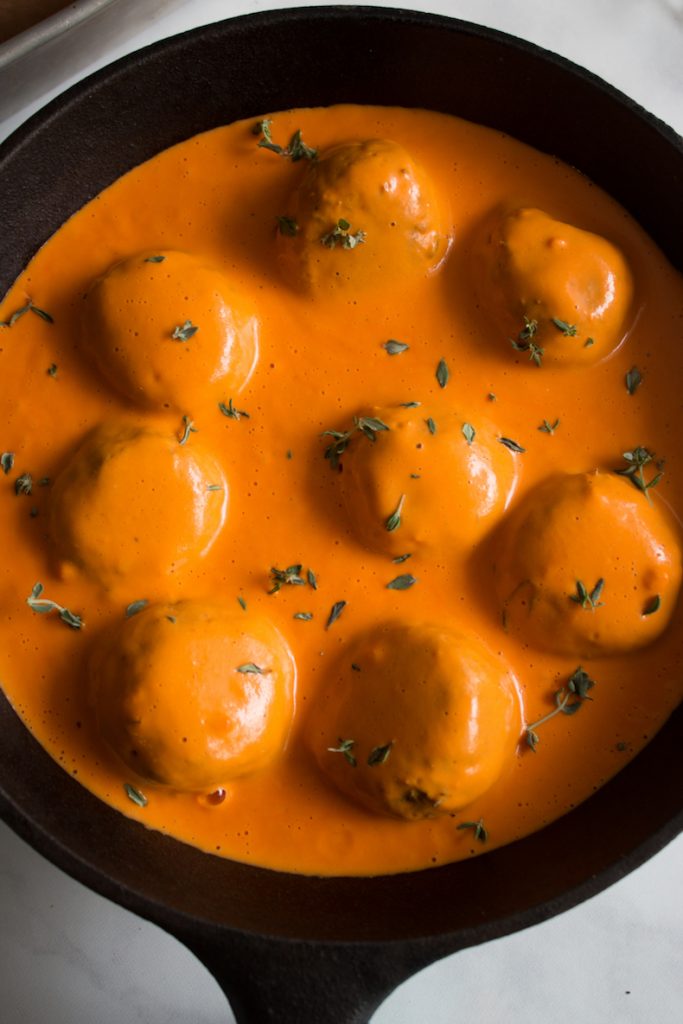 Products I used in this recipe…
Disclaimer: This post includes affiliate links. Please note that I've linked to these products purely because I recommend them and they are from companies I trust. Using this link creates no additional cost to you.
---
Print
Chickpea meatballs | Easy vegetarian meatless recipe
These vegan chickpea meatballs with coconut red pepper sauce is so simple to make. They are cooked in the oven and made with a creamy coconut red pepper sauce inspired my a fellow blogger. 
Author:
Prep Time:

15

Cook Time:

30

Total Time:

45 minutes

Yield:

4

1

x
Category:

Vegan, Gluten-free

Cuisine:

Italian
CHICKPEA MEATBALLS (MAKES 12 MEATBALLS)
1 cup

rice or any other grain

1/2 cup

walnuts or any other nut

1/4 cup

rolled oats

3

cloves garlic, peeled

1

15oz can chickpeas, drained and rinsed (

1.5 cups

)

1/2 cup

nutritional yeast

2 tbsp

olive oil

2 tsp

salt
freshly ground black pepper
fresh herbs
ROASTED RED PEPPER SAUCE
2

roasted red peppers (~

1 1/2 cups

or 1

8oz

jar)

15oz

can coconut milk

1/2 cup

cashews

2

–

3

cloves garlic, peeled

2 tbsp

olive oil

1 tsp

salt
lots of freshly ground black pepper
pinch of crushed red pepper
fresh herbs to garnish
Instructions
CHICKPEA MEATBALLS (MAKES 12 MEATBALLS)
In a food processor add the chickpeas, cooked grain, rolled oats, nuts, and garlic, pulsing until finely ground. Then add nutritional yeast, olive oil, herbs, salt, and black pepper. Process until ground into a thick mixture that holds can be pressed into a meatball that hold its shape.
Preheat the oven to 375 ºF, and shape the mixture into balls using a 2″ cookie scoop. Press the mixture together as you roll them to help them hold together.
Grease a baking tray and the meatballs on the tray spraying or drizzle with oil. Bake for 15 minutes, flipping them and baking for another 10-15 minutes. Let cool slightly before using. Store in the fridge for 4-5 days.
ROASTED RED PEPPER SAUCE
To roast your wn red pepper, preheat the oven to 450 degrees F. Place the oven rack on the top position about 4 inches under the broiler.
Cut the peppers in half and remove the stems, seeds and inside membranes. place the peppers of a baking sheet. Roast the red peppers for 15-20 minutes or until the skins are very dark and have collapsed. Once the skins are blackened remove the peppers from the oven. After cooled you can peal the skin. I don't alwasy to this and for this recipe it isn't really needed.
In a blender combine all of the ingredients for the roasted red pepper sauce. Blending until smooth and creamy. Heat the sauce over medium heat and bring to a simmer. Add the chickpea meatballs or keep them on the side. Serve with pasta, bread, or all on its own. Garnish with fresh herbs, black pepper, and some vegan parmesan.
Keywords: ENTREE, BEANS, BELL PEPPER, BROWN RICE, CHICKPEAS, COCONUT MILK, GLUTEN FREE, ITALIAN,
---
You might also like:
Let's chat!
I hope you give this recipe a try and if you do, rate it, take a picture and tag me on Instagram @LiveSimplyNatural or pin it for later on Pinterest. I love seeing what you all are doing to stay cool this summer. Stay tuned for more simple plant-powered recipes!
Hugs,