My goal with Live Simply Natural is that it is a resource to help you feel empowered when making nourishing lifestyle choices. I'm a big believer that eating a well-balanced diet is a great way to feel good from the inside out. So I'm breaking down everything you need to know to unlock the nutritional powerhouse of the most common whole food ingredients. Today I'm sharing one of my spring and summertime favorites – STRAWBERRIES!
Produce Guide: Strawberries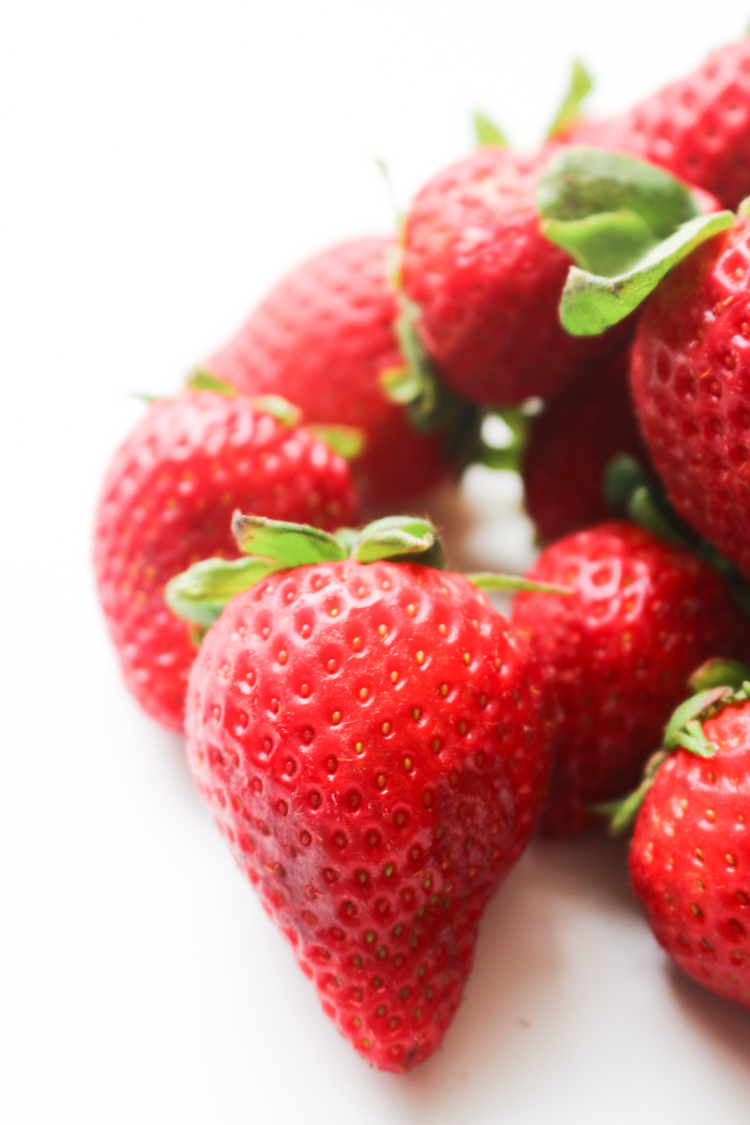 Strawberries are one of the first fruits after rhubarb to ripen in the spring season and generally will last throughout early summer. Since strawberries are grown in almost every state, you shouldn't have trouble finding them at your local farmer's markets. You can find different varieties of strawberries at your local market, varying in shape, color, and taste, the smaller the berry, the greater the intensity of flavor. Larger berries tend to have more water and are slightly diluted in flavor. If you are a huge strawberry fan, I recommend buying strawberries during peak season (April to June) and freezing them to enjoy throughout the year. That way you know your getting a tasty strawberry that has been grown at peek perfection.
HEALTH BENEFITS

Strawberries are typically known for their anti-inflammatory and antioxidant properties. They contain high amounts of vitamin C which enhances your body's ability to absorb iron and folate from plant-based foods. Strawberries also contain anti-aging flavonoid antioxidants called anthocyanin and catechin. These have been associated with lowering the risk for chronic diseases including cancer and cardiovascular disease. A known infection fighter, strawberries are also packed with manganese, folate, and potassium. They have a variety of benefits but are more known to promote eye health, neurological health, protection against skin damage, lower levels of inflammation, and even decreased arthritis pain, due to their ability to fight free radical damage. They are high in fiber and low in calories, fats, and sugar. Minerals like copper for the healthy development of red blood cells are in abundance, as are fluoride, iron, and iodine.

NUTRIENT BREAKDOWN OF STRAWBERRIES

*per 1 cup of raw strawberries (source)

Fiber | 3 g (12% DV)
Protein | 1 g (2% DV)
Carbohydrates | 11.7 g (4% DV)
Vitamin C | 89.4 mg (149% DV)
Vitamin K | 3.3 mg (4% DV)
Folate | 36.5 mg (9% DV)
Magnesium | 19.8 mg (5% DV)
Potassium | 233 g (7 % DV)
Calcium | 24.3 mg (2 % DV) 
Iron | 0.6 mg (3% DV)
Phosphorus | 36.5 mg (4% DV)

HOW TO BUY

When shopping for strawberries, you should always look for the same things: Look for firm, plump, mold-free berries that have a shiny, deep red color and intact green stems. Steer clear of berries that are dull in color with green or yellow patches—once picked, strawberries do not continue to ripen and this is a sign of underripe berries. As I stated above small berries tend to be juicier and more flavorful than big berries, but this isn't always the case. Color is more important than size. If you can't buy local strawberries be sure to buy organic as the EWG (Environmental Working Group) released the newest Dirty Dozen list. And strawberries topped the list as the "dirtiest" produce.

HOW TO STORE

When properly stored, the shelf life of fresh strawberries past their picked or purchased date is approximately 5-7 days. They should be stored in the refrigerator right after purchase, preferably in a single layer on a paper towel in a moisture-proof container, this will help keep them fresh well beyond any other storage method. Do not wash or hull strawberries until you're ready to use them.

HOW TO PREPARE

To wash strawberries, place berries in a large colander and rinse gently with cool water. Lay strawberries in a single layer on a clean kitchen towel or layer of paper towels and pat dry. Unless you're eating strawberries out of hand, you will need to cut off the stem or hull them. Hulling a strawberry means removing the inedible green caps from the fruit. To do this, place the tip of your knife at the base of the cap, insert gently to remove only the soft white part at the base of the stem, and slowly turn the strawberry. Once you come full circle the top will pop right off without sacrificing too much flesh. Freezing your own strawberries is easy, just hull them, lay them in a single layer on a baking sheet, freeze them until they're solid, transfer them to a resealable plastic storage bag, and keep them frozen until you're ready to use them. Frozen strawberries will keep up to six months. Use them in smoothies, salads, and desserts! 
Strawberry Recipes
Looking for more ways to use your strawberries? Check out our favorite recipes here!
WHAT'S YOUR FAV?
What ingredient do you guys want to learn more about? And if you have a favorite way to eat strawberries, tag @livesimplynatural or #livesimplynatural so the LSN community can get inspired by your dish too :)
Hugs,