Happy New Year LSN Family!
I hope your holiday was filled with family, friends, and good food. I can't wait to see what 2016 has in store for you!
I know the holiday gives us more reason to overindulge ourselves in foods we probably shouldn't be eating. I for one have been baking way more than I usually do but I'm still making it a priority to eat as many fruits and veggies as possible. Whether it's in a juice, smoothie, and/or salad, focus on counting colors, not calories. Let's make 2016 our healthiest, happiest, and most colorful year to date!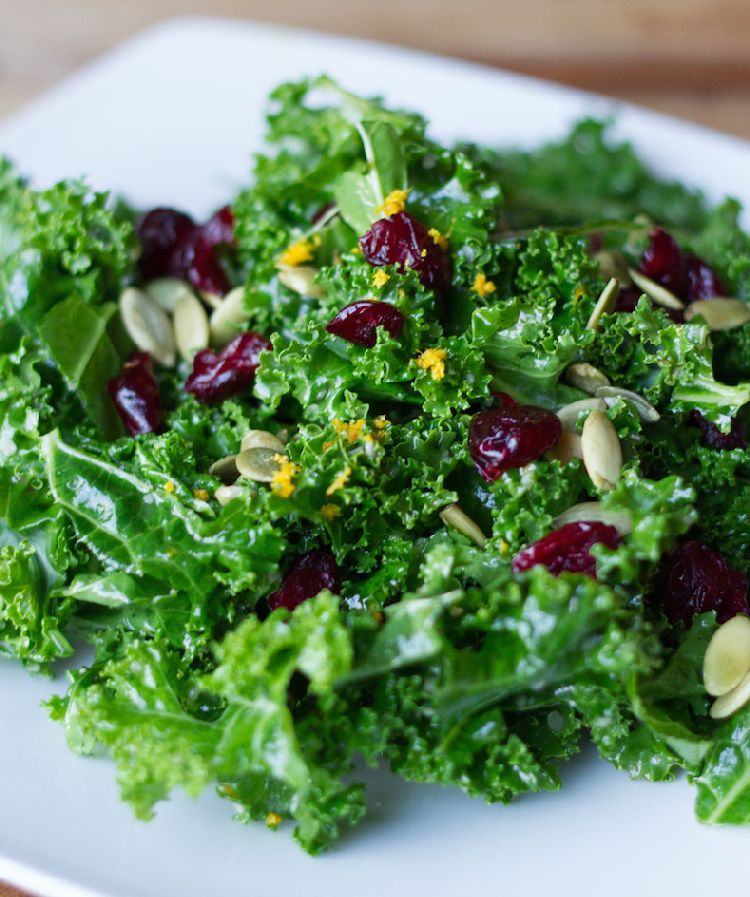 This Cranberry Zest Kale Salad recipe is both sweet and tangy, a combo I LOVE. My husband was actually a big inspiration for this recipe. On a night I was too tired to cook, he decided to whip up a salad with whatever he could find in the kitchen. His creativity with this salad was inspiring, producing a tasty salad that we both loved. After a few tweaks and modifications, we were able to perfect this simple & savory recipe for all of you to enjoy.
I hope you give this cranberry kale salad a try and if you do let us know what you think! Leave a comment, rate it, and don't forget to take a picture and tag me on Instagram @LiveSimplyNatural!
Cranberry Zest Kale Salad
1

bunch kale

1

orange

1/2

cranberries

1/2

pumpkin seeds

2 tbsp

hemp seeds

2 tbsp

olive oil

1 tbsp

maple syrup

1 tsp

orange zest
Pinch of Himalayan Sea Salt
Instructions
In a large bowl, shred kale into small bite size pieces. Squeeze juice from orange and toss with olive oil and a pinch of salt, massage kale with your fingers for 1 minute until tender.
Add in the cranberry, pumpkin seeds, hemps seeds, maple syrup and orange zest and toss to combine. Serve topped with orange zest if desired. Enjoy!
Let's feast on an amazing New Year, full of so many possibilities. May it be the best one yet, filled with love, laughter, and life's most precious moments. Many blessings to you all and like always, stay tuned <3
Hugs,

Health Benefits
Kale is rich in beta-carotene (vitamin A), a powerful antioxidant that helps boost the immune system and possibly protects against some chronic diseases and cancer. Kale is one of the few vegetables with a good amount of calcium and it's especially high in magnesium. Which promotes a healthy heart and long-lasting energy. Just one cup of kale contains 40% of the recommended daily allowance of calcium, which is very important for bone health and protecting against osteoporosis. It also contains 10% of the recommended amount of omega-3 fatty acids, which help fight against arthritis, asthma, and autoimmune diseases. It is also high in iron, which is essential for good health and the formation of hemoglobin and enzymes, which help transport oxygen to various parts of the body. Kale is great for detoxifying the body and supporting cell growth. The health benefits of kale are eminence, and incorporate it in your diet. Your body with thank you for it!