Easter weekend is around the corner and I was thinking of what I could make to celebrate that's both simple and sweet. Carrot pancakes just kept popping into my head. To be honest it's been a while since I had carrot pancakes. I am a BIG fan of carrot cake but since I cut out all the highly processed sugars and animal products, I haven't attempted a carrot cake recipe. However, I thought vegan carrot pancakes would be just as satisfying and much more simple to make.
Vegan Carrot Cream Cake Pancakes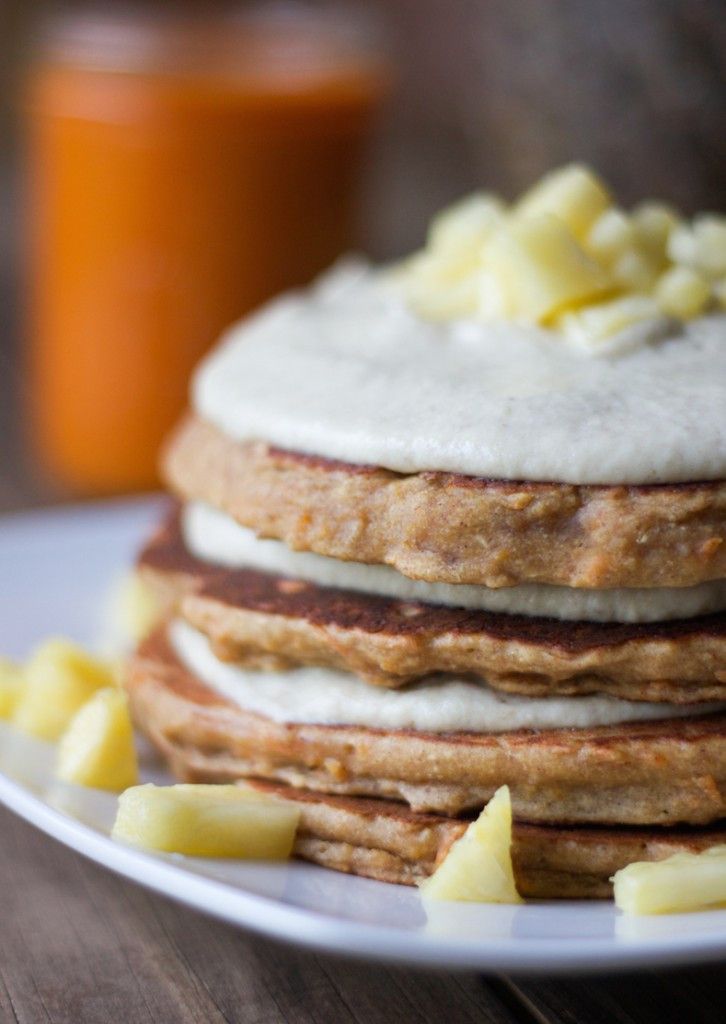 This recipe was inspired by my love of carrot cake and these pancakes are just that, a simple carrot cake recipe turned pancake. Since I can't really justify a slice of carrot cake for breakfast, I'll instead put those flavors into a stack of vegan carrot cream pancakes. I almost feel bad calling this breakfast but luckily, the ingredients are quite nourishing and good enough for me to eat.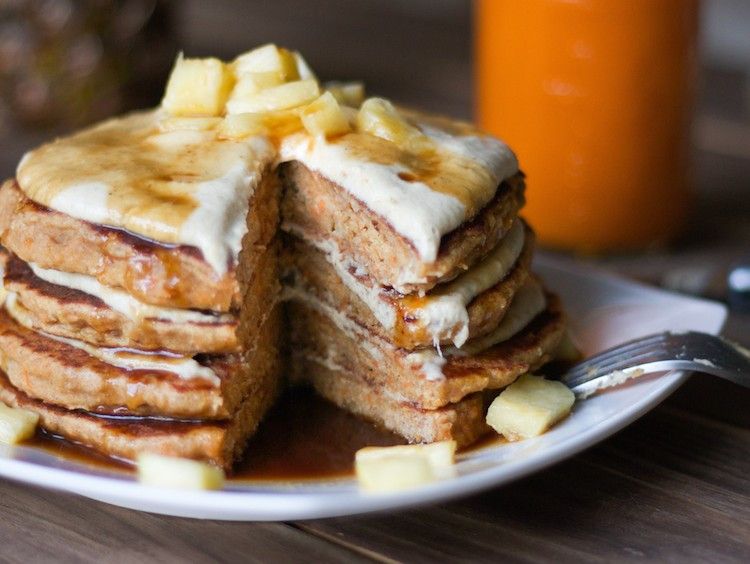 These carrot pancakes are light and fluffy. They require just 20 minutes to make and 10 ingredients. They're vegan, gluten-free, free of refined sugars, and of course guilt-free (my favorite). They are also loaded with fresh shredded carrots, shredded coconut, walnuts, and pineapple chunks. The cream filling is both sweet and tangy, almost like cream cheese frosting. It's so good you can eat these with or without maple syrup. They are perfect for special occasions or just another weekend brunch.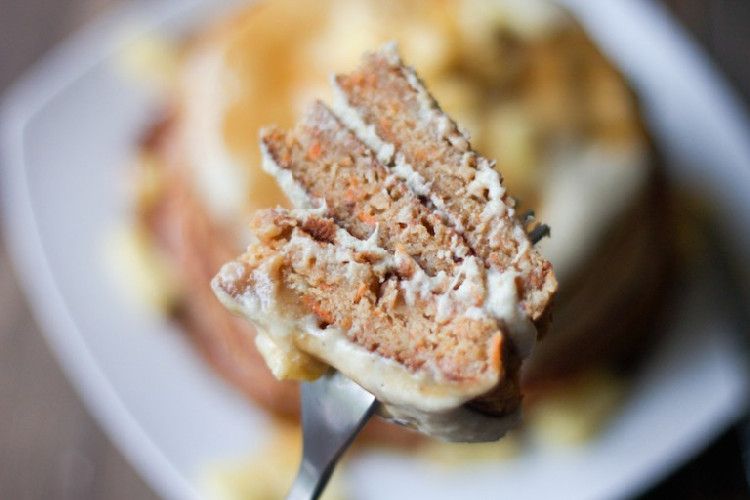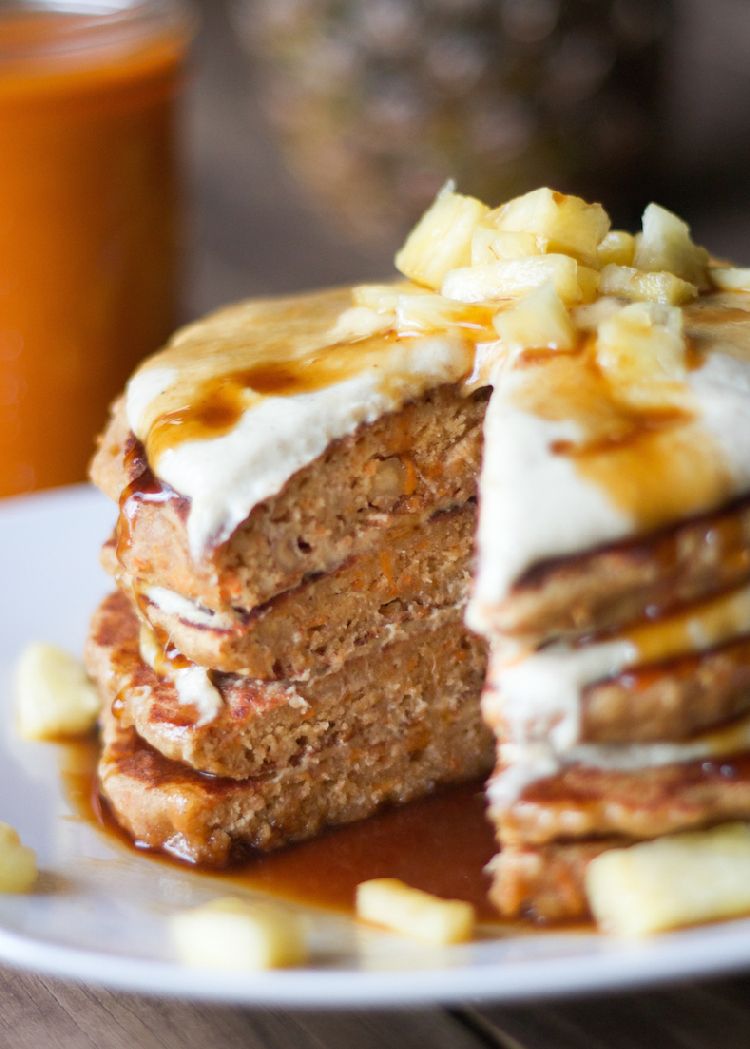 If you are a BIG juice lover, who isn't? You could make some fresh carrot juice and use the pulp as a substitute for the shredded carrots. Just another added bonus to this amazing recipe!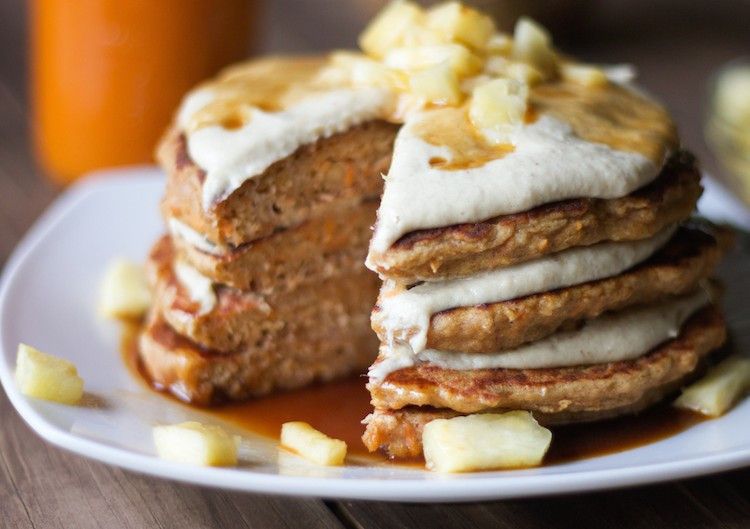 Print
Vegan Carrot Cream Pancakes
Carrot Pancake

1 cup

spelt flour or GF flour

4

dates (soaked & pitted)

1 teaspoons

baking powder

2 tablespoons

whole flaxseed

1 tablespoon

coconut oil

1 teaspoon

vanilla extract

1 teaspoon

cinnamon

1/2 teaspoon

nutmeg

1 cup

non-dairy milk

1 cup

shredded carrots

1/4 cup

pineapple chunks (optional)

1/4 cup

shredded coconut(optional)

1/4 cup

chopped walnuts (optional)
Cream Filling

1 cup

cashews (soaked)

1 cup

pineapple chunks (optional)

1 cup

date water

8

–

10

dates (soaked)
Instructions
Carrot Pancakes Instructions
In a high speed blender add spelt flour, dates, baking powder, flax seed, coconut oil, vanilla, cinnamon, nutmeg, and non-dairy milk.
Blend until smooth. Add shredded carrots, pineapple chunks, shredded coconut, and walnuts, gently fold with a spoon.
Preheat non-stick skillet to medium heat and use a 1/2 measuring cup to scoop batter onto skillet.
Cook for 2 min on each side or until golden brown.
Cream Filling Instructions
Add cashews, pineapple, dates, and date water in high speed blender. Blend until smooth and creamy.
Layer with pancakes with cream filling and/or drizzle maple syrup on top. Enjoy!
Notes
Using the blender to mix the batter will make this recipe a lot easier. I've also used my Blentec & Nutribullet and they both work great.
The pineapple, coconut, and walnuts are optional in this recipe but really make the pancake amazingly delicious. So if you have these ingredients in your kitchen give it a try.
Nutrition
Serving Size:

2

Calories:

1731

Sugar:

180g

Sodium:

191mg

Fat:

61g

Saturated Fat:

20g

Unsaturated Fat:

38g

Carbohydrates:

295g

Fiber:

35g

Protein:

35g
I hope you give this vegan carrot cream cake a try and if you do, let me know what you think! Leave a comment, rate it, and don't forget to take a picture and tag me on Instagram @LiveSimplyNatural! Wishing you an awesome holiday weekend. Happy Easter!
Hugs,