Lately with the holidays around the corner, I've been craving me some Apple Pie! So many things make this time of year so special, one being all the amazing food. Since I'm a bit of a foodie when I get a craving for something I try to make my own version of it that will taste good but still fit into my dietary needs. I'm not very confident right now in my baking skills to attempt my own version of a healthy vegan apple pie, one without the sugar and of course gluten. So I went to the next best thing that I could think of. An apple pie banana ice cream!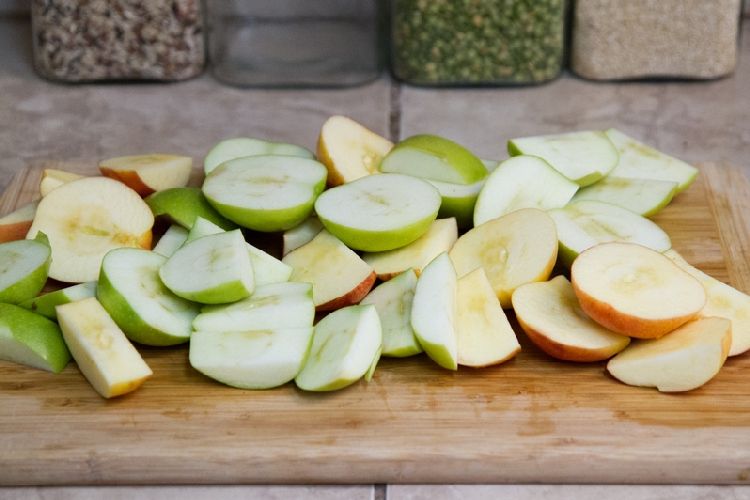 We traditionally have the family over after Thanksgiving to decorate our Christmas tree. It's usually potluck style and since I was craving apple pie, I thought this would be a great dessert to make and share with the family. And boy was I right!
Since apple pie is rated America's favorite pie, this variation is one that everyone can enjoy. Definitely the highlight of our night, next to decorating the tree of course. It also left my house smelling like apple pie, which is perfect since we just finished our Christmas decorations.
"My home is filled with all things merry and bright. And the scent of apple pie, oh how this just feels so right…"
This recipe is super easy, peeling the apples is a bit of a drag, but if you have an apple peeler then it's smooth sailing for you. I like to use a variety of apples in this recipe but if you have a preference then use what you like. You could also add a little rum to the mix if you're wanting a little extra kick. I didn't include that in my recipe since we are not big drinkers and don't keep hard liquor in the house. Feel free to add it if you find it suitable.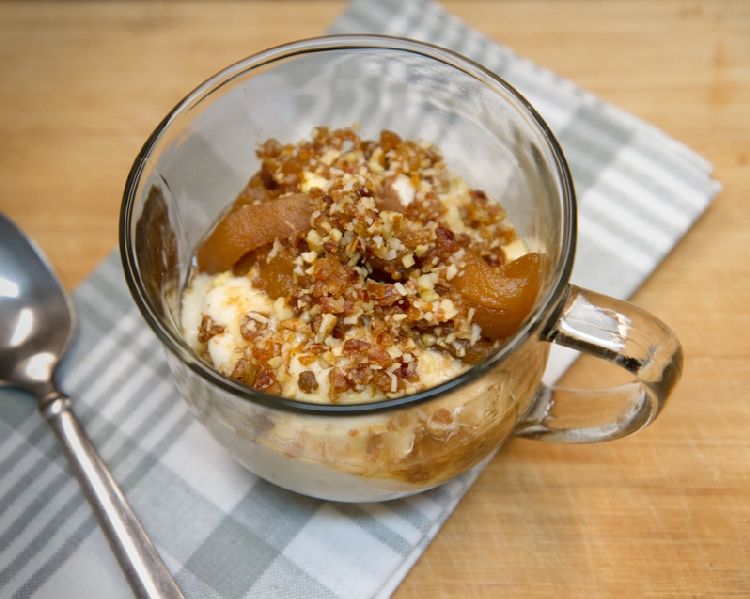 Print
Apple Pie Banana Ice Cream
A delicious alternative to apple pie. Perfect for the holidays or whenever you want to treat yourself with a tasty dessert.
Author:
Prep Time:

20

Cook Time:

30

Total Time:

50
Apple Filling
8

–

10

apples (peeled)

1/2 cup

coconut sugar

1/3 cup

orange juice

1

tbs coconut oil

1/2

tbs cinnamon

1/8

Himalayan sea salt

1

pinch of orange zest
Crumble
1 cup

pecan

6

–

8

dates

1/2

golden raisins

1/4 cup

coconut shredded

1/2 tsp

cinnamon
Instructions
Apple Filling
Preheat oven to 350 degrees.
Cut and peel apples and in a large mixing bowl combine apples, orange juice, coconut sugar, coconut oil, and spices. Mix well.
Place apple mixture in a baking dish and cook for 20 minutes. Let apples cool for 10 min before serving.
Crumble
Place ingredients into food processor and pulse until a crumble.
Banana Ice Cream
Place frozen banana's in your food processor and pulse until a creamy ice cream consistency.
Notes
In a small bowl scoop out banana ice cream, add apple filling and top with the pecan crumble. Enjoy with your friends and family!
Health Benefits
Apples are extremely rich in antioxidants, flavanoids, and dietary fiber. The phytonutrients and antioxidants in apples help to reduce the risk of developing cancers, diabetes, and cardiovascular disease. Those who ate apples regularly had a lower risk of stroke due to the high antioxidant content. Apples are also high in Vitamin C, most of which are found right under the skin, so it's best to eat your apple with the skin anticked.  The fiber found in apples is both soluble and insoluble which helps provide bulk in the digestive tract and aids with cleansing and moving food quickly through the digestive system. Apples also contain minerals such as calcium, potassium, and phosphorus and help to maintain the body's red blood cells and keep the nervous system in good health. Studies show that they also help to balance cholesterol levels and are often called " Nature's Miracle Food"