I am beyond ready for soup season! The only problem is that it's December here in Houston but it feels more like June. Ok, it's not that bad but it is more hot and humid than expected. But I'm not letting this get me down and I'm going with it and still making my normal soups and stews I usually whip up after the holidays.
These recipes are my favorite since they are easy to make in a BIG batch and use all week long for lunch with the family. This makes life so much easier. As much as I love creating in the kitchen, having time to explore other things is always fun.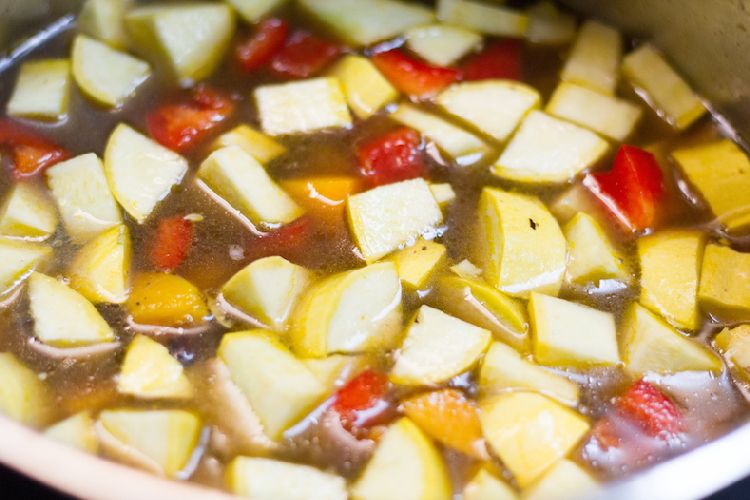 I have started a new hobby that I'm super excited about, I'm sharing it here so that way you all can keep me accountable for my goals.   I've been making beautiful things with recycled pallets and fence wood and for Christmas, my mom got me a nail gun to make things easier. I'm so excited to create and share it with you as well. Any ideas on what I can make next?
Ok, let's get back to the food. For this recipe, you need one-half cup of dried black beans or one can of black beans. I know baking your own bean can seem intimidating and overwhelming since simplicity is my middle name whatever makes life easier for you, go with it. This year I have made it a habit of making my own beans instead of buying cans. Fresh beans are much more flavorful and have a ton more nutrients than canned and I recommend you all give them a try here and there.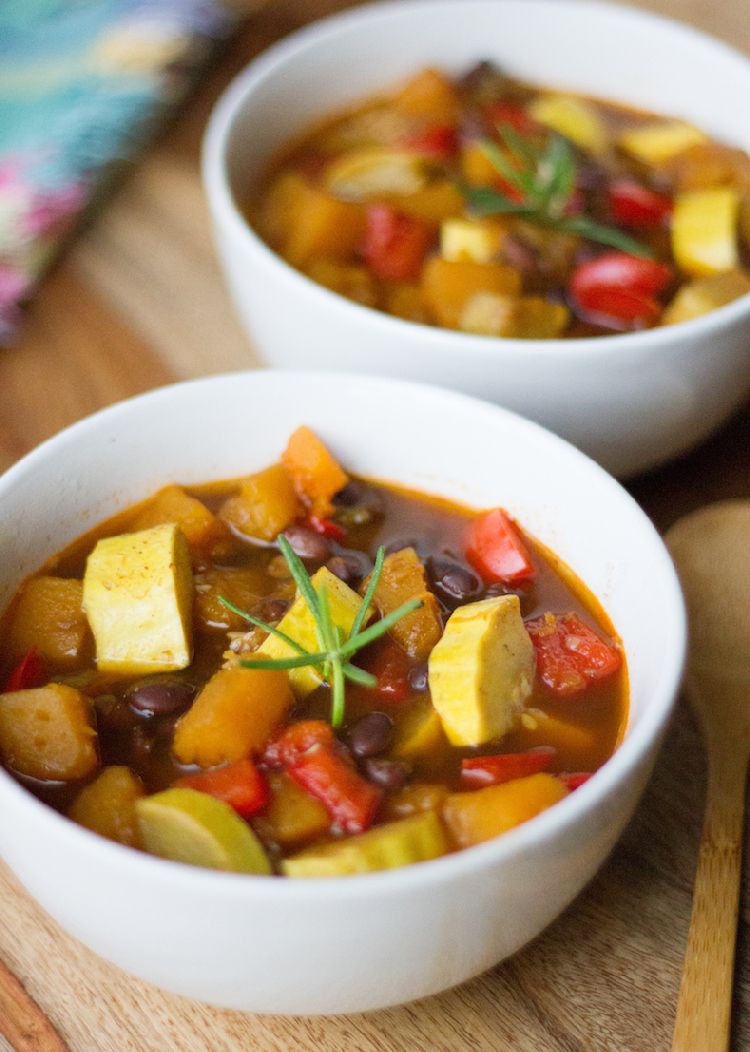 You also need one small butternut squash, two yellow squash, one red bell pepper, a half onion,  one tomato, and two cloves garlic, plus a pinch of salt & pepper, cumin, and chili powder. Top it with your favorite fresh herb and… voila! You got yourself one healthy meal full of flavor. Enjoy!
Print
Black Bean Butternut Squash Soup
Author:
Prep Time:

15 mins

Cook Time:

20 mins

Total Time:

35 mins

Cuisine:

Entree
1

small butternut squash

1 1/2 cup

cooked black bean or

1

can

1

red bell pepper

2

yellow squash

1

tomato

1/2

onion

2

cloves garlic

2 tbsp

chili powder

1/2 tbsp

cumin powder

1 tbsp

of coconut oil

4 cups

vegetable broth or water
Salt & pepper to taste
Instructions
Heat coconut oil in a large pot over medium heat. Add chopped butternut squash, garlic, onion and cook until soft.
Add black beans, chopped red bell pepper, diced tomato, chopped yellow squash, chili powder, cumin, salt & pepper and then add 4 cups of vegetable broth (or enough to cover everything).
Simmer for 20 minutes, adding more broth, as needed.
Season to taste with more salt, pepper, and/ or spices to your liking. Enjoy warm!
Notes
If making fresh beans, soak 1/2 cup dried black beans over night. Drain water and bake in 2 cups water for 45 min to 1 hr on medium heat. A half cup of dried black beans yields 1 1/2 cup cooked.
Nutrition
Serving Size:

6

Calories:

108

Sugar:

2g

Sodium:

748mg

Fat:

3g

Saturated Fat:

2g

Carbohydrates:

16g

Fiber:

6g

Protein:

5.9g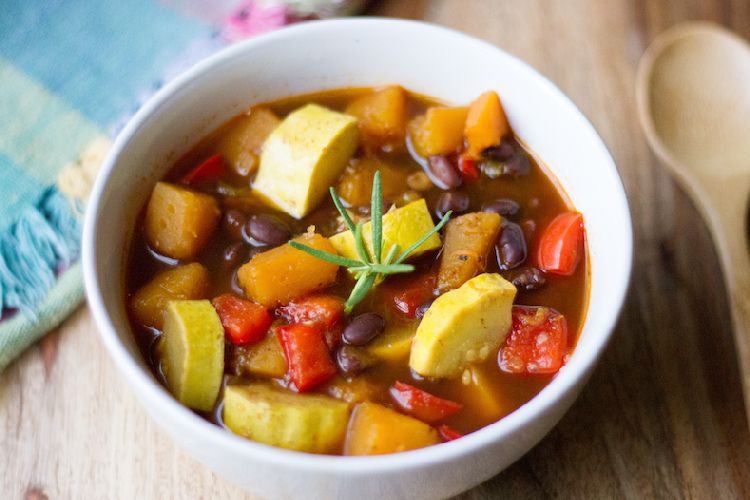 I hope you enjoy this recipe just as much as we do. If you do try this recipe, let us know what you think! Leave a comment, rate it, and don't forget to take a picture and tag me on Instagram @LiveSimplyNatural! I love to see what you come up with :)
Hugs,

Health Benefits
Black beans are very high in fiber and protein, and rich in vitamins and minerals like vitamin A, calcium, iron, and manganese. The fiber in black beans has been known to help lower blood cholesterol and regulate blood sugar levels. They also have been shown to reduce the risk of certain types of cancers due to the flavonoids found in their seed coat. Flavonoids which have antioxidant abilities, particularly anthocyanin, which help the body to fight disease and free radicals. Black beans are great for regulating digestive issues because they have an unusually high level of protein and fiber for such a small bean. They also contain some omega-3 fatty acids, which are considered a "good" form of cholesterol.