If you are looking for the PERFECT plant-based appetizer for either an upcoming holiday gathering, game night, potluck or any other event, then this cranberry & herb vegan cheese is it! After nearly a decade of being vegan, I have been on a quest to make the perfect vegan cheese! I have finally done it and want to share it with you. This one is definitely a crowd-pleaser!
Cranberry & Herb Vegan Cheese Ball
Isn't this vegan cheese beautiful?! I like to save my most delicious recipes for get-togethers with non-vegan people, so I can show them just how fun and tasty vegan food can be. I would serve it just like this or with all the extra bits of nuts, cranberries and any other berries you have on hand. So rich and fancy, it's my absolute favorite!
What herbs to use?
For this recipe, I used rosemary and thyme, but really you can use whatever herbs you have on hand. The only recommendation that I have is that you get your herbs fresh. Fresh herbs really bring out the flavor of this cheese and really give it that WOW factor.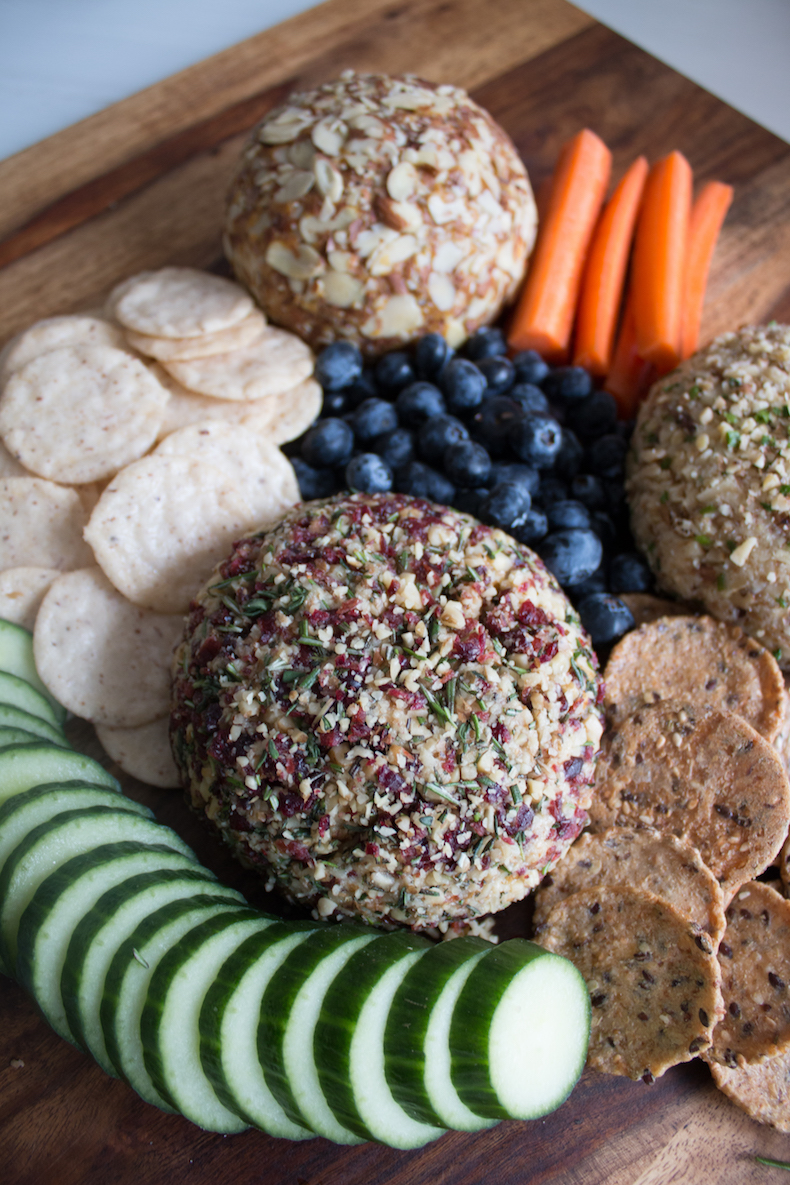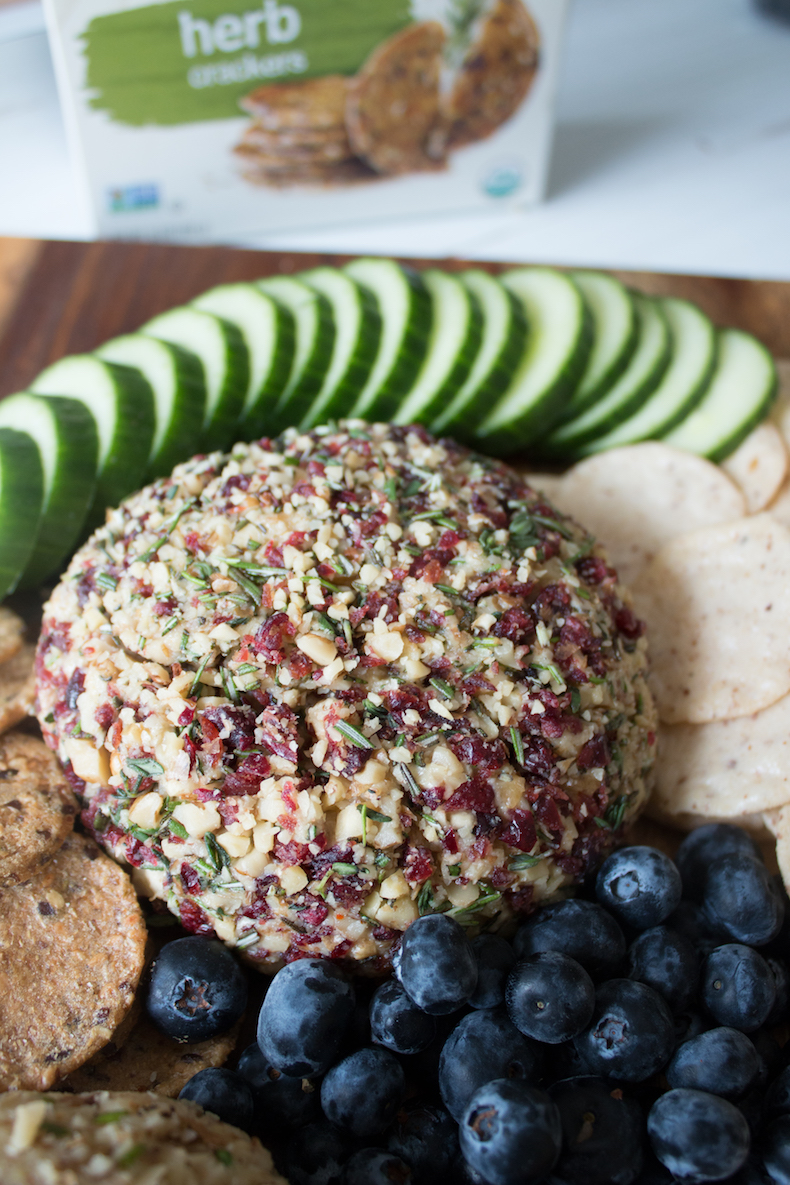 Does homemade vegan cheese really taste good?
If you're vegan and/or cutting out dairy I know you are probably missing the taste of cheese right about now. The store-bought brands probably aren't what you had hoped they would be. Although I don't think vegan cheese can fully replace what we grew up on, I promise you this vegan cheese will amaze you! Even non-vegans love this stuff!
This recipe is as close as it comes to satisfying those cheese cravings!
I've put out a cheese platter at many parties and family get-togethers and I'm always shocked by all the dairy eaters who are devouring my cheese. I do get a few that still think the dairy cheese is better but I'm convinced it's because they don't want to admit that we vegans found a way to make something that tastes just as good if not better. Either way, I'm really happy with how this recipe came out.
Is Homemade Cheese Really Worth The Effort?
Absolutely! I remember when the very idea of making cheese intimidated me. I wasn't ready to take on all of the trial and error I thought it would take to make a cheese I liked. And I wasn't really sure if I had the right tools.
Thankfully for this recipe, all you really need is eight a food processor or high-speed blender and maybe a sharp knife. I know it may feel intimidating to make your own cheese, but I promise that it is very easy and worth every bit of your time.
What is the Secret Ingredient To Making Vegan Cheese?!
Nutritional yeast, also known as nooch or hippie dust. This stuff is amazing when making a vegan cheese alternative. You can find it in most grocery stores and health food shops. It's rich in B vitamins and many brands contain the elusive B12.
Even though I like to use Nutritional Yeast in my cheeses I don't find it necessary. So if you can't find this secret ingredient or for some reason, you don't like it, then just go on without it. I promise this recipe will still taste just as good!
Print
Cranberry & Herb Vegan Cheese Ball
Prep Time:

10 mins

Cook Time:

2 hours

Total Time:

2 hours 10 mins

Category:

Dips, Snack

Cuisine:

Vegan Gluten Free
2 cups

raw cashews

2/3 cup

coconut oil

2 tablespoons

nutritional yeast

1 tablespoon

apple cider vinegar

1 teaspoon

sea salt (or to taste)

1/2 teaspoon

freshly cracked black pepper (or to taste)
Pinch of crushed red pepper
TOPPING INGREDIENTS :
Handful of walnuts, chopped

1/4 cup

dried cranberries, chopped fine
Fresh herbs, chopped fine + extra for garnish
Instructions
Rinse and drain your cashews. Then blend them in a food processor or high speed blender with nutritional yeast, coconut oil, apple cider vinegar, salt and pepper until smooth.
Process until the mixture is completely smooth. If your food processor or blender is struggling to blend the mixture, add purified water, 1 tablespoon at a time to help it to keep turning over, using no more than 4 tablespoons of water.
Place the mixture into a small bowl lined with parchment paper and set in the refrigerator for 30 minutes to an hour.
Chop the nuts, cranberries and herbs and spread onto a work surface. Pull your cheese away from the parchment paper and start rolling it in the toppings evenly pressing it into the cheese. Do this just before serving or return back to the refrigerator until serving.
I served this vegan cheese recipe with Mary's Crackers, berries, olives, extra nuts, even cucumber – makes for an easy but very delicious appetizer!



Let's Chat!
I hope you give this recipe a try, if so leave a comment on it, rate it (this helps me improve future recipes), and don't forget to tag your creation (as well as other Live Simply Natural recipes) with a #livesimplynatural hashtag so I can see them! I repost my favorites on my social media!
Hugs,