Vegan Zucchini Lasagna with Spinach Tofu Ricotta, my veggie-packed alternative to the classic Italian lasagna made with spinach tofu ricotta, marinara, zucchini, and fresh basil. Just as delicious and satisfying as the original!
Vegan Zucchini Lasagna with Spinach Tofu Ricotta
If you're not vegan, please don't let that word scare you away from this recipe! When I said in the description above that it's just as good as the original, I meant it. In fact, I'd feel confident serving it to the biggest cheese-lover out there. Actually, I already have :)
Making this I was worried that it would be really watery or not hold together well but it turned out to be just the opposite. The tofu spinach ricotta does a great job binding everything together and, surprisingly, there's only a minimal amount of water produced by the zucchini.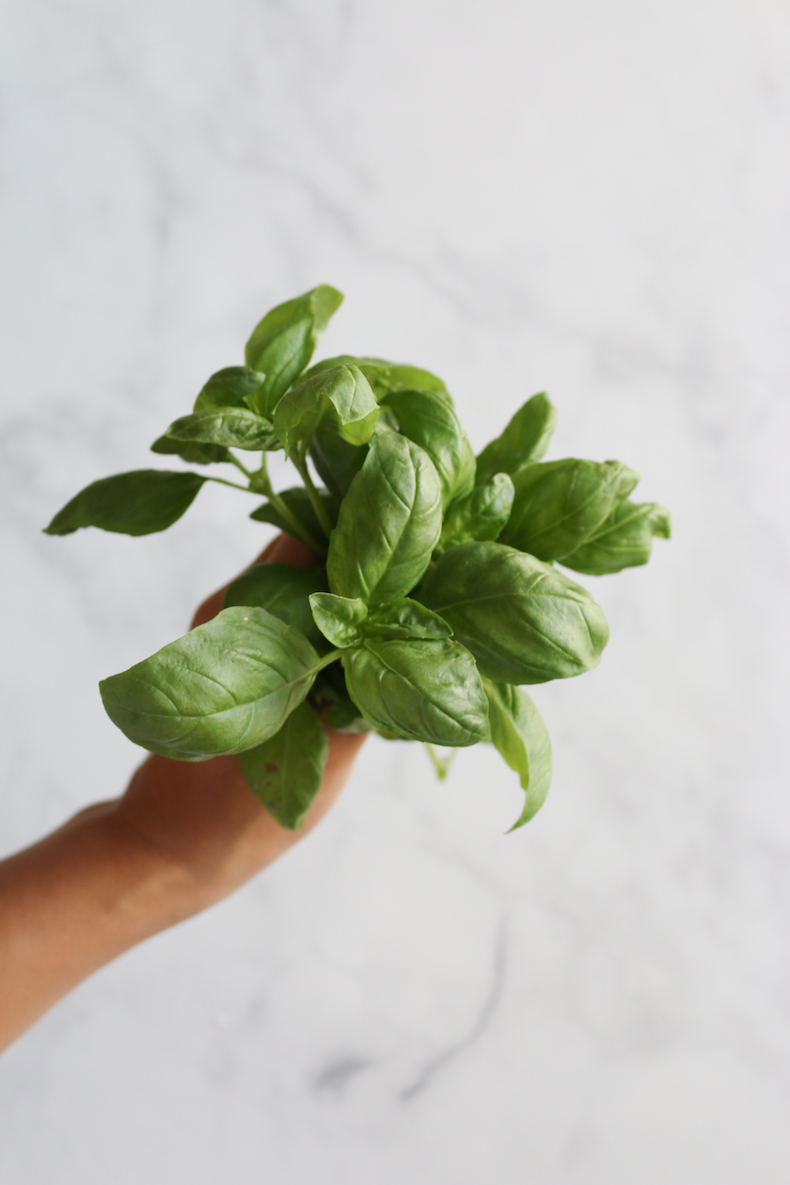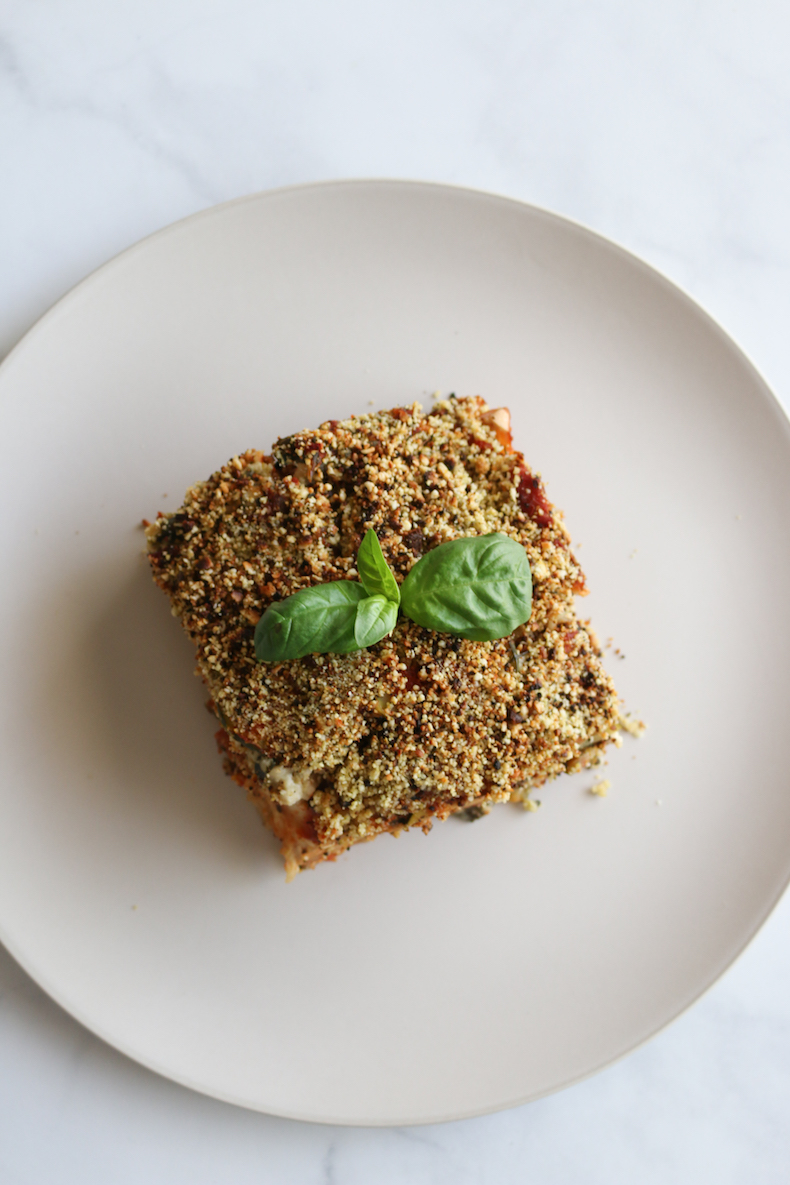 Two Prep Options!
In my first attempt at this recipe I used a gluten-free "no boiling" lasagna noodle in between the zucchini and spinach ricotta and it turned out great!
You can definitely make this without any lasagna noodles and it still turns out great!
If you're new to plant-based eating or want to impress someone that's skeptical about it, I hope you'll give this recipe a try! It's one of our favorites and I have a good feeling you're going to love it too. :)
Zucchini Lasagna Noodles
Replacing traditional pasta with zucchini as I did in my Raw Vegan Spaghetti Pasta, creates a really nice and light dish! Because zucchini is a water-dense veggie, it is critical to remove some of that fluid before serving. We are not making soup, we are making lasagna!
My preferred method when making lasagna noodles is not to cut them lengthwise but thinly sliced in a circle, and carefully overlap each other. I like to use my mandolin to get the desired thinness I'm looking for.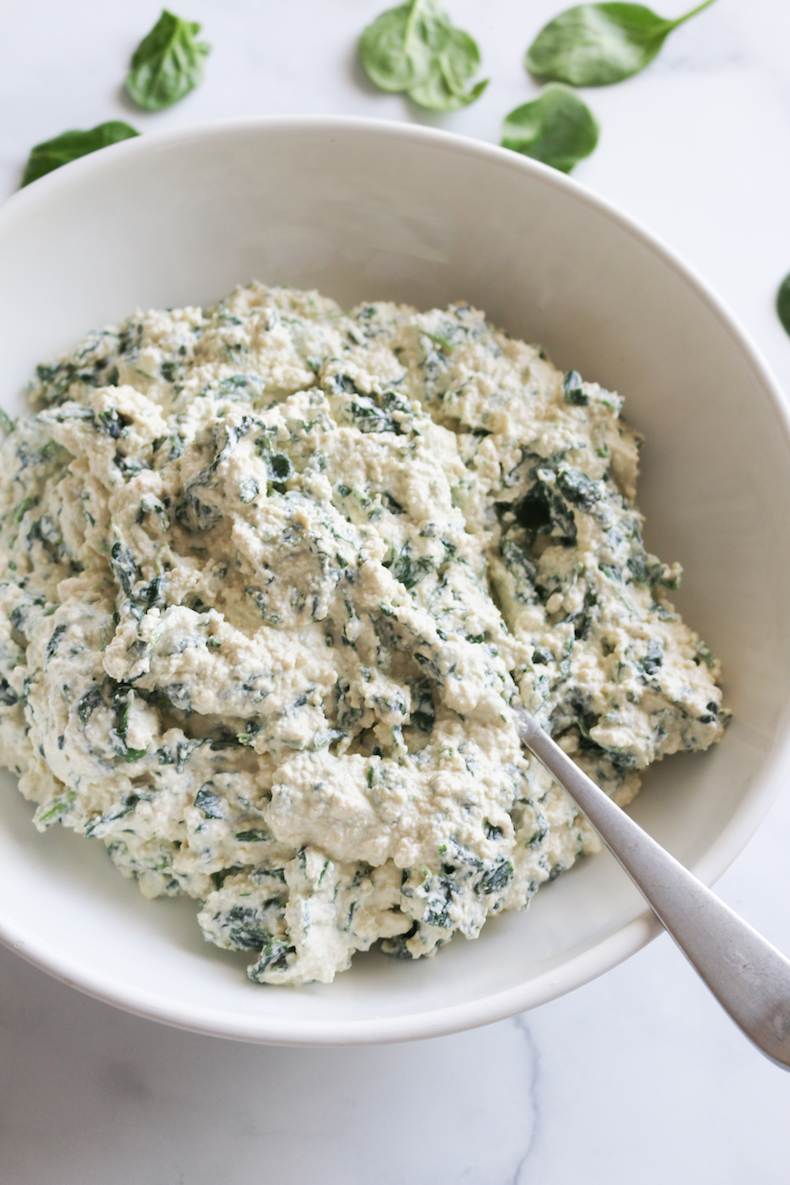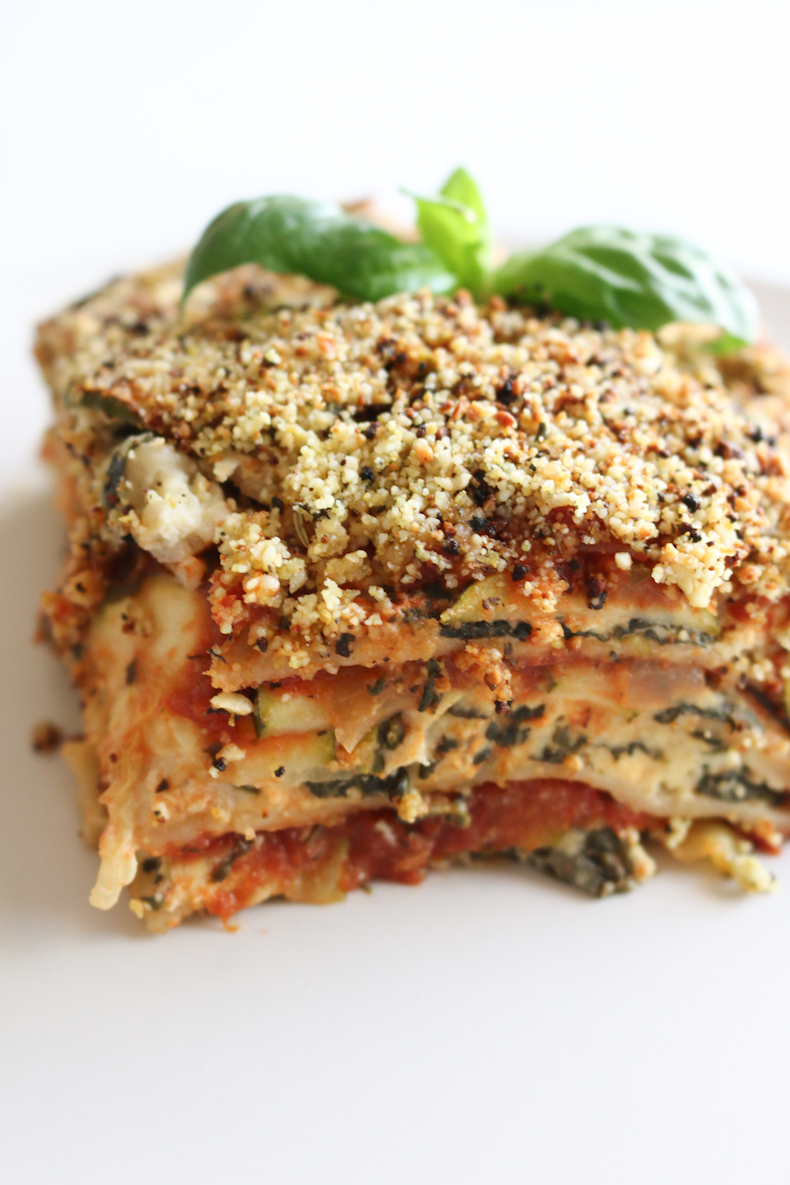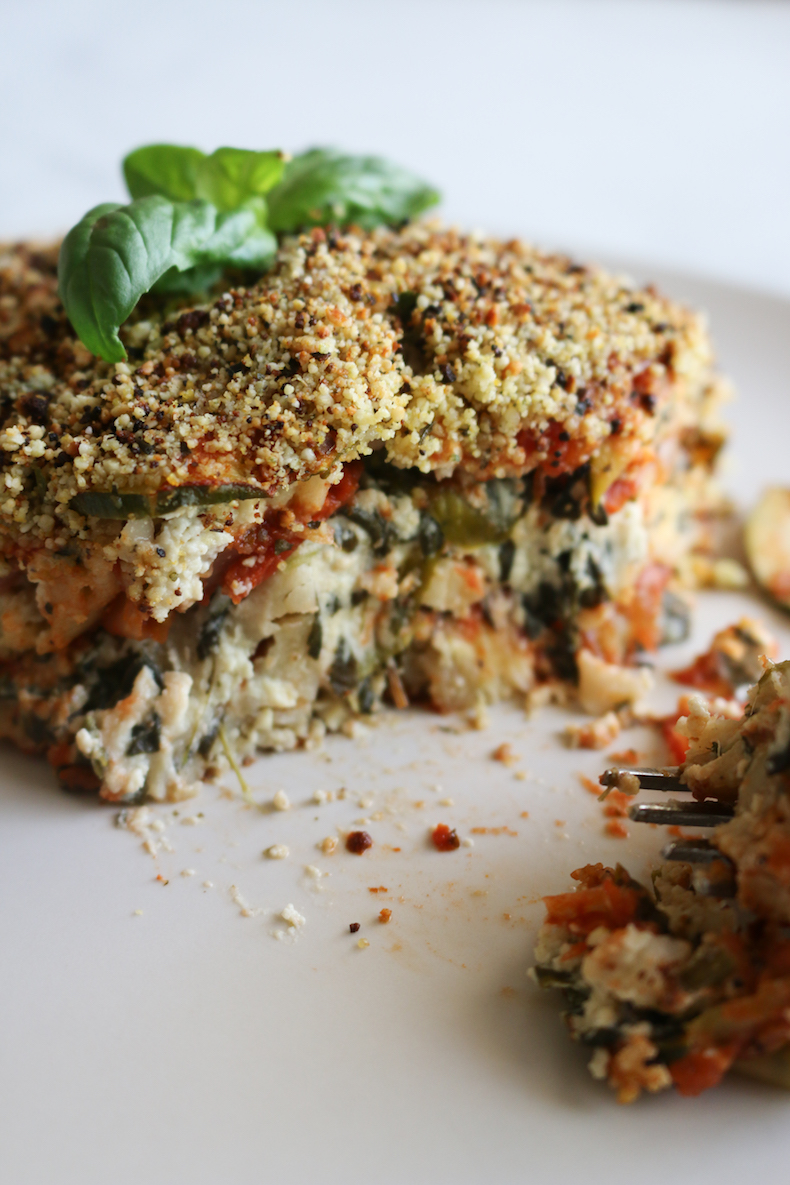 Vegan Spinach Tofu Ricotta
For this, I drain my tofu and use a food processor or a potato masher to crumble the tofu into cheese. Then I blend up some cashew, nutritional yeast, and garlic in my high-speed blender making it into a nice cheesy mixture, and pour that over the crumbled tofu.
And voila!… You got ricotta cheese. Now just add in some cooked spinach and if you want to make it easy for yourself buy frozen spinach. Just be sure to drain it before adding it to the ricotta, you don't need any extra water.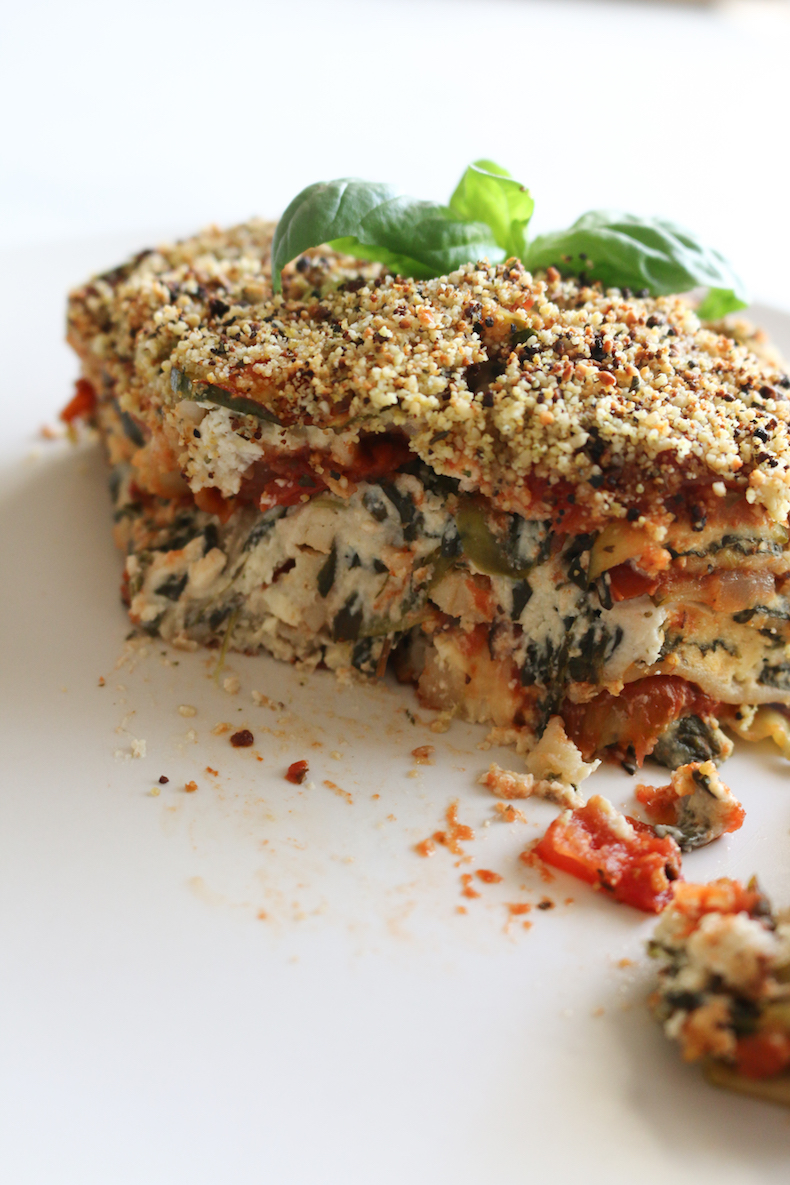 Print
Vegan Zucchini Lasagna with Spinach Tofu Ricotta
Prep Time:

30 mins

Cook Time:

35 mins

Total Time:

1 hour 5 mins

Yield:

4

1

x
Category:

Entree

Cuisine:

Vegan, Gluten Free
For The Ricotta!

2 cups

raw cashews (soaked)

1

14oz extra firm tofu (drained)

1/4 cup

lemon juice

2 tablespoons

nutritional yeast

1 teaspoon

sea salt

16 ounces

frozen spinach, defrosted
For The Marinara!

1

small yellow onion, diced

8 ounces

mushrooms chopped

4

garlic cloves, minced

6 ounces

tomato paste

2 tablespoons

of Italian Seasoning

1

(15 ounce) can crushed fire roasted tomatoes

1

(15 ounces) can diced tomatoes
For The Parmesan!

1 cup

raw cashews

1/4 cup

nutritional yeast

1 teaspoon

of sea salt

1/2 teaspoon

garlic powder
For The Lasagna

3

–

4

medium zucchini
"No Boil" lasagna (optional)
fresh basil
Instructions
To make the ricotta cheese, drain and rinse the soaked cashews and transfer them to a blender or a food processor, along with lemon juice, nutritional yeast, and one teaspoon of salt.
Blend on high until smooth adding one tablespoon of water at a time as needed with a texture similar to ricotta cheese. You will probably need to use a spatula to scrape down the sides in between blending.
Spoon the cashew cheese out into a large bowl and set aside. Crumble up your drained tofu with a fork or pulse in the food processor until all the tofu is at a crumble. Add it to your bowl. Once the frozen spinach has defrosted, place it in a strainer. Then add it to the bowl with cashew cheese and a dash of salt & pepper then stir everything together until well-combined.
For the marinara warm one tablespoon olive oil in a large saucepan/skillet over medium heat. Add the onion and cook for 3 minutes. Add the garlic and the mushrooms, sprinkle with salt & pepper, stir together and cook for another 3 minutes.
Next add the dried herbs, both cans of tomatoes and their juices and the tomato paste. Cover the pan and continue to simmer for 15 to 20 minutes.
Once the marinara and ricotta cheese is complete preheat the oven to 400°F. Using an 8 x 8″ baking dish. Arrange zucchini slices along the bottom. Spread 1/3 of the cashew cheese mixture on top of the zucchini then top with 1/3 of the lentil mushroom marinara. Add another layer of sliced zucchini on top and repeat the same steps twice more, until you have three layers total. Combine the cashews, nutritional yeast, garlic, and sea salt in the food processor and pulse until finely chopped.. Sprinkle it on top of the lasagna, cover with foil and bake in the oven for 35 minutes. Allow to cool for 10 minutes before cutting into separate pieces. Garnish with fresh basil and enjoy!
Let's Chat!
I hope you give this recipe a try, if so leave a comment on it, rate it (this helps me improve future recipes), and don't forget to tag your creation (as well as other Live Simply Natural recipes) with a #livesimplynatural hashtag so I can see them! I repost my favorites on my social media!
Hugs,