Every year as a family we come together to plan our Thanksgiving menu. Gluten free stuffing was a request from both my husband and children. It's been a few years since we have had stuffing, as I've always found other alternatives but this year we thought to try our own version of the classic Thanksgiving stuffing minus the turkey, and luckily it turned out great.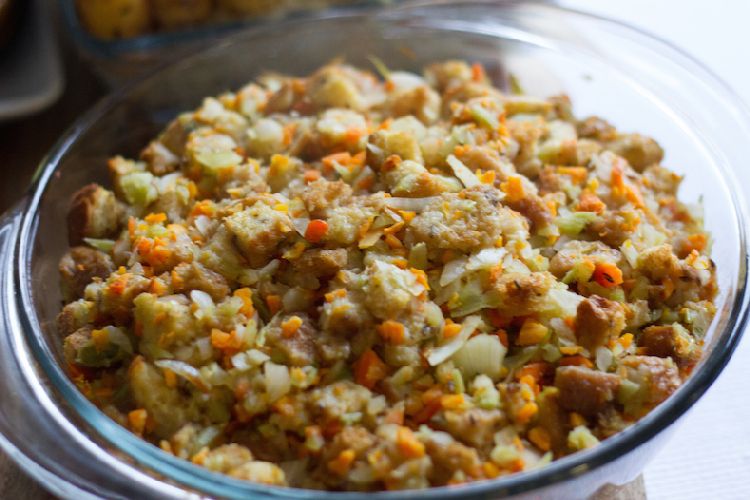 I have to say that I did cheat a bit with this recipe. I like to make my own fresh bread at times but for the holidays I try to keep things simple. It's easy to get lost in all the festivities but feeling overwhelmed in the kitchen is the last thing I want, I'm sure you can agree. So instead, I went out and bought a loaf of gluten free bread that I could use for this recipe.
Shopping during the holidays, especially Thanksgiving can feel a bit like a war zone. Everything you seem to be looking for is gone, luckily they still had a couple loafs of gluten-free bread to choose from. I bought the Food For Life brand, gluten-free rice millet bread and it worked great. Use whichever one you like most for this recipe.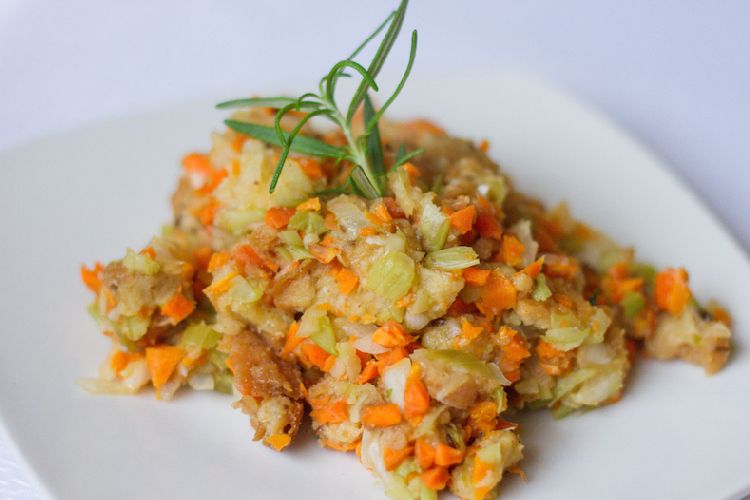 Most recipes tell you to cut the bread into bite size cubes and leave them out over night. I prefer to toast them instead, either method works great.
[yumprint-recipe id='31'] I hope you give this recipe a try and if you do let me know what you think! Leave a comment, rate it, and don't forget to take a picture and tag me on Instagram @LiveSimplyNatural! I love to see what you come up with. Stay tuned :)
Hugs,

Health Benefits
Celery is rich in vitamin C, aids with lowering cholesterol, pain from arthritis and weight loss. Celery contains pthalides, which are organic chemical compounds that can lower the level of stress hormones in your blood. This allows your blood vessels to expand, giving your blood more room to move, thereby reducing blood pressure. The pthalides in celery also stimulates the secretion of bile juices, which works to reduce cholesterol levels. Celery contain anti inflammatory properties, helps detoxify the body, reduces high blood pressure, and promotes overall health in a vast number of ways. Eating celery regularly helps to avoid diseases of the kidney, pancreas, liver and gallbladder, neuritis, constipation and asthma to name a few. Celery contains minerals such as calcium, sodium, copper, magnesium, iron, zinc, potassium. It also contains fatty acids and has vitamins including vitamin A, C, E, D, B6, B12 and vitamin K.