Pear Perfect Fruit Salad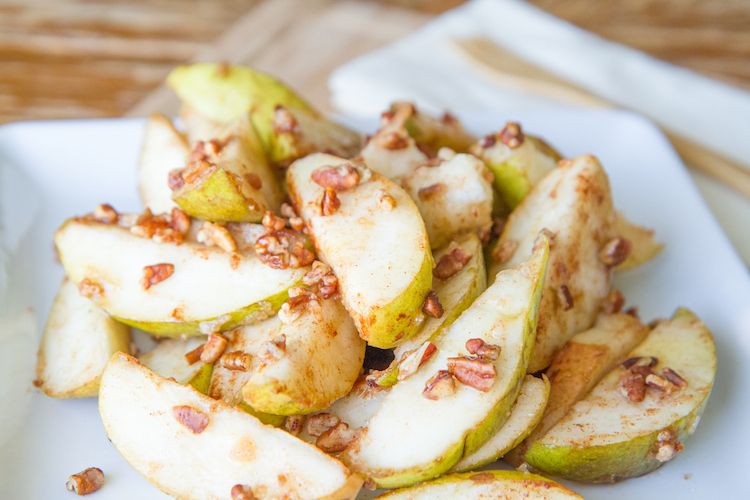 Life has been keeping me on my toes to say the least. This past month Ive been all kinds of up and down. My days have been super busy but amazingly enough I'm still finding the time to stop and smell the roses. As crazy as life can get we can choose to find joy in the little moments and this pear perfect fruit salad puts a smile on my face.
Pear Perfect Fruit Salad
I hope you all are enjoying your summer. We are definitely taking advantage and finding any excuse to be in the water. Staying hydrated and cool are the best ways to embrace the summer heat for sure. Homeschooling has been very "go with the flow" but we are shifting a lot and I know it's for the better.
I did have time this week to post an awesome new recipe. I noticed that I don't really have breakfast recipes to recommend to people. I usually just do a smoothie or juice for breakfast but for those that haven't developed that habit or are want something a little different, here is a recipe that I make, both fast and of course delicious.
Now that pears are in season I am loving this fruit salad. Made it twice last week and need to go get more pears so I can make it again. It's super light and refreshing, sweet and with a crunch. How great is that!
Health Benefits
Pears are packed with health benefiting nutrients such as dietary fiber, anti-oxidants, minerals and vitamins, which are necessary for optimum health. Pear fruit is one of the very low calorie fruits; provides just 58 calories per 100g. A low calorie but high fiber diet may help bring significant reduction in body weight, and blood LDL cholesterol levels. Pears are also a good source of dietary fiber, which may offer protection against colon cancer. Most of the fiber in them are non soluble making them a good bulk laxative in the gut. Additionally, its fiber content binds to cancer-causing toxins and chemicals in the colon, protecting its mucous membrane from contact with these compounds. This fruit is a good source of minerals such of copper, iron, potassium, manganese and magnesium as well as B-complex vitamins such as folates, riboflavin and pyridoxine (vitamin B-6).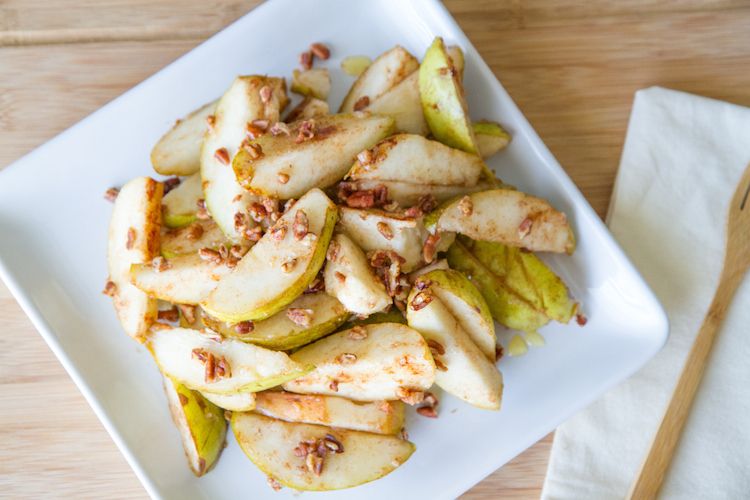 Print
Pear Perfect Fruit Salad
Author:
Prep Time:

5 mins

Total Time:

5 mins

Yield:

Serves 2

Category:

Breakfast

Cuisine:

Vegan, Gluten free,
4

pears

1/2 cup

pecans

1/2 tablespoon

cinnamon

1 tablespoon

coconut nectar (options)
Instructions
Clean and slice pears.
Sprinkle cinnamon over pears and mix with chopped pecan
Drizzle coconut nectar on top and enjoy!
I hope you give this recipe a try and if you do, take a picture and tag me on Instagram @LiveSimplyNatural or @LSNatural on Twitter or, pin it for later on Pinterest. I love seeing what you guys are cooking up in the kitchen. Stay tuned for more simple vegan recipes!
Hugs,