Spring is here! This is seriously my favorite time of year. Well no, that's not entirely true. I really love all the seasons but right now I'm in love with springtime.
Peachy Green Smoothie
One of the perks of springtime is that peaches are in season. Oh, how we love peaches! This soft and juicy fruit is one we can't get enough of and often buy them by the case. Super sweet, they are perfect to add to any smoothie to give it a natural sweetener.
Since things have been very busy here lately, it's been a while since I posted anything. My sister-in-law is getting hitched and we have less than a week to be ready. On that note, I'm super stoked that the wedding is in Cancun! I'm really needing a vacation, even if it's only for 4 days.
Another reason springtime is a favorite of mine is all the amazing fruit. This is the time when I'm more of a fruitarian than anything else, which is great since I will probably lose a couple of pounds and get rid of the added weight from winter and holiday feasting. I just hope it's in time for this wedding. Wish me luck!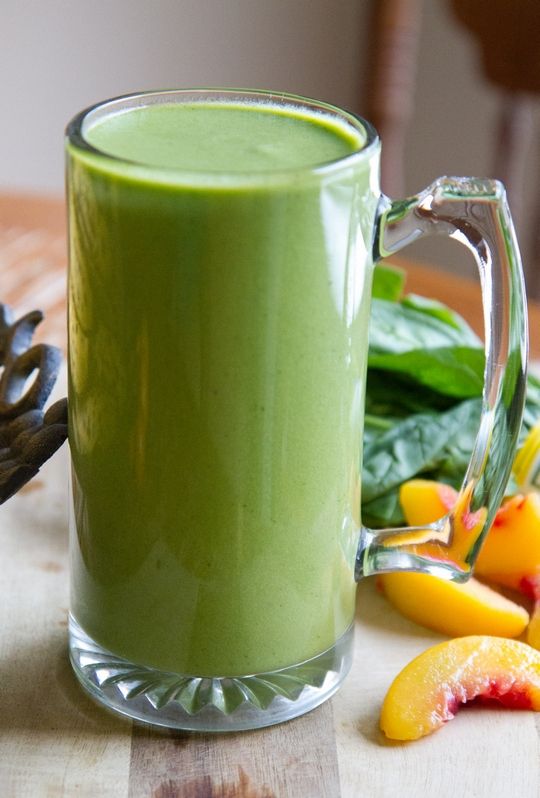 This recipe is light, sweet, simple to make, and perfect for your kiddos since the taste isn't too overbearing. The peaches really make this recipe what it is, so when picking out peaches, smell for the sweetness. If they don't smell sweet, then they probably won't be sweet when they ripen.
Print
Peachy Green
A simply smoothie for the spring season. Both easy to make and nutritious for the body. It's a great morning smoothie to give you enough energy to get your day going, while still providing all the benefits greens have.
Author:
Prep Time:

3 mins

Cook Time:

2 mins

Total Time:

5 mins
4

peaches

2

bananas

1

cucumber

1 cup

spinach

1 cup

water or OJ
Instructions
In a high speed blender add all your ingredients.
Blend until smooth and creamy. Enjoy!
Notes
I use my Blend-tec for this recipe, and frozen peaches from my local farmers market. It gave it a nice chill :)
Nutrition
Serving Size:

2

Calories:

248

Sugar:

42g

Sodium:

21mg

Fat:

1g

Carbohydrates:

62g

Fiber:

9g

Protein:

5g
My beautiful peach tree is in bloom! I can't wait to harvest and make more smoothies with them :)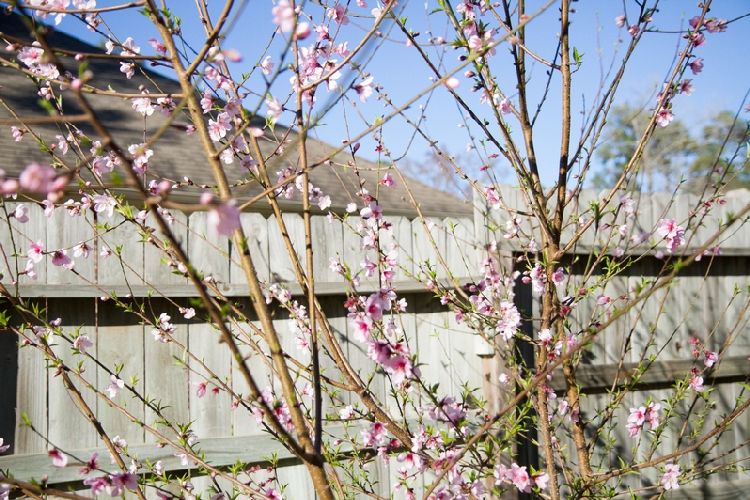 I hope you make this pumpkin spice granola recipe, it's all the fall flavors in one bowl. If you do make it be sure to tag me on Instagram @LiveSimplyNatural or you can always pin it on Pinterest for later. I love seeing what you guys are cooking up in your kitchens. Stay tuned for more healthy plant-based recipes.
Hugs,

Health Benefits
Peaches are high in vitamin A and beta-carotene, which are great for maintaining optimal vision. They contain high amounts of potassium, which can reduce kidney-related diseases while lowering the risk of ulcers. Peaches also provide some magnesium, phosphorus, zinc, copper, manganese, iron, and calcium. These additional minerals protect and support your red blood cells, nervous system, and bones. They are rich in antioxidants, including vitamin E, which helps with regenerating skin tissue. A natural moisturizer, they are often put in many skin care creams. Peaches are low in saturated fat, cholesterol, and sodium, which can bring nutritional value to any meal.