This is probably my favorite season for fruits and veggies, I really can't get enough! Our family's favorite right now are the persimmons. Passing them up seems impossible these days. The kids are all over the pomegranates, my daughter can snack on those all day. I love love love it. I hope you are enjoying the earth's bounty right now just as we are. All this is perfect timing for Thanksgiving. And I'm excited to share this Raw Vegan Green Bean Casserole, which is also a great recipe to use if not eating raw.

Raw Vegan Green Bean Casserole
As a child food was always the main attraction to our family gatherings, that's especially so during holidays Like Thanksgiving and Christmas! But the food we ate then isn't anything I'm happy eating now. Being vegan and adding plant-based foods into our lives has been so rewarding both in body and in mind.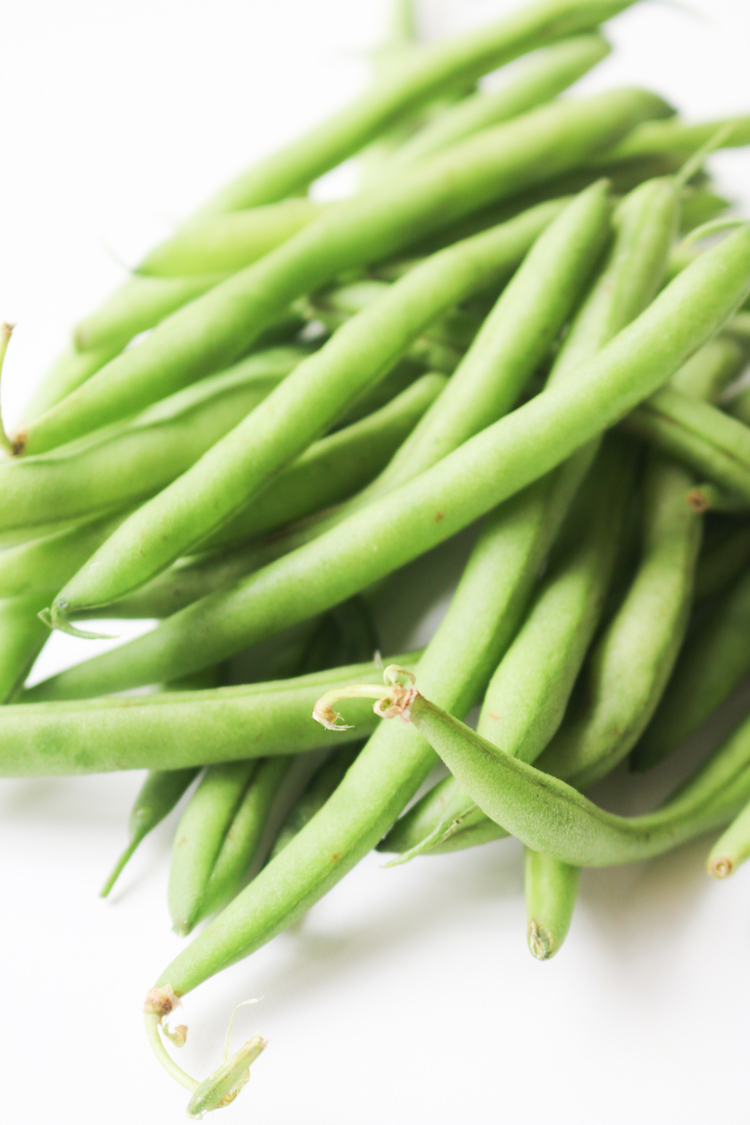 As an adult and really wanting to change our traditions into ones that are more focused around health. We encourage our children to get involved and be apart of the making of these traditions. Especially when it comes to meal planning. I want them to be apart of the whole process of preparing a holiday meal, from shopping for the produce, to final preparation, and of course the pictures! It's all a family affair.
But don't get me wrong this isn't what the holidays look like every year. Sometimes it's messy and overwhelming and the idea of having the kids in the kitchen while I'm just trying to get stuff finished is stressful enough. But I love our family holidays together. And I think it's important that we learn to embrace all of it. The beauty and the mess :)
Why are green beans so good for you?
Green beans are one of our absolute favorites to eat at this time of year. They are a good source of antioxidants, vitamin C, and beta-carotene, which helps keep arteries in good condition and prevent atherosclerosis and cholesterol deposition. Green beans also contain vitamin A, potassium, magnesium, and zinc, as well as a reasonable concentration of B vitamins.
The high vitamin K content of green beans may be useful in protecting against osteoporosis by preventing the activation of cells called osteoclasts that cause bone loss.
Green beans are one of the few vegetables that contain a good dose of iron, which is particularly good for vegetarians. Green beans have been known to prevent colon cancer from the high content of vitamin C, beta-carotene and fiber.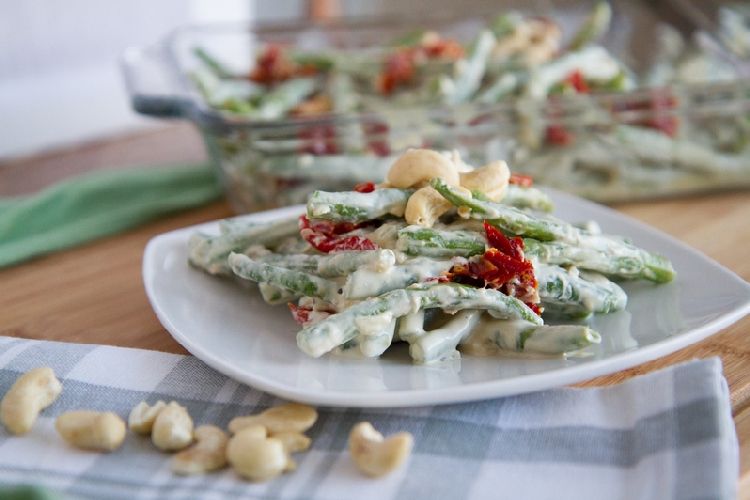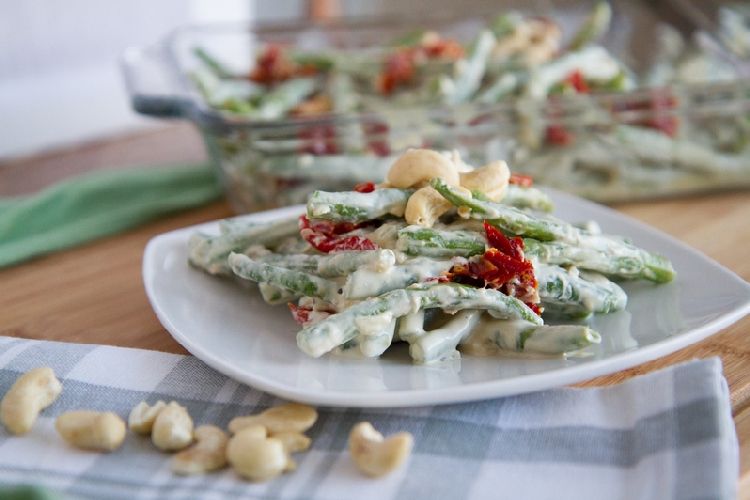 This Raw Vegan Green Bean Casserole was the one that both my children requested to be on the Thanksgiving menu and of course, I couldn't agree more. And what I love about it is that you can make this both raw and cooked. Since my husband is raw vegan at the moment, I wanted this green bean casserole to be easily modified for both parties. I'm all about being inclusive when it comes to food.
It's all about balance right?!
Products I used in this recipe…
Disclaimer: This post includes affiliate links, and I will earn a commission if you purchase through these links. Please note that I've linked to these products purely because I recommend them and they are from companies I trust. There is no additional cost to you.
Print
Raw Vegan Green Bean Casserole
This raw vegan green bean casserole is perfect for this year's holiday feast. It's the best of both worlds since you can make either raw or cooked. Enjoy with your family and friends, Happy Thanksgiving!
Author:
Cuisine:

Side Dish
2

lbs green beans

1 cup

cashews

1 cup

of water

1/4 cup

nutritional yeast

1/4

onion (chopped)

6

–

8

sun-dried tomatoes (chopped)

6

–

8

mushrooms (chopped)

2

tbs Olive oil

2

tbs Apple Cider Vinegar

2

garlic cloves

2 tsp

Himalayan sea salt

1 tsp

black pepper
Instructions
Clean, trim, and cut green bean into bite-size pieces. Place them in a large mixing bowl.
In your high-speed blender combine cashew, water, nutritional yeast, olive oil, apple cider vinegar, and seasoning. Blend until smooth and creamy.
Use a food processor to chop the onion, mushrooms, and sun-dried tomatoes and place them into your large mixing bowl. Pour your cream sauce over green beans and toss.
Pour it in a serving dish. Serve at room temperature.
Notes
I used the Nutri-bullet for the making of my cream sauce. Make double and get the best of both worlds. To cook this recipe, set your oven at 350 degrees and cook for 20 min.
Nutrition
Serving Size:

8

Calories:

188

Sugar:

3g

Sodium:

2060mg

Fat:

12g

Saturated Fat:

2g

Unsaturated Fat:

9g

Carbohydrates:

15g

Fiber:

5g

Protein:

7g
YOU MIGHT ALSO LIKE:
Raw Vegan "No-Bake Pumpkin Pie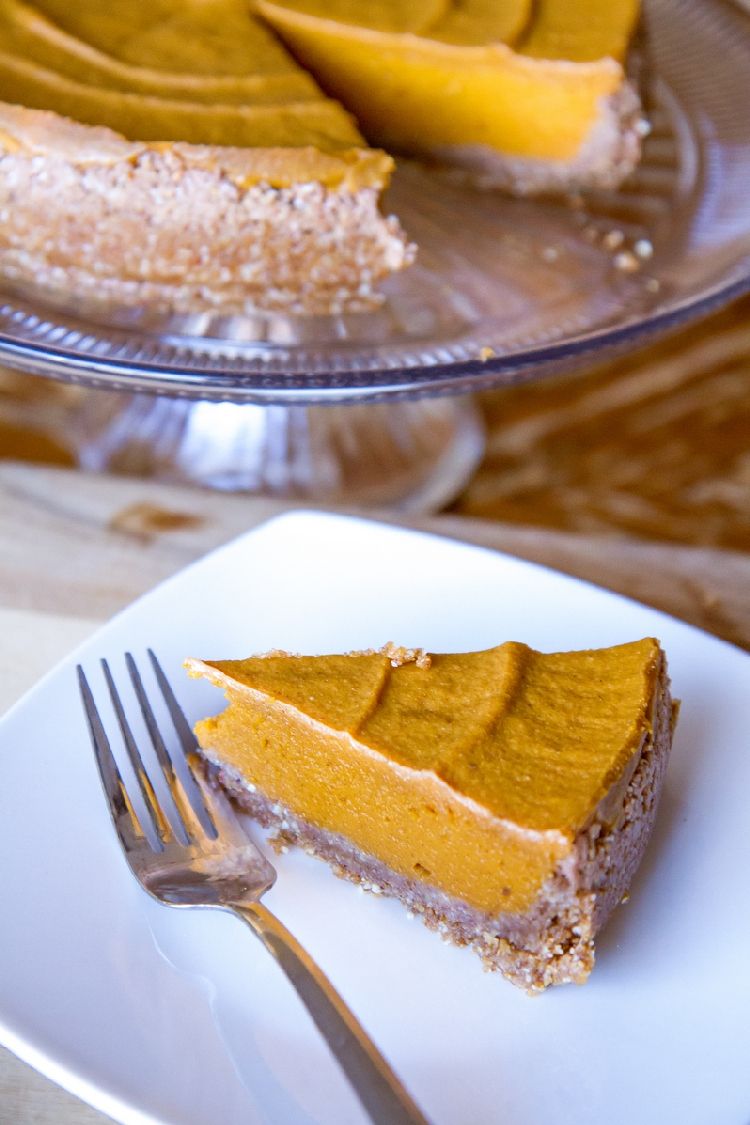 Raw Vegan Pecan Pie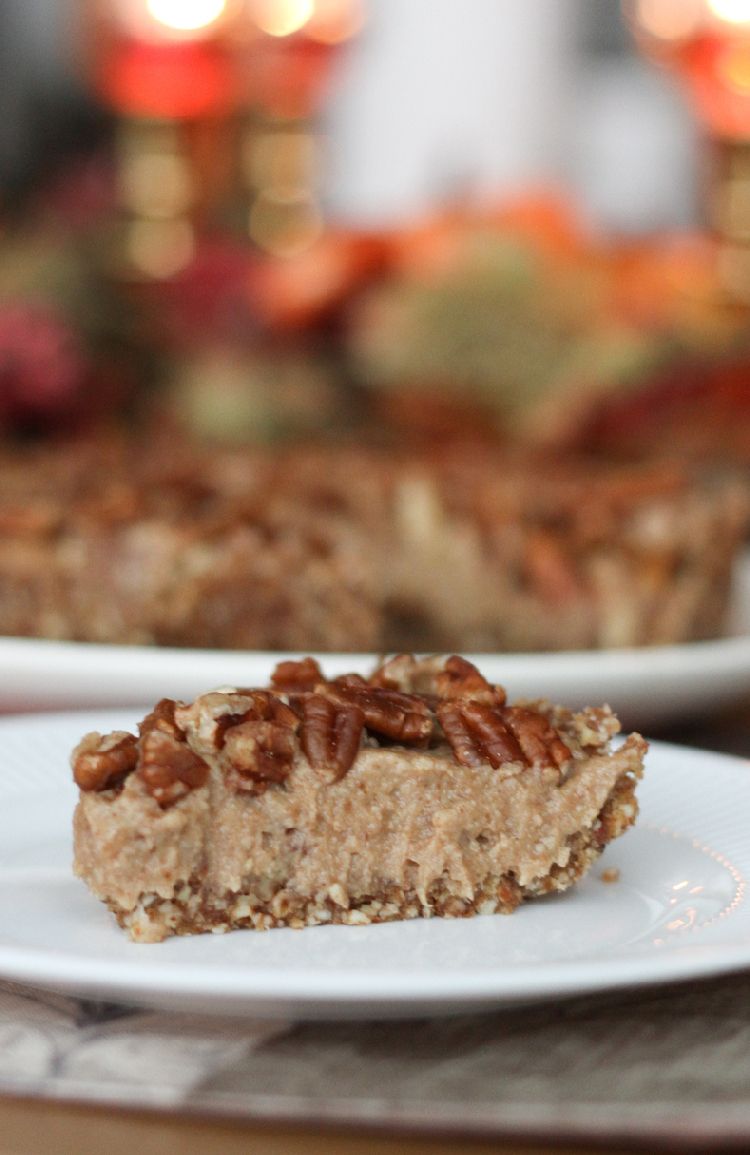 Let's Chat!
I hope you give this recipe a try and if you do let me know what you think! Leave a comment, rate it, and don't forget to take a picture and tag me on Instagram @LiveSimplyNatural! I love to see what you come up with. Stay tuned :)
Hugs,