Since I've been trying to cut back on my sugar intake, potatoes have been one of the hardest things to let go of. Many people don't know that potatoes hold high amounts of sugar and you would have never guessed that it has more than white table sugar. Yeah, that's right! Potatoes have more sugar than sugar itself. Potatoes are at a glycemic index of 90 and white table sugar has a glycemic index of 59. This was very upsetting to me when I first started looking into the glycemic index.
The reason isn't really known but it's believed to be because of the high starch in potatoes. All starch is made up of glucose. So I use that as a marker for how much sugar is on my plate. Since I couldn't completely say goodbye to my friend the potato, I figure we could compromise on this recipe.
Mash potatoes and gravy have always been one of those comfort foods for me. I'm sure you feel the same! I love finding new recipes that are both healthy and satisfying to my childhood cravings. These cauliflower mashed potatoes are just that. They are super easy to make.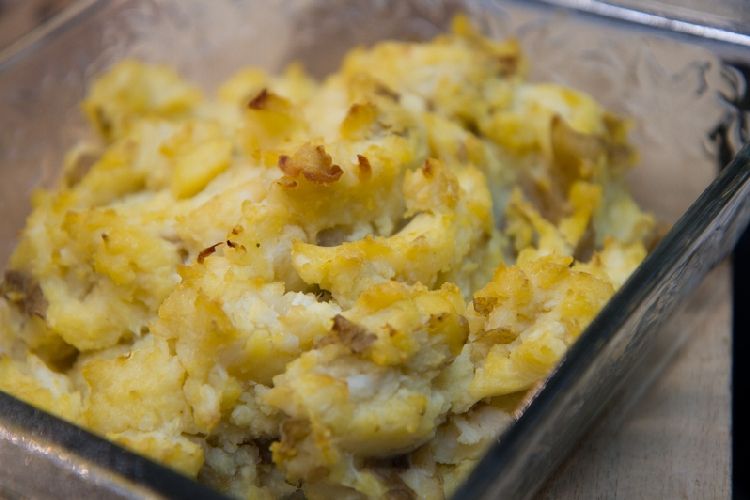 I made these for last year's Thanksgiving. Not a single person knew that it had cauliflower in them, of course, I didn't say anything either!
Print
Cauliflower Mashed Potatoes
This cauliflower potato combo is a lighter alternative to your traditional mashed potatoes. Great for those looking to minimize there sugar intake but still enjoy the comfort of the famous mashed potatoes and gravy.
Author:
Prep Time:

10

Cook Time:

20

Total Time:

30
Cauliflower Mashed Potatoes
1

medium head of cauliflower

4

potatoes

2

garlic cloves

2

tbs coconut oil

1

tbs Himalayan sea salt

1 tsp

pepper
Vegan Gravy
4 cups

vegetable broth

2

tbs coconut oil or earth balance butter

2

tbs amino acids

1

tbs garlic powder

1

tbs nutritional yeast

2

tbs rice flour
Instructions
Cauliflower Mashed Potatoes
Wash and chop potatoes into 2 inch size cubes. Place potatoes in boiling water. Boil for 20 min.
While your potatoes are boiling fill a large saucepan with about an inch of water, and insert a steamer basket, lightly steam cauliflower and garlic for 6 min or until soft.
Drain the water in both potatoes and cauliflower, place potatoes, cauliflower, garlic, butter and seasonings in large mixing bowl and mash until desires consistency.
Vegan Gravy
Heat the coconut oil over medium heat in a large skillet.
Add garlic powder, vegetable broth and rice flour. Bring to a boil, then reduce to a simmer, stirring frequently to make sure no clumps are formed
Add amino acids, nutritional yeast and salt & pepper to taste. Let sit for 5 min to thicken.
Notes
Chopping your potatoes before boiling removes starches from the potato and into the boiling water. Allowing you to enjoy them without the high carbohydrate content.
I hope you give this recipe a try and if you do let me know what you think! Leave a comment, rate it, and don't forget to take a picture and tag me on Instagram @LiveSimplyNatural! I love to see what you come up with. Stay tuned :)
Hugs,

Health Benefits
Potatoes are a very good source of vitamin B6 and a good source of potassium, copper, vitamin C, manganese, phosphorus, niacin, and dietary fiber. Potatoes are primarily made of carbohydrates and contain a small amount of protein. This makes it an ideal diet for those excessively lean or thin people who desperately want to put on weight. The carbohydrates in potatoes are not a good choice for anyone who is diabetic or prediabetic or anyone who needs to keep their blood sugar balanced. Potatoes also contain a variety of phytonutrients that have antioxidant activity. Among these important health-promoting compounds are carotenoids, flavonoids, and caffeic acid, as well as unique tuber storage proteins, such as patatin, which help to minimize free radicals.