I don't know about you, but often it seems that however I begin the day — whether it's with a healthy or not-so-healthy breakfast — it usually sets the tone for the rest of the day.  I love my Green Monster Energy Blast for breakfast, it's my favorite way to start my day. But I know for some this isn't quite enough to get you going in the early morning hours. Especially for those that commute to work and need a healthy alternative in the "grab and go" category. These vegan blueberry banana spelt muffins are just for you!
Vegan Blueberry Banana Spelt Muffins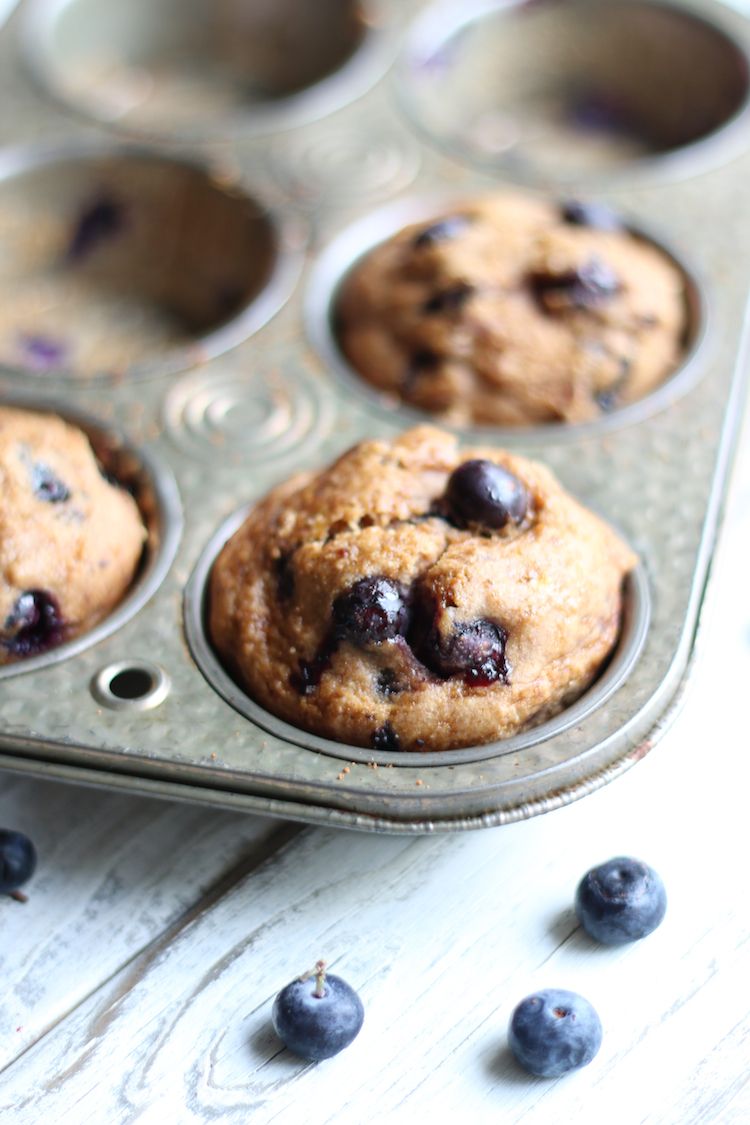 It's not a surprise that this recipe turned out to be absolutely delicious!  The blueberries and bananas in this recipe give it a natural sweetness. Definitely not as sweet and buttery as the processed store-bought blueberry muffins (that are often loaded with butter/oil, eggs, milk, and a ton of sugar), but I thought my healthier twist was still completely satisfying.  I especially loved the hint of lemon in the mix — delicious, a perfect touch of tangy zest :)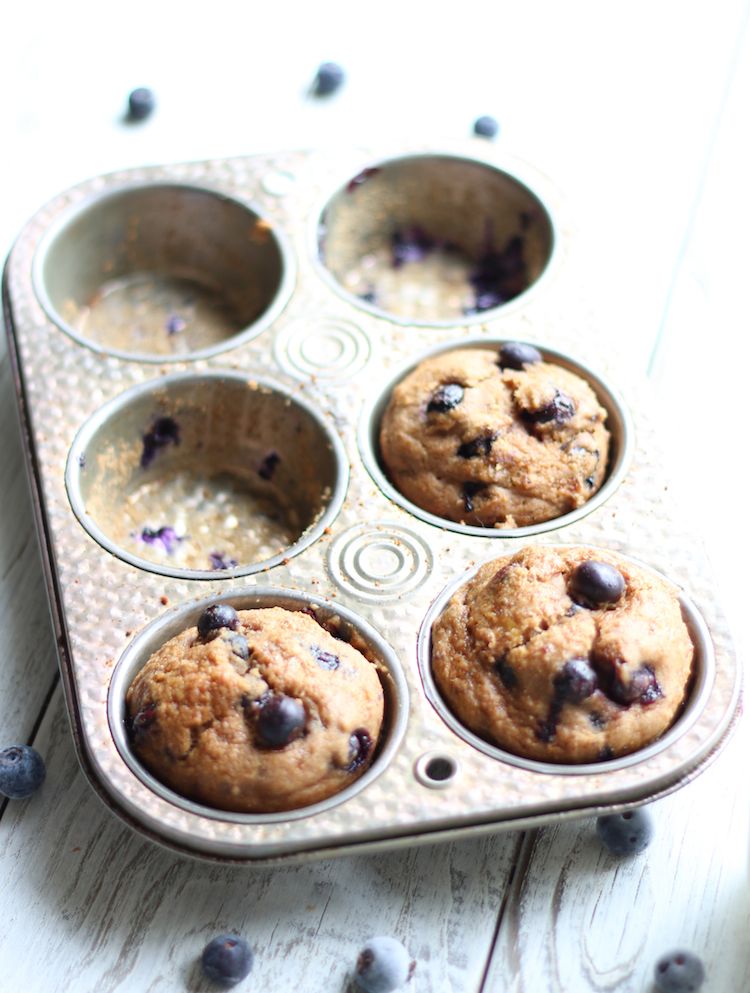 These plant-based blueberry muffins would make for a lovely brunch or weekend breakfast item too. They are also sweet enough to be enjoyed as a dessert but still subtle enough to maintain your sugars before whining down before bed.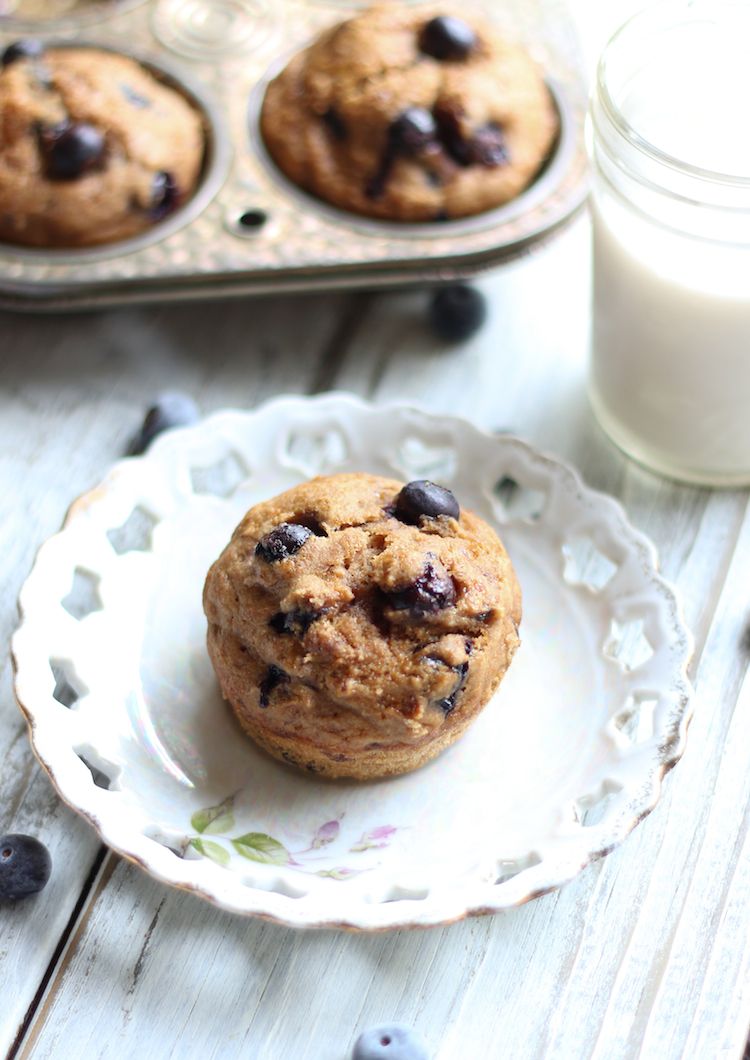 I often give these to my kids as a mid-day snack with some sliced apples and almond butter. This makes their day!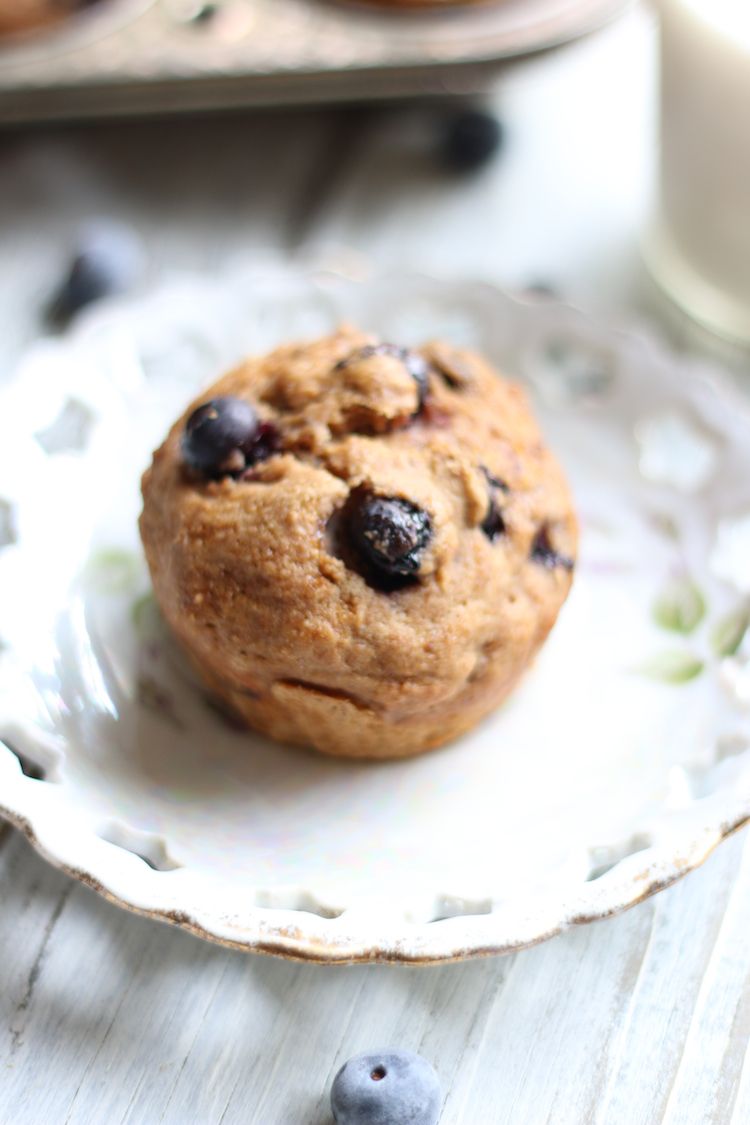 Oh and these vegan blueberry banana spelt muffins aren't just delicious, they are ridiculously simple to make.
Just basic ingredients and methods are required. Lately, I've been using sprouted spelt flour for most of my baked goods but if you're gluten-intolerant just substitute the flour for your favorite gluten-free alternative.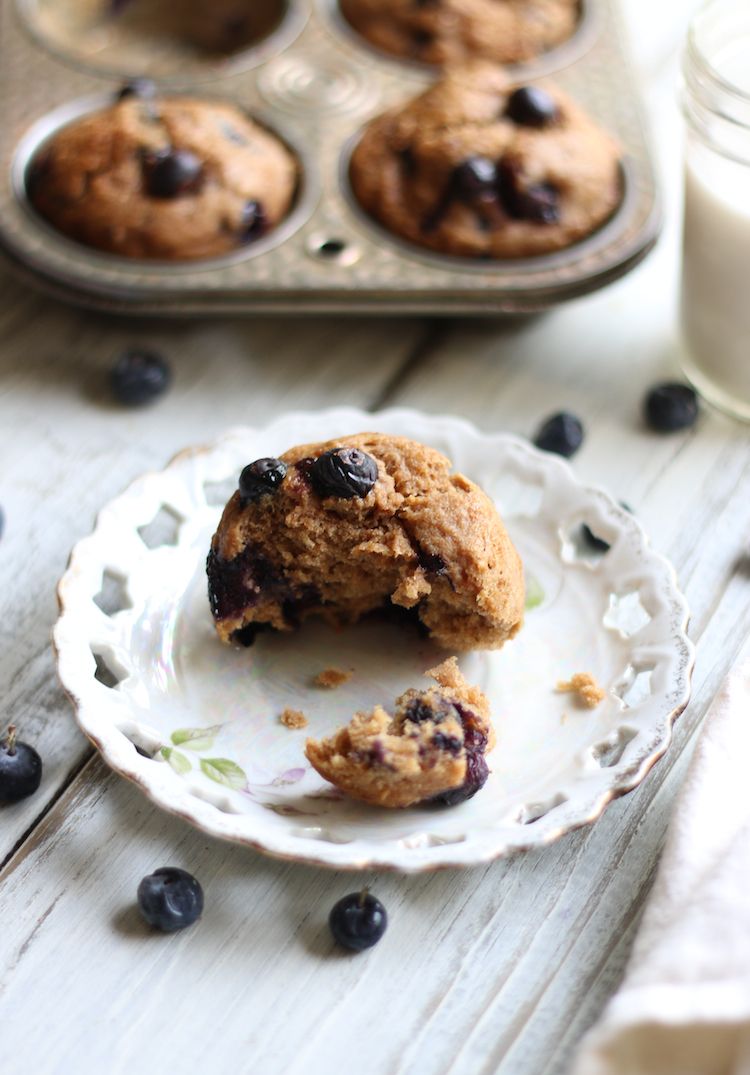 Print
Vegan Blueberry Banana Spelt Muffins
Simple Blueberry Banana Muffins with a hint of lemon. Tender, moist, hearty and entirely vegan. The perfect healthy snack or breakfast on the go!
Author:
Prep Time:

7 mins

Cook Time:

20 mins

Total Time:

27 mins

Yield:

6

1

x
Category:

Breakfast
1

banana

1 cup

wild blueberries

1 cup

sprouted spelt flour

1/2 cup

almond milk

1/4 cup

coconut sugar

2 tablespoons

of lemon juice + lemon zest

2 tablespoons

coconut oil

1 teaspoon

vanilla

1 teaspoon

baking powder

1/2 teaspoon

baking soda

1/4 teaspoon

salt
Instructions
Preheat the oven to 350F.
In a small bowl combine smashed banana, almond milk and lemon juice. Set aside to allow milk to curdle.
In a larger bowl combine flour, baking powder, baking soda and salt. Set aside.
Mix together sugar, coconut oil, lemon zest, and vanilla extract. Add almond milk mixture and stir to combine. Stir in the dry ingredients until well incorporated. Be careful not to overmix – a few lumps are okay. Fold in blueberries.
Spoon into muffin tins, filling each cup about ¾ full. Bake for 20-25 minutes or until golden brown.
Remove from heat and allow muffins to cool before removing from pan. Enjoy!
As always, if you give this recipe a try we hope you love it! Let us know if you do by leaving a comment or taking a picture and tagging us on Instagram @LiveSimplyNatural. We'd love to see what you come up with. Cheers and happy baking!
Hugs,

Health Benefits
Blueberries are high in antioxidants and help to boost the body's immune system. They are also high in vitamin A, vitamin B complex, vitamin C, vitamin E, anthocyanin, copper, iron, selenium, and zinc. This protects the body and fights against viral and bacterial infections. Blueberries also help to reduce the risk of obesity, diabetes, and heart disease. They are great for energizing the body, aiding in weight loss, and lowering cholesterol levels naturally. Blueberries are a great source of fiber intake, which helps to reduce constipation and improve digestion. The high antioxidant and anti-inflammatory properties of blueberries build a protective layer around the brain to fight against the signs of aging.