When first starting your health journey, kale can be one of the hardest greens to incorporate. I use to add very little to my salads at a time because I too was not a big fan of the magical kale all the health enthusiasts talk about. But once I discovered this Vegan Kale Quinoa & Lemon Salad, I was hooked.
The solution for me was to create recipes that were so flavorful, they helped minimize the bitter taste of the miracle kale we all need. To get the best results from a kale salad, you have to make sure that you massage your kale very well, which helps it become softer and easier to eat as well.

Kale and quinoa are great sources of plant-based protein. And guess what? This recipe has both, jam-packed with nutrients to provide you with sustainable energy to fuel your day! As I work to incorporate more kale into my diet, I will be sharing the recipes that I have used to help me do so. My goal is that you add more plant-based proteins to your diet, while still enjoying what you are eating.

The trick to making kale taste good is to work with its natural flavors. In our vegan kale salad recipe, we don't try to mask the taste of the kale, we work with it by adding ingredients such as lemon juice and nutritional yeast which help the flavors of the kale to blend perfectly with the other ingredients.
Just to share some exciting news about this recipe, the first time my dad ate kale was with this salad. He was skeptical but I forced him to try it, and you know what, he loved it! And you will too!!!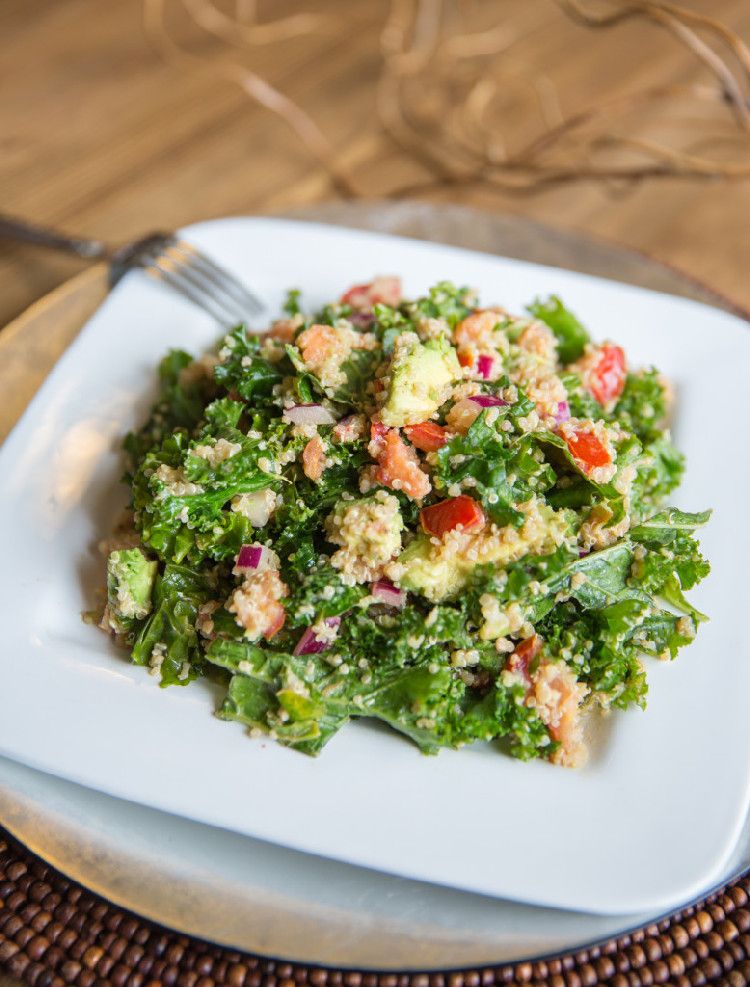 Print
Kale & Quinoa Salad
A health protein packed salad. Simple and delicious!
Author:
Cuisine:

Vegan, Gluten-Free
2 cups

dry quinoa

4 cups

water

1

large bunch kale

1 pint

grape tomatoes

1

avocado

½

red onion (chopped)

¼

lemon juice

¼ cup

nutritional yeast

2

tbs olive oil

1 tsp

sea salt

1 tsp

chili powder (optional)
Instructions
In a medium pan, cook quinoa and water on low heat for 20 min or until quinoa is soft. Set aside to cool.
In a large mixing bowl combine ingredients, shredded kale, tomatoes, avocado, chopped onion, lemon juice, nutritional yeast, olive oil, and seasoning. Mix well.
When quinoa is cooled add it to your salad mixture and mix ingredients together. Enjoy!
Nutrition
Serving Size:

4

Calories:

517

Sugar:

3g

Sodium:

629mg

Fat:

20g

Saturated Fat:

3g

Unsaturated Fat:

17g

Carbohydrates:

69g

Fiber:

14g

Protein:

19g

I hope you give this cranberry kale salad a try and if you do let us know what you think! Leave a comment, rate it, and don't forget to take a picture and tag me on Instagram @LiveSimplyNatural! Stay tuned for more simple recipes :)
Hugs,

Health Benefits
Quinoa, pronounced keen-wa, can be used like a grain but it is actually a seed from vegetables related to Swiss chard, spinach, and beet. It is low in fat and gluten-free. Quinoa, when sprouted, is a complete protein and contains all nine essential amino acids. It is high in fiber and Riboflavin (B2) which helps to lower cholesterol and may help with losing weight for it is lower in calories and keeps you full longer. High in B2, it helps to improve metabolism in the brain and muscle cells. Quinoa is also a good source of magnesium, which helps to regulate blood sugar levels and may help with reducing Type 2 diabetes.