Thanksgiving was always a conflicting time for us. When we made the decision to cut all animal products from our diet, the challenge came when it was time to tell our family. Food is something we use to bring people together but the idea that someone would choose happily to cut out meat from their diet was something my family just couldn't get. It took us a few years of the holiday torture to finally get them to understand that this is our choice and with whatever we choose to eat we can still come together and celebrate.
The holidays can be hard for those that choose to live differently, whether it is a different religion, culture, or even food preferences, we must learn to love and accept each other with whatever path we choose to walk.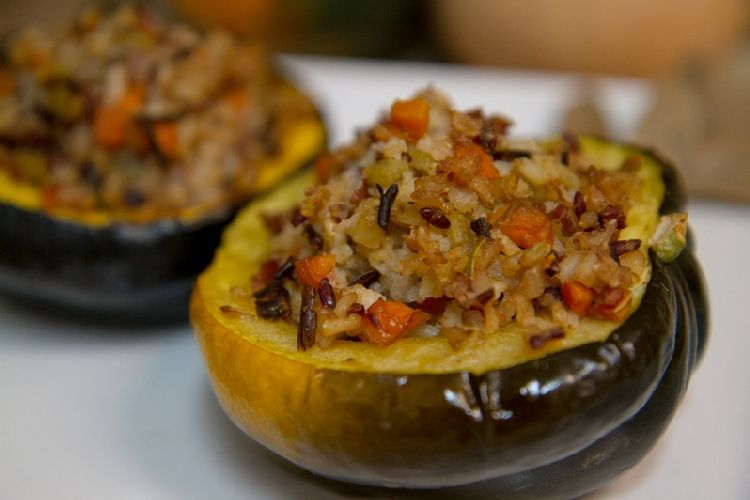 This wild rice stuffed acorn squash is super easy and perfect for your holiday feast. We had this last year for Thanksgiving and it was a total hit. It's a great alternative to turkey and even the non-vegans were surprised at how much they enjoyed it.
I got my acorn squash at my local farmer's market. I often brag about how lucky I am to have such great farmers that are so close to me ( 7 minutes to be exact). You can find these acorn squashes at any local supermarket.
Print
Wild Rice Stuffed Acorn Squash
This stuffed acorn squash is a great addition to any holiday menu. Use it as a side or main entree. Enjoy with your family and friends!
Author:
Prep Time:

20 mins

Cook Time:

30 mins

Total Time:

50 mins
Wild Rice Stuffing
2 cups

wild rice

3 cups

vegetable broth

2 cups

carrots (chopped)

2 cups

celery (chopped)

2 cups

onion (chopped)

2

garlic cloves (chopped)

2

tbs coconut oil

1

tbs Himalayan sea salt

1 tsp

black pepper

1/4 tsp

nutmeg
Acorn Squash
4

acorn squash

2

tbs extra virgin olive oil
salt & pepper to taste
Instructions
Wild Rice Stuffing
In a large pan melt your coconut oil over medium heat.
Add your rice and mix for a few minutes.
Then add your chopped carrots, celery, onions and garlic and mix all your ingredient together. Then add your seasoning and mix again for about 3-5 minutes.
Add 3 cups vegetable broth, cover your pan and simmer for 20 min on medium low heat or until rice is tender.
Allow time to cool before stuffing your acorn squash.
Acorn Squash
Preheat oven to 350 degrees.
Clean and cut acorn squashes in half and scoop out seeds.
Lightly rub olive oil over acorn squash. Add salt & pepper to taste.
Place acorn on baking sheet and cook for 20 min.
When finished, place wild rice stuffing in the center of your acorn squash. Serve warm.
Notes
Leaving the acorn squashes in the oven will dry them out. If you stuff you acorn prior to serving and are wanting to keep them warm place them in a pot with an inch of water and leave on low temperature. This will help keep the acorn squash soft and prevent them from drying out.
Nutrition
Serving Size:

8

Calories:

326

Sugar:

4g

Sodium:

1276mg

Fat:

8g

Saturated Fat:

4g

Unsaturated Fat:

4g

Carbohydrates:

60g

Fiber:

8g

Protein:

9g
I hope you enjoy this recipe just as much as we do. If you do try this recipe, let us know what you think! Leave a comment, rate it, and don't forget to take a picture and tag me on Instagram @LiveSimplyNatural! I love to see what you come up with :)
Hugs,

Health Benefits
Acorn Squash is a great source of vitamin C, which is one of the best ways to boost your immune system. It's also very high in dietary fiber, which helps to regulate digestion and eliminate constipation, diarrhea, and bloating. Acorn Squash has a wide variety of minerals including calcium, manganese, magnesium, copper, iron, and phosphorous. These minerals are integral parts of the development of new bones, as well as the regrowth and healing of the bone matter you already have. Acorn squash has a high amount of antioxidants and is particularly high in beta-carotene. It's also high in carbohydrates, and while there aren't any simple sugars in acorn squash, as you would normally find in carbohydrates, they still fill the body up in terms of calories.