It's a rainy day here in Texas, which if you don't know, I love rainy days. It gives me an excuse to stay in pajama pants all day and cuddle up on the couch with my beloved family. Thankfully the rain is bringing in some cool weather, and with how it's been here you would have never known it's December here in Houston.
Now that it is going to be cooler, it's perfect weather for soup. I love soup! I'm taking advantage of the fall produce before it's too late and this butternut squash soup has been on my mind for a while now and I'm happy to finally see it complete. This recipe is ideal when you are wanting something savory yet simple, perfect for chilly weather.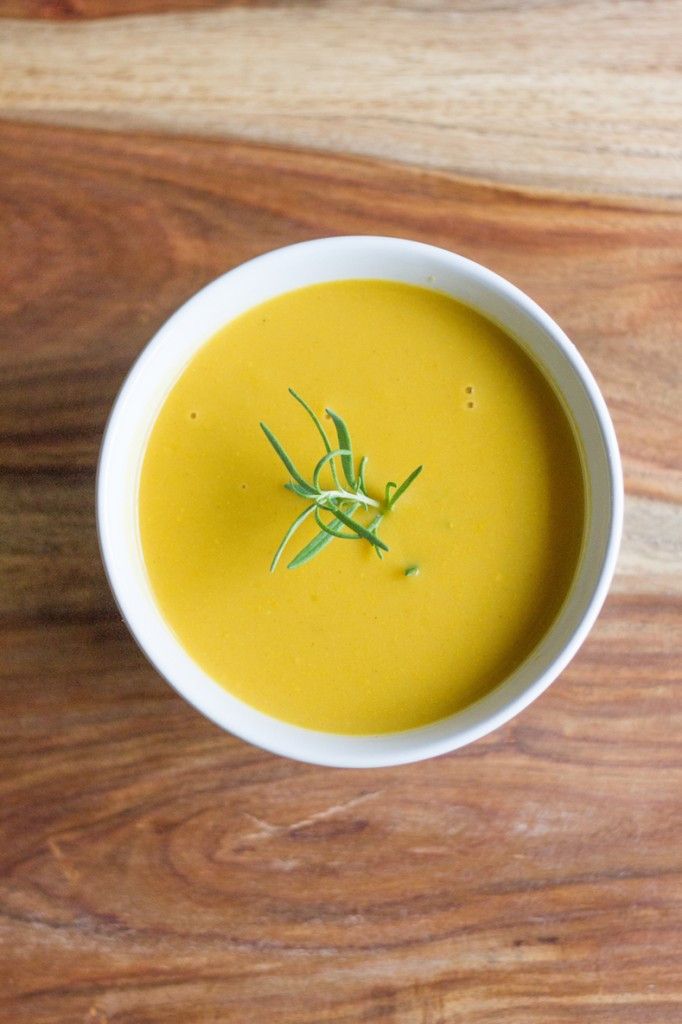 Although it's great just on its own, you can pair this soup with a nice quinoa salad for your soup and salad nights at home. It will also be great for taking to a fall gathering to share.
If you try this recipe, let us know what you think! Leave a comment, rate it, and don't forget to take a picture and tag me on Instagram @LiveSimplyNatural! I love to see what you come up with :)
Butternut Squash Soup
A savory, simple soup recipe with a healthy spin both your body and palette can enjoy.
Author:
Prep Time:

10

Cook Time:

20

Total Time:

30
I small butternut squash (chopped)

1 cup

coconut meat

4 cups

water

2

dates

2 tbsp

curry powder

1 tbsp

coconut oil

2 tbsp

peanut butter (optional)
Pinch of salt & pepper to taste
Instructions
In a large pot over medium heat add oil, garlic and butternut squash. Sauté for 10 minutes, stirring frequently.
Add salt and pepper, curry powder, and water. Stir, then cover and cook for 10 minutes.
Using a high speed blender, add coconut meat, dates, and pot mixer and blend on high until smooth and creamy. Enjoy
Notes
Since are constantly buying fresh coconuts we always have coconut meat on hand. I prefer fresh over canned any day but I know it's not always available so the fresh coconut can be modified to can easily. Just lower the amount of water to 2 cups.
I used my Blendtec Blender for this recipe and used the soup setting twice to get the smooth creamy texture.
I hope you enjoy this recipe just as much as we do. If you do try this recipe, let us know what you think! Leave a comment, rate it, and don't forget to take a picture and tag me on Instagram 
@LiveSimplyNatural
! I love to see what you come up with :)
Hugs,

Health Benefits
Butternut Squash is an important source of many nutrients, including vitamin C, magnesium, and other antioxidant compounds. The anti-inflammatory properties in squash with the presence of omega-3 fatty acids, carotenoids like lutein, zeaxanthin, and beta-carotene can certainly help with arthritis and gout, studies on squash have specifically linked its impact to reducing gastric and duodenal ulcer reduction, as well as to general anti-inflammation of the cardiovascular system. Squash also helps to improve the quality of your sight, boost skin health, strengthen the immune system, build strong bones, reduce symptoms of insomnia, increase prostate health, protect against birth defects, boost respiratory health, and reduce blood pressure. The magnesium and potassium present in squash form a very effective defensive line against cardiovascular issues. Butternut squash is high in vitamin A, as well as significant amounts of vitamins C, E, B6, niacin, thiamin, pantothenic acid, and folate. In terms of minerals, squash contain magnesium, potassium, manganese, copper, phosphorous, calcium, and iron. They are also a very good source of carotenoids and other important anti-inflammatory and antioxidant compounds.