This vegan minestrone kale soup is so comforting, and perfect for starting off this fall season. I love how this soup is unbelievably filling and it's nice how it makes a big pot-full so you can have some for lunch for the next few days. It does call for quite a few ingredients but doesn't shy away from this recipe because of that. It's totally worth it!
Vegan Minestrone Kale Soup
This recipe is one of my favorites to use when
meal prepping
for the week. It makes a ton so you can have some for lunch, dinner, or whenever you want for the next few days. I love how now that it is officially fall season we can start putting warm soups on our list of weekly meals. It's the perfect way to get more grounded in the season of introversion.
WHAT VEGETABLES TO PUT IN MINESTRONE SOUP?
Since this is a kale minestrone soup recipe, you're going to want some kale for sure. It's more common to use spinach, but spinach gets weird in hot soup. Kale softens but doesn't become a soggy mess. So for this one kale is for the win!
Minestrone soup is really flexible, you can use whatever veggies you have on hand or you can go out and get my list here. This recipe really is a base to start with but please make it your own and use all of your favorites.


WHAT BEANS TO PUT IN MINESTRONE SOUP?
Since this is a minestrone soup recipe, you're going to want some kind of beans in it for sure. It's more common to use chickpeas, and red or white beans, but you can really get as creative as you like. You can use even lentils or black beans. I just use chickpeas and kidney beans because I really enjoy that combo. But use whichever feel good to you or whatever you have on hand.
WHY FROZEN VEGETABLES ARE AWESOME
They're easy.
They're cheaper than fresh produce.
They require no chopping.
They have nutritional value like fresh veggies.
They're always ready to go.
You can certainly use all fresh veggies if you want, but why do all that chopping when frozen veggies have just as many nutrients as fresh and they are so much quicker?
Don't get me wrong, I LOVE fresh veggies and in most cases, fresh is superior in taste and texture. BUT you really can't tell the difference when they're in soups and stews, so let's give ourselves a break and take the easy route today, ok?
For this recipe I used frozen green beans but use whatever you feel makes life easier. The fall season is all about slowing down so take advantage of it and find ways to make eating and nourishing yourself a little less stressful for you.



Tips for making gluten-free minestrone:
Here are some carb choices in your gluten-free minestrone soup but definitely not required. I like adding carbs so that it is a little more hearty and filling but again this is flexible so practice some intuitive eating and do what feels good to you.
Potatoes – If you choose to use potatoes, peel and chop them into small pieces then add them early on in the soup to give them enough time to boil until they are soft.
Quinoa – If you choose to add quinoa, add about half a cup to the soup and simmer for the last 15 minutes.
Gluten-Free Pasta – If you love pasta in your minestrone, make sure to add it at the end of cooking. You can even cook it separately and then spoon the soup over the pasta when you serve it so it doesn't become too soft when reheating.
What greens can I add to minestrone soup?
I like adding some chopped kale, it is the perfect addition to this soup! Chop it up fine. Toss it in your soup towards the end of cooking! You can also add fresh parsley and maybe some spinach at the end, but spinach doesn't hold up as well as kale. You can also opt out of adding greens altogether. It's totally up to you, again this soup is super flexible and is all about adding the veggies you love and enjoy.

Products I used in this recipe…
Disclaimer: This post includes affiliate links, and I will earn a commission if you purchase through these links. Please note that I've linked to these products purely because I recommend them and they are from companies I trust. There is no additional cost to you.
---
Print
Vegan Minestrone Kale Soup
Prep Time:

10 mins

Cook Time:

25 mins

Total Time:

35 mins

Yield:

8

1

x
Category:

Vegan, Gluten Free

Cuisine:

Italian
1

large yellow onion, chopped

3

cloves garlic, minced

3

medium carrots, chopped

2

stalks celery, chopped

1

large or

2

small zucchini, chopped

1

red bell pepper, chopped

1

(32 oz) vegetable broth

1

(28 oz) can crushed tomatoes

1

bunch fresh parsley, chopped

2 cups

green beans, frozen
Salt and pepper, to taste

1

(15 oz) can red kidney beans, drained and rinsed

1

(15 oz) can chickpeas, drained and rinsed

1/2

bunch fresh kale, chopped

1 Tbsp

fresh rosemary

1 Tbsp

fresh thyme

1 Tbsp

lemon juice
Vegan parmesan for garnish
Instructions
In a large pot, heat olive oil over medium-high heat. Add diced onion, garlic, carrots and celery and saute about 5 minutes, until softened. Add in red bell pepper and saute 2 minutes.
Add in vegetable broth, crushed tomatoes, zucchini, kidney beans, chickpeas, rosemary, thyme, salt and pepper to taste and bring mixture to a boil, then reduce heat to medium and allow soup to gently boil, uncovered for about 25 minutes.
Then add in green beans, kale and lemon juice then cover and cook 10 – 15 minutes longer or until kale has wilted. Lastly, mix in parsley and serve warm. Garnished with vegan parmesan and fresh herb. Enjoy!
---
you might also like:
10-Minute Immune Boosting Miso Soup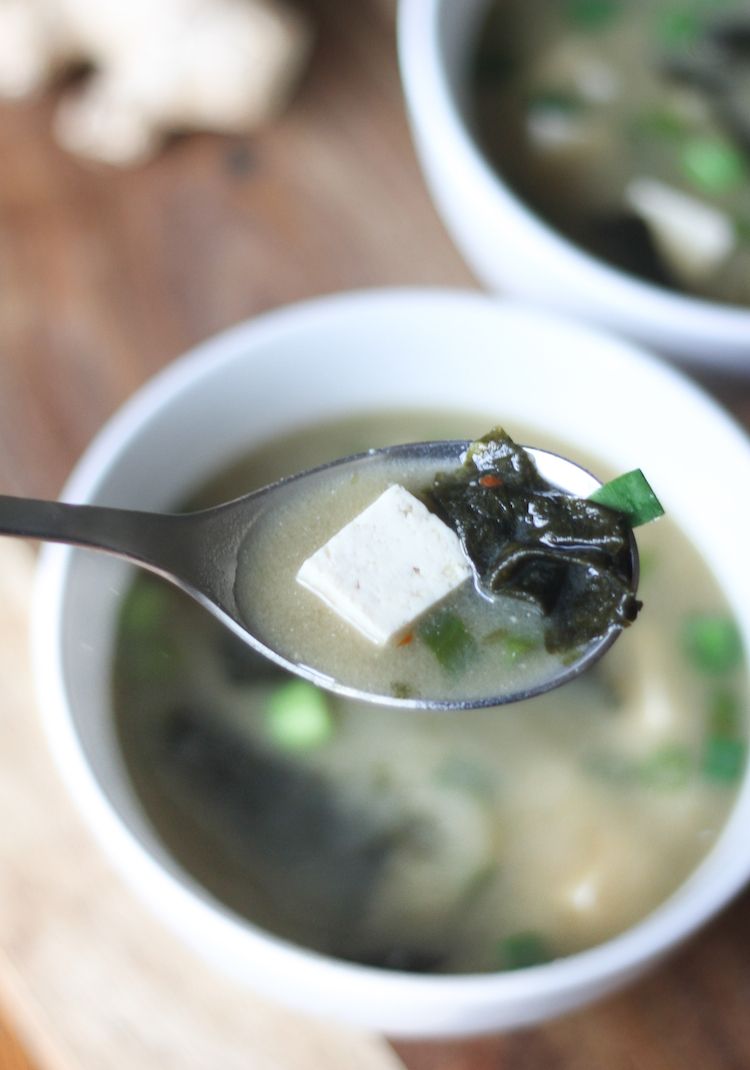 Black Bean Butternut Squash Soup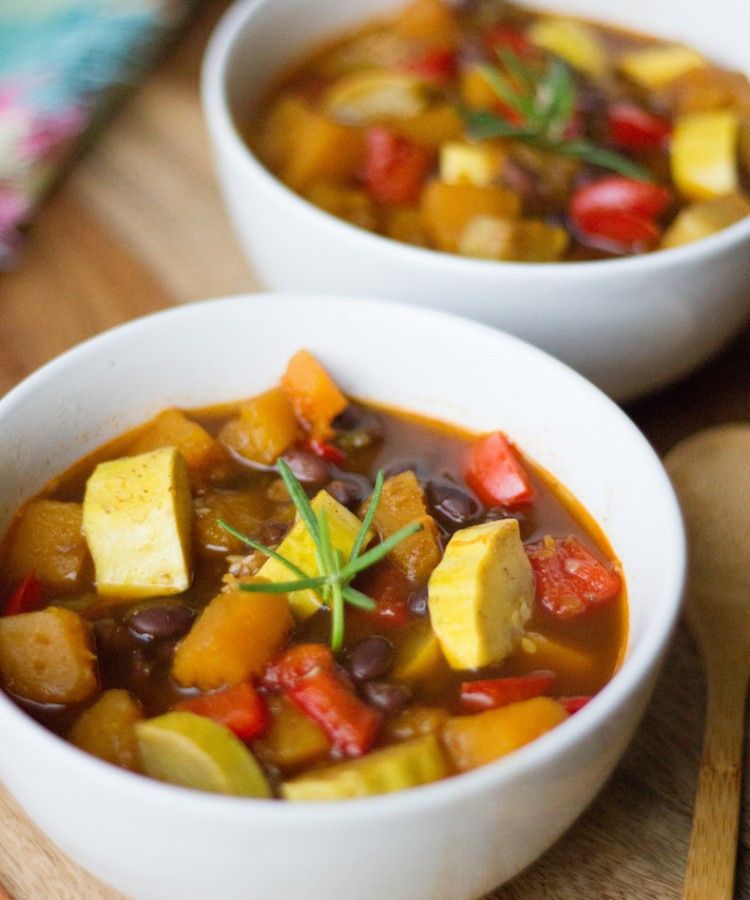 let's chat!
I hope you give this recipe a try and if you do, rate it, take a picture and tag me on Instagram @livesimplynatural or pin it for later on Pinterest. I love seeing what you all are cooking up in the kitchen!
Hugs,