When I first shared one of my smoothie bowls on Instagram, it became one of my most popular posts for good reason, Not only are they beautiful but they are easy to make and so delicious! The goal is to choose nutrient-dense ingredients, full of carbohydrates, fiber, healthy fats, and quality proteins to build the perfect smoothie in a bowl. As much as I love having a BIG glass of my favorite Green Smoothie Energy Blast for breakfast there's nothing more filling than a nourishing smoothie bowl. You get all the smoothie goodness with whatever whole-food toppings you crave. Below is a breakdown of ingredients that you can use to start making your own Smoothie Bowls, and I also include 3 of my favorite recipes that I hope you'll try as well!
How To Build A Smoothie Bowl + The BEST Acai Smoothie Bowl Recipe!
When practicing mindful eating, one of my favorite Live Simply Natural Philosophy, the focus isn't to lose weight, rather it's more about finding balance with our eating habits. Smoothie bowls allow us to slow down with our food and listen to our hunger cues and focus on getting nutrients that so many of us living the Standard American Diet, lack. Smoothie bowls are just one of many ways we can make foods from the earth fun, delicious, and something a little unique to try. It's also one of my favorite self-love practices as it allows me to get creative and treat myself to something that's both nourishing and beautiful.
Did you know smoothie bowls are great for kids?! Seriously, my kids love topping their smoothie bowls with ingredients they wouldn't normally eat otherwise. My daughter likes to think of it like her own version of cereal only better because she can use all the ingredients she likes. It's magic!
SMOOTHIE BOWL INGREDIENTS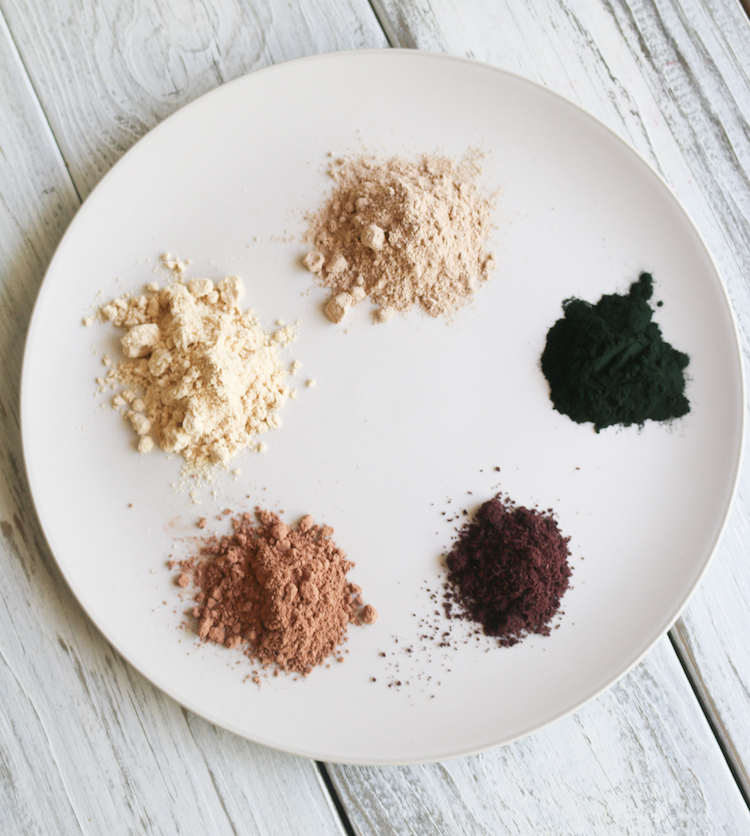 Powders 
maca powder
vegan protein powder
cacao powder
mushroom powders (flavorless!)
matcha green tea
spirulina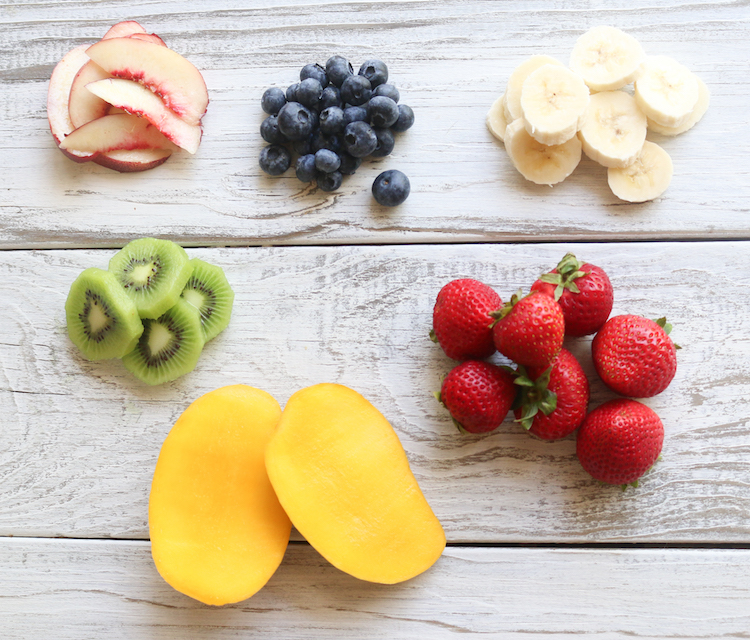 Fresh toppings 
Banana
Orange zest
Blueberries
Strawberries
Peaches
Mango
Kiwi
Dragon fruit
Raspberries
Pineapple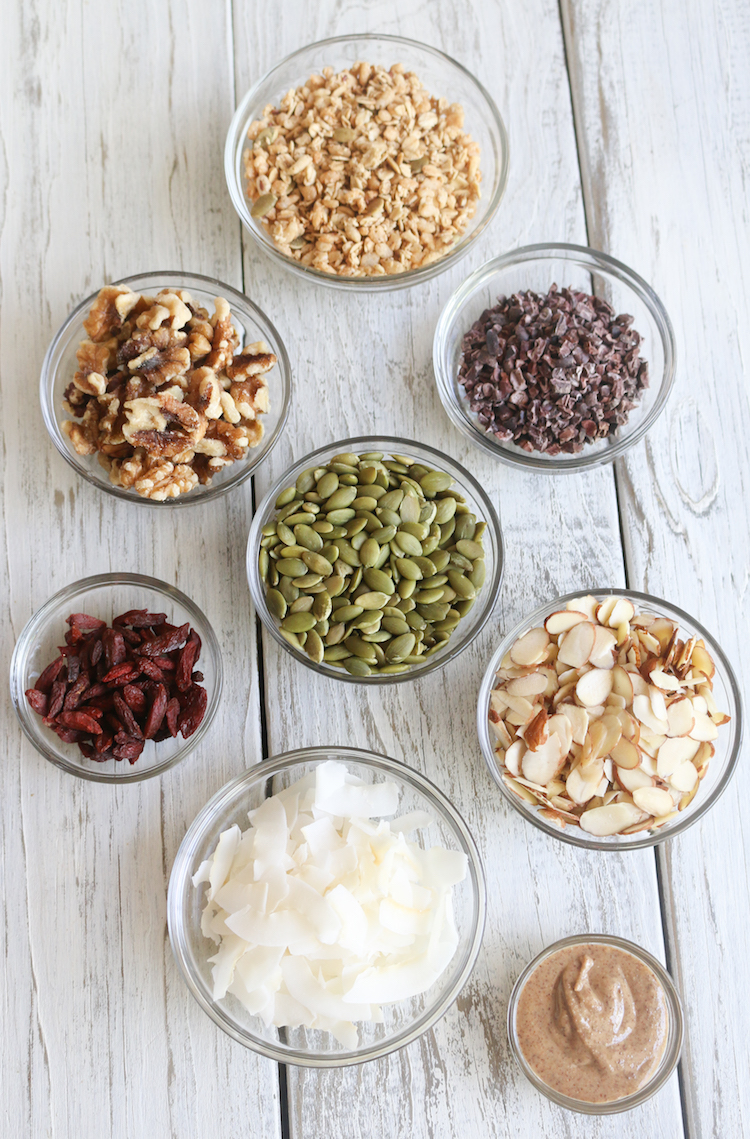 Dry toppings 
Sliced almond
Chopped walnuts
Cacao nibs
Chia seeds
Flaxseed
Hemp seeds
Dried coconut
Granola
Oats
Goji berries
5 Steps To Building The Perfect Smoothie Bowl
01. Start with your smoothie.
If you want the creamiest smoothie bowl ever, you will need to add as many frozen ingredients as possible and as little liquid as possible, giving you a thickt\ frosty ice cream/smoothie bowl. Using a high-speed blender like a Vitamix or Blendtec, or a food processor is a must for creating the perfect smoothie bowl.
02. Make it nourishing.
Smoothie bowls are not only a great way to sneak in fiber and vegetables, but they're an incredible way to sneak in energy and nutrient density. I always recommend using a balance of carbs, fiber, protein, fats, and phytonutrients (lefty greens) in every smoothie bowl, this gives you a balance of everything your body needs to maintain healthy energy levels.
03. Add fresh toppings.
As a general rule, I add at least 3 different fresh fruit toppings to my smoothie bowl. These can range from fresh banana slices to berries, sliced peaches, kiwi, and the list can go on. Adding at least two fresh fruit ingredients with different colors will ensure your smoothie bowl is colorful upon serving. And more Instagrammable .. if you are into that sort of thing.
04. Add dry toppings.
I also like to add at least 2 different dry ingredient toppings to my smoothie bowl. These can range from homemade granola, I like using my favorite Granola Clusters, nuts, chia or hemp seeds and so many more. And more Instagrammable .. if you are into that sort of thing.
05. Drizzle on extras.
My favorite part when creating the perfect smoothie bowl is adding a drizzle of some yummy goodness on top. This can be any of your favorite nut butter, like almond butter or cashew butter, which I like using as my fat source. Or you can make it more of a dessert and drizzle a little maple syrup or chocolate, yum!

TOP 10 TIPS FOR BUILDING THE PERFECT SMOOTHIE BOWL
Smoothie bowls are the perfect way to practice self-care while giving yourself a super healthy kickstart to your day! At least that's what it feels like for me, here are my top 10 tips to get you started.
 Your Blender Matters. I promise you it's worth investing in a high-speed blender. Once you've had a perfectly thick and creamy smoothie made with one of these high-speed blenders, you'll never want to go back.
Start With A Bowl. Finding the perfect smoothie bowl can be a challenge and it may seem silly that we start there but having a few go-to smoothie bowls will make your process a lot easier. I have a few bowls that are my favorite for smoothie bowl making, and it helps if they are wide at the mouth, thick ceramic or wood, and deep enough that when you mix your smoothie it stays in the bowl and not on your pants. :)
Frozen Fruit. Having enough frozen ingredients is vital for getting the best consistency for your smoothie bowls. If too thin your toppings with fall to the bottom and won't be as appealing to share on Instagram … if you are into that sort of thing. My usual go-to frozen items for smoothie bowls: are frozen bananas, frozen berries, frozen pineapple, frozen mangos, frozen pitaya, frozen acai, frozen zucchini (yep, a great alternative to bananas), and/or frozen grapes.
Color Combinations. Keep the ingredients in your smoothie in similar colors. This means don't use strawberries in your green smoothies because what you will end up with is an odd shade of brown and that only looks appealing if you're going for a chocolate-flavored smoothie bowl. So if you're wanting your smoothie to look green, stick with greens. If you want berries, stick with berries. It's that simple.
No Ice Ice, Baby. Do not add ice to your smoothie bowl base. Ice will melt a lot faster and make your toppings more likely to sink.
Prep Your Fruit First. Your smoothie bowl will start to melt the minute you pour it into its serving bowl. So having your fresh fruit, nuts, seed, and drizzle pre-prepped first will give you a scoop of your smoothie bowl deliciousness faster – allowing for more time to eat that ice cream smoothie bowl.
Who Cut The Fruit? When adding fruit to your smoothie, make sure to cut it into bite-sized pieces rather than chunks. It'll be easier to eat and less likely to sink to the bottom of the bowl. Plus it will make for a better photo.
Keep It Cool. Since it melts so fast and more so if you don't have the proper bowl, you can use a cloth napkin and wrap it under your smoothie bowl, this helps to insulate the bowl. You can also use frozen fruit toppings instead of fresh to help keep it cool for longer.
Keep It Creamy. Using avocados or a coconut-milk base will help to make a creamy base. A good base is essential to making a smooth and creamy smoothie bowl and acts as the canvas for the rest of your smoothie bowl artwork.
For The Love Of Nut Butter. When adding nut butter you can either spoon a dollop of your favorite nut butter on top or if drizzling it over the entire bowl is your thing, add a little avocado oil to thin it out a bit. This makes drizzling easier and a lot more fun!
The BEST Acai Smoothie Bowl Recipe


Print
The Best Acai Smoothie Bowl Recipe
A nourishing and simple to make acai smoothie bowl made in 5 minutes.
Author:
Prep Time:

5 mins

Total Time:

5 mins

Yield:

1

1

x
Category:

Breakfast

Cuisine:

Vegan, Gluten-Free
1 cup

organic frozen strawberries

2

small ripe frozen banana

1

celery stalk

1/2

small beet (peeled & washed)

1/4 cup

Almond milk (vanilla)

1 tablespoon

Acai powder
optional: 1 scoop plain or vanilla protein powder of choice
TOPPINGS
Shredded unsweetened coconut chips
Chia seeds
Hemp seeds
Sliced strawberries
Sliced Almonds
Instructions
Add ingredients to your high speed blender and blend on low.
Add a bit of coconut or almond milk and protein powder (optional), and blend on low again, scraping down sides as needed, until the mixture reaches a soft serve consistency (see photo).
Scoop into 1-2 serving bowls and top with desired toppings. Enjoy!
Nutrition
Serving Size:

1

Calories:

228

Fat:

3.3g

Carbohydrates:

46.1g

Fiber:

6.4g

Protein:

8.3g
WHAT'S YOUR FAVE…
Tell me what you like topping your smoothie bowl with! If you make this at home, be sure to share your thoughts in the comments or by leaving a review which helps me make these recipes better for you. And when you make this recipe, share a pic on Instagram with #livesimplynatural so I can see it too!
Hugs,