This Vegan Golden Milk Recipe is Easy and can be made in 3 Minute flat! It is my absolute favorite self-care practice to enjoy after a long day. Finally, I'm sharing my version with you. It is not only completely comforting, relaxing, and soothing, but it's also extremely nutritious. What I love most is that it can be enjoyed with only a few simple ingredients and like it says in the title made in 3 minutes flat.

Vegan Golden Milk Recipe + Easy 3-Minute Recipe!
This Vegan Turmeric Golden Milk recipe has a warm, slightly spicy, bold, and earthy flavor. When mixed with a hint of sweetness it makes for the perfect nighttime beverage. I like using it at night as it helps fight inflammation and allows my joints to better relax before going to bed. It really helps me feel more grounded and encourages me to wind down. I hope you add this to your nighttime ritual.
Turmeric Golden Milk: Where It Comes From
Traditionally, turmeric milk comes from Ayurvedic practices in Indian cultures and is nothing new to other Eastern cultures. In fact, it's been known as a "healing spice" and used to help anything from sore throats, colds, the flu, and stomachaches.
Most traditional recipes will use whole cow's milk, but I substitute it with cashew and almond milk. It's a little more friendly to our bodies and digestion. This is great for those suffering from digestive issues or intolerances to dairy.


The Health Benefits of Turmeric Golden Milk
Turmeric contains loads of nutrients, especially antioxidants and anti-inflammatory compounds which make this a win-win in my book. It's a great source of healthy fats but is also high in manganese and iron. Traditional recipes include a dash of black pepper which will actually enhance the absorption of turmeric in the body (source).
What I love about this vegan golden turmeric milk latte is that the ingredients actually work in a synergistic fashion helping to enhance the nutritional value of each other. This makes everything in it a vital component of the recipe.

When Is The Best Time to Drink this Vegan Turmeric Golden Milk?
My favorite time to incorporate turmeric milk is at the end of the day when I need something that's a little more grounding. Turmeric is actually a root vegetable so it's a great ingredient creating more grounding energy within the body. This is why so many people use it before bedtime.
I like to let all the flavors of turmeric, peppercorns, cinnamon, ginger, and or almond milk marinate beautifully together, slowly simmering it in a small pot. Actually, the longer you simmer this over low-medium heat, the stronger and more intense the flavor is, which I prefer.
But if you're on the go or just don't have the patience to prepare turmeric milk the old fashion way, you can still reap the benefits by doing it in your Vitamix blender and using the soup setting to warm it up.
Just add all the ingredients into your high-speed blender and within 90 seconds you'll have a delicious cup of comfort that you'll want to enjoy again and again.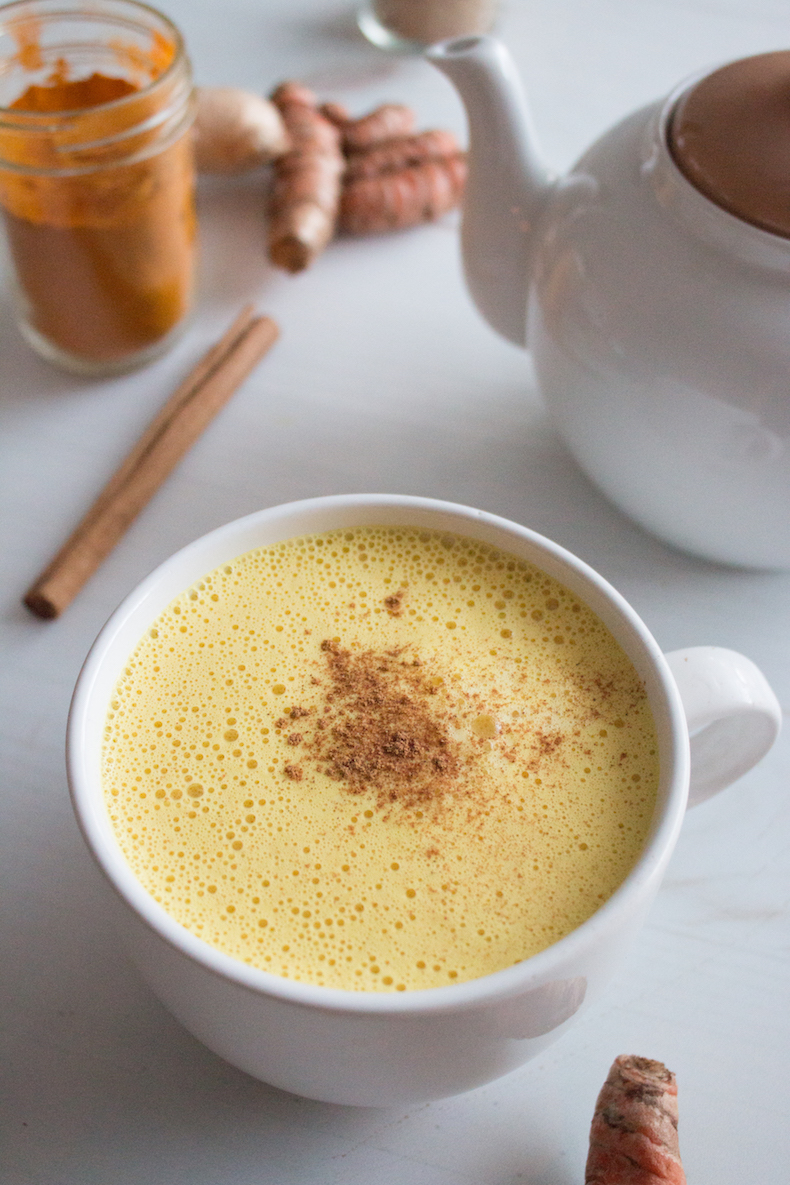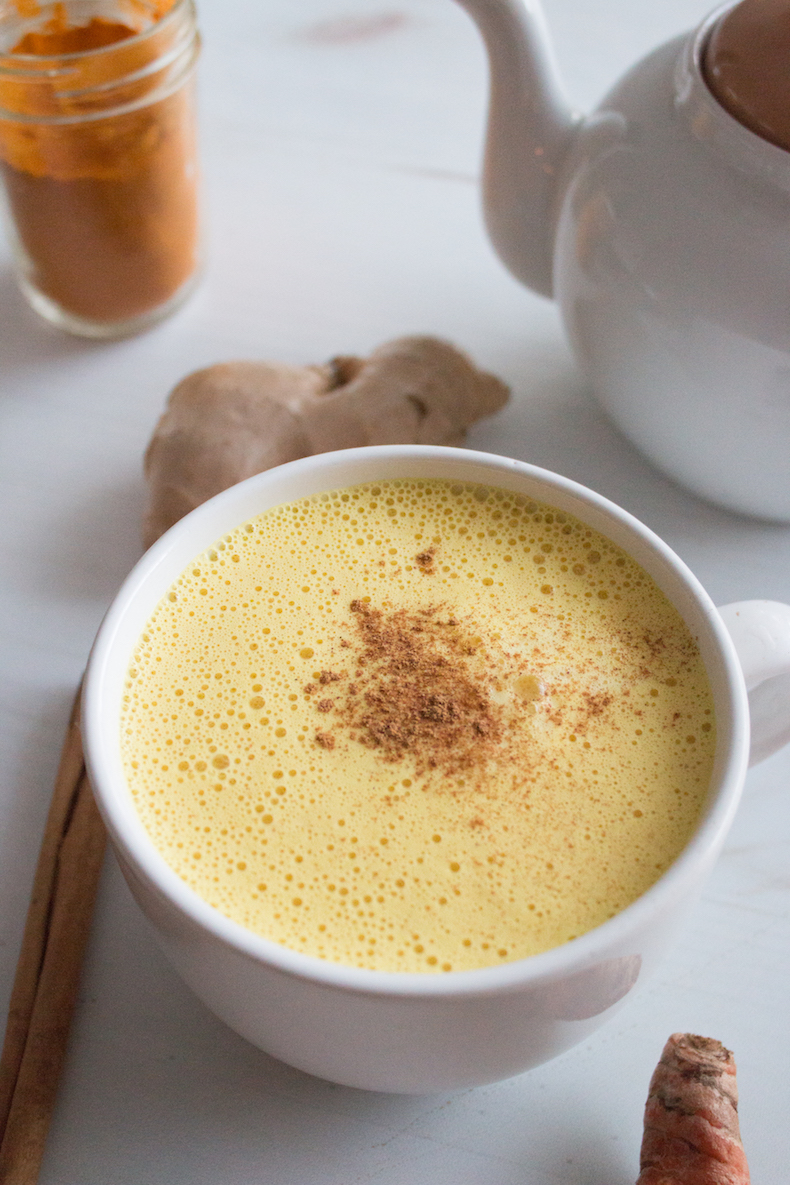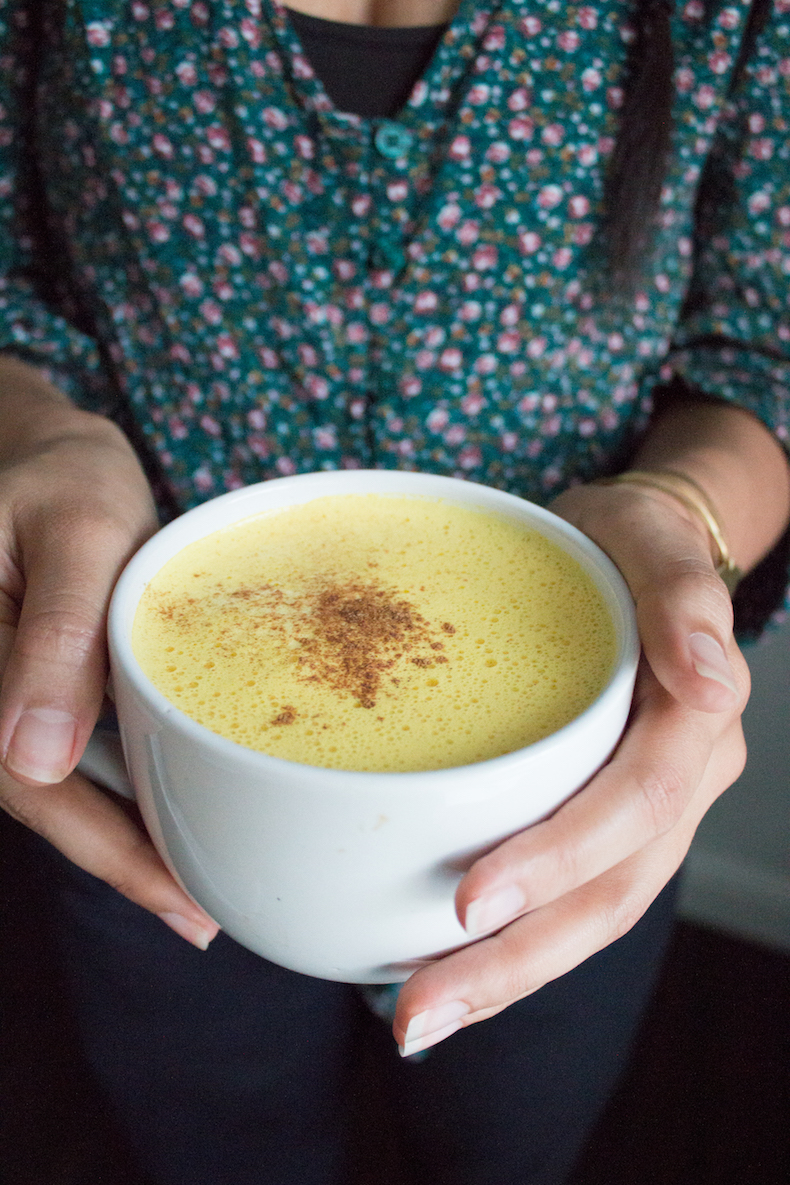 ---
You might also like:
This drink is delicious on its own, but it pairs especially well with something sweet and preferable with chocolate. I really think you'll love these recipes. Let me know what you think in the comments below!
Print
3 Minute Vegan Golden Milk Turmeric Tea Latte
Author:
Prep Time:

3 minutes

Cook Time:

3 minutes

Total Time:

6 minutes

Yield:

2

1

x
1 cups

dairy-free milk

1/4 cup

cashews

4

Medjool dates (pitted)

1 tsp

turmeric

1/4 teaspoon

ground ginger (can sub

1

–

2

teaspoons fresh grated ginger, to taste)

1/4 teaspoon

ground cinnamon

1/2 teaspoon

pure vanilla extract

1/2 teaspoon

coconut oil (optional)*
Pinch freshly ground black pepper (optional)*

2

–

3

cardamom pods, crushed (optional)
Instructions
Set a small saucepan over low heat. Add the almond milk, 1 teaspoon honey, turmeric, ginger, cinnamon stick, and black pepper and stir with a whisk until combined.
Bring to steaming, just below a simmer. Do not let it come to a boil. Keep just below a simmer, stirring occasionally, for 10 minutes.
Remove from heat. Remove the cinnamon stick. If you added other spices that need to be strained out, strain using a fine mesh strainer then return to the pan. Stir in the vanilla and coconut oil (if using). Taste and add additional honey if desired (I like about 2 teaspoons).
To make in the Vitamix Blender, add all your ingredient to your highspeed blender and press the soup setting or blend for 3 minutes on high. You tea will come out hot and creamy.
Pour half of this mixture into a small coffee cup, adding in 1/2 cup of hot water. Mix with a small spoon and sprinkle a dash of cinnamon on top. Enjoy!
Keywords: Turmeric, Tea, Latte, Quick and Easy, Beverage
---
Products I used in this recipe…
Disclaimer: This post includes affiliate links, I've linked to these products purely because I recommend them and they are from companies I trust. There is no additional cost to you.

WHAT'S YOUR FAV?
My daughter and I have been obsessed with the vegan golden milk recipe for a while now, so it was due time to share my go-to recipe. As always, don't forget to tag your creations @livesimplynatural or #livesimplynatural so the LSN community can get inspired by you too :)
Hugs,