My goal is for Live Simply Natural to be a resource to help you feel empowered when making food choices. I'm a big believer that eating a well-balanced diet is the best way to maintain good health. So I'm breaking down everything you need to know to unlock the nutritional powerhouse of the most common whole food ingredients. Today I'm sharing one of my fall and winter time favorites – CARROTS!
Produce Guide: Carrots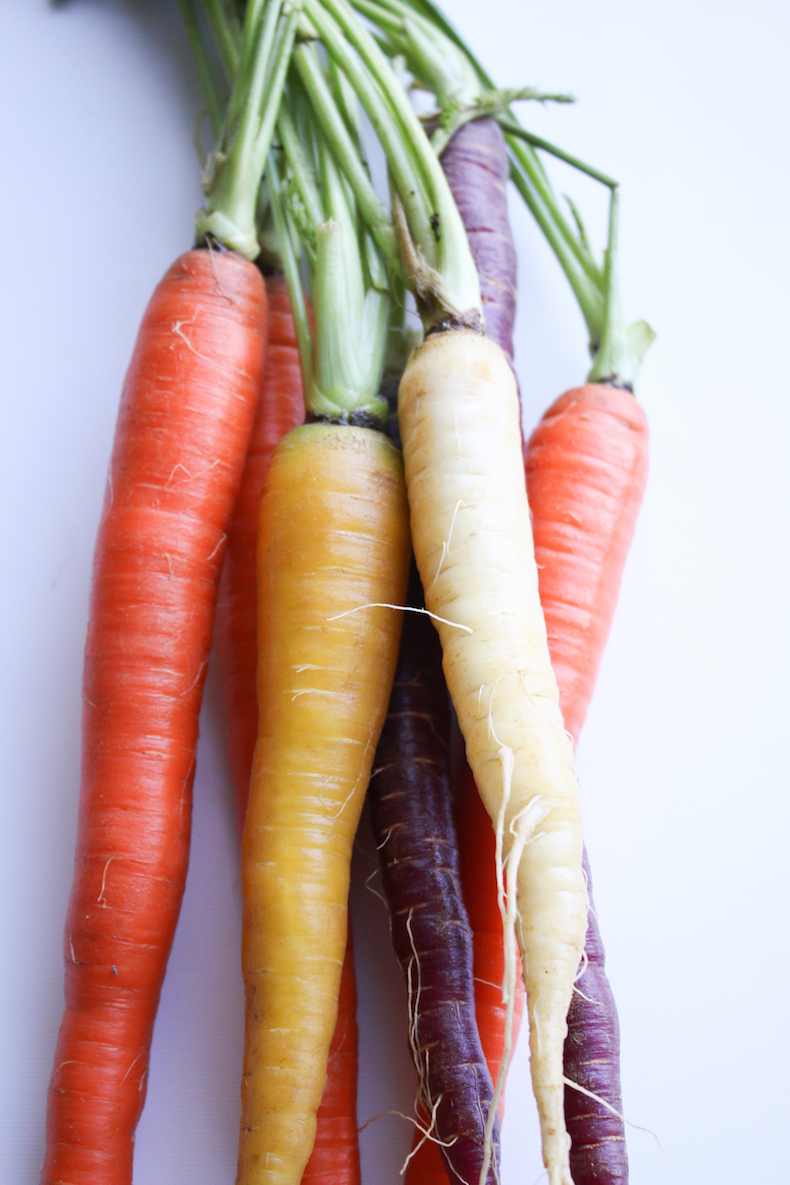 Carrots are one of the most widely used and enjoyed root vegetables in the world, partly because they grow relatively easily. Typically you can find them all year long but are at their peak in the cooler months. They are very versatile in a number of dishes and cultural cuisines and come in different colors such as orange, purple, white, yellow, and red. We like them grated raw with maple and spices for a refreshing salad, roasted with orange zest and maple syrup, or shredded and baked into sweet cakes and bread. Though not widely used, the leaves of the plant are edible and have a flavor similar to curly parsley; use them to garnish carrot dishes, toss them into salads, or throw them into soup stock to add that earthy flavor.
HEALTH BENEFITS

Carrots are one of the highest contributors to vitamin A, antioxidants, and other nutrients. Evidence suggests that eating more antioxidant-rich fruits and vegetables, such as carrots, can help reduce the risks of cancer and cardiovascular disease. Carrots also provide ample amounts of vitamins C, D, E, and K, as well as many minerals such as magnesium, potassium, and calcium. Carrots are also highly nutritious and cleansing due to their high fiber content.

NUTRIENT BREAKDOWN OF CARROTS

*per 1 cup of raw carrots, 100g (source)

Fiber | 3.6 g (14% DV)
Protein | 1.2 g (2% DV)
Carbohydrates | 12.3 g (4% DV)
Vitamin C | 7.6 mg (13% DV)
Vitamin A | 21383 IU (428% DV)
Vitamin K | 16.9 mcg (21% DV)
Folate | 24.3 mg (6% DV)
Magnesium | 15.4 mg (4% DV)
Mangaenes | .2 mg (9% DV)
Potassium | 410 g (12 % DV)
Calcium | 42.2 mg (4 % DV) 
Iron | .4 mg (2% DV)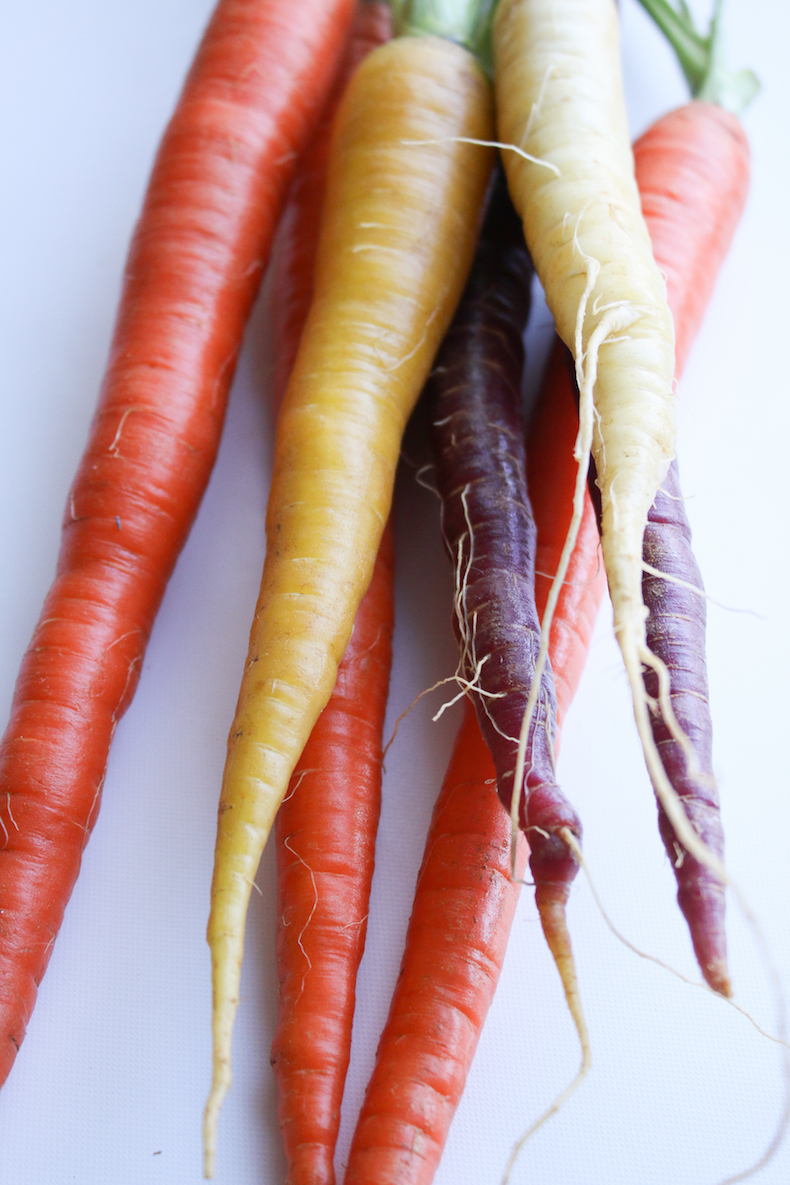 HOW TO BUY

When shopping for carrots you should always look for the same things: Look for carrots that are smooth, firm, and crisp and have a deep color, an indicator of flavor. Avoid any soft spots, discoloration, or sprouts from the root itself. If you're buying them with their tops, the greens should look, well, green and vibrant, not flimsy, wilted, and brown.

HOW TO STORE

If you don't have immediate plans for your carrots, Store them by removing all the leaves first; they'll draw moisture from the root, so store them separately in a perforated plastic bag in the vegetable crisper. Store the carrots in a perforated plastic bag, also in the crisper, and avoid storing them next to ethylene gas–releasing fruits like apples, apricots, melons, and figs. Carrots will stay crisp and sweet for weeks when stored properly.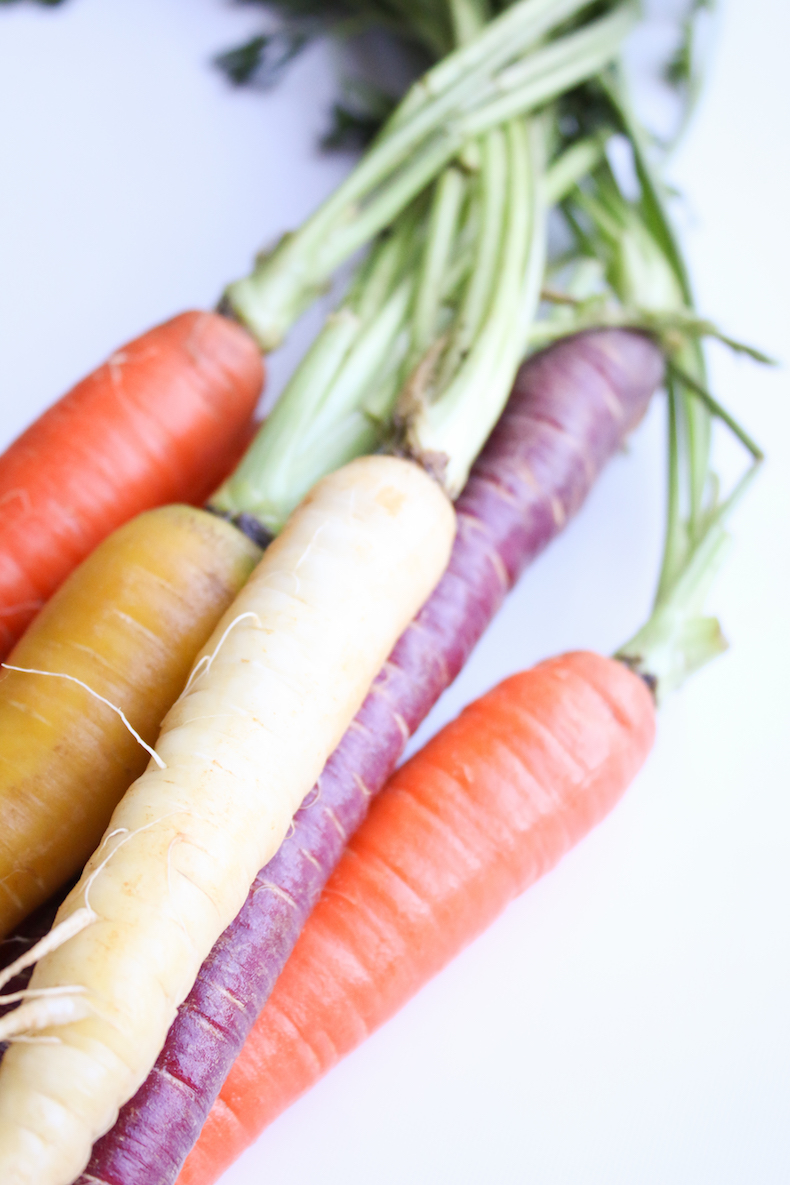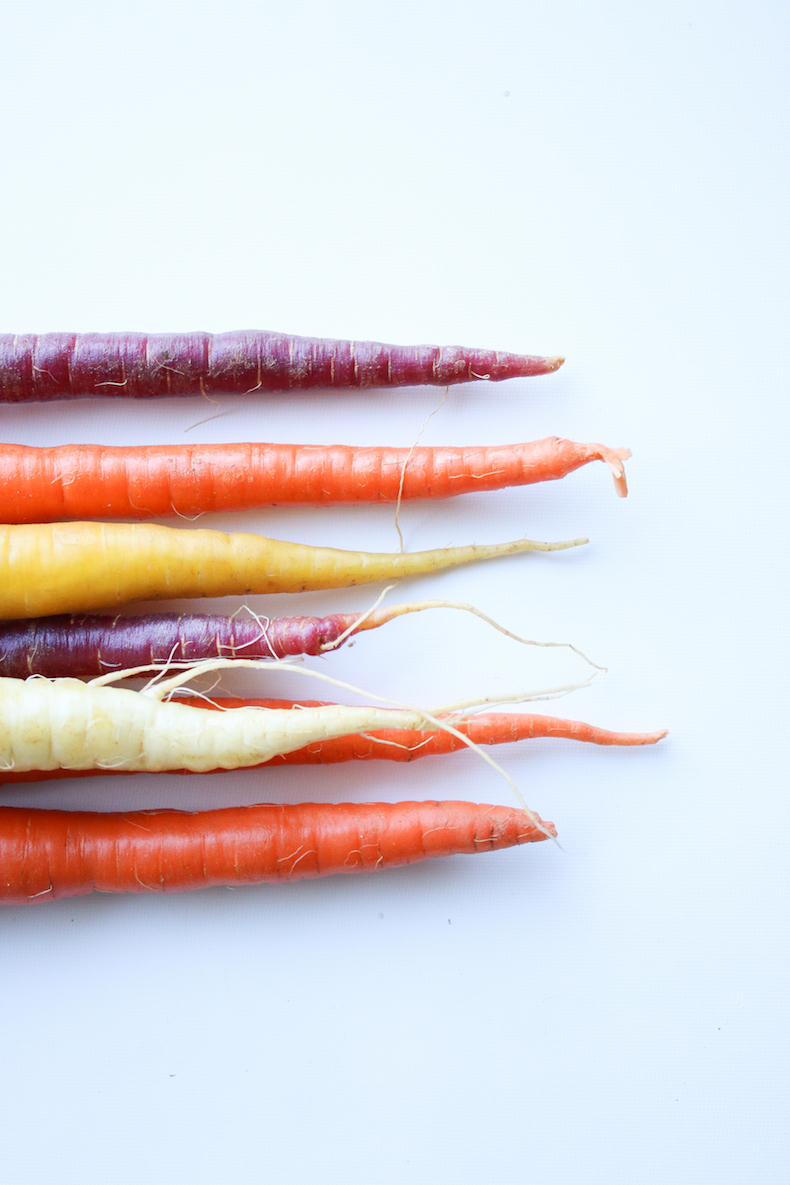 HOW TO PREPARE

Wash carrots thoroughly with cold water, using a vegetable brush or your fingertips to get any grit off the surface. Peeling is optional—we tend to do this only with older, thicker carrots. To prepare the stems, rinse them in cold water and spin or pat them dry with clean kitchen towels.

To freeze carrots simply peel and cut carrots into dice or slice. Blanch the carrots in boiling water for 1 to 2 minutes depending on how large the dice or slice is. Drain and submerge in ice water. Drain thoroughly. Spread out in a single layer on a sheet pan. Freeze the sheet pan. Once the carrots are frozen, transfer them to a large re-sealable bag and keep them frozen for up to 4 months.
CARROT RECIPES

Looking for more recipes that include carrots? Check out our favorites here!
WHAT'S YOUR FAV?
What ingredient do you guys want to learn more about? And if you have a favorite way to eat carrots, tag @livesimplynatural or #livesimplynatural so the LSN community can get inspired by your dish too :)
Hugs,