I'm so excited to share this recipe with you all. I'm a BIG fan of Italian food and a creamy raw vegan Alfredo sauce is a great and healthy way to enjoy it. It's traditionally a high-calorie dish but with this recipe, you will be left feeling full and satisfied without the heaviness in your belly. This combination of flavors makes a deliciously rich sauce that I know you will love.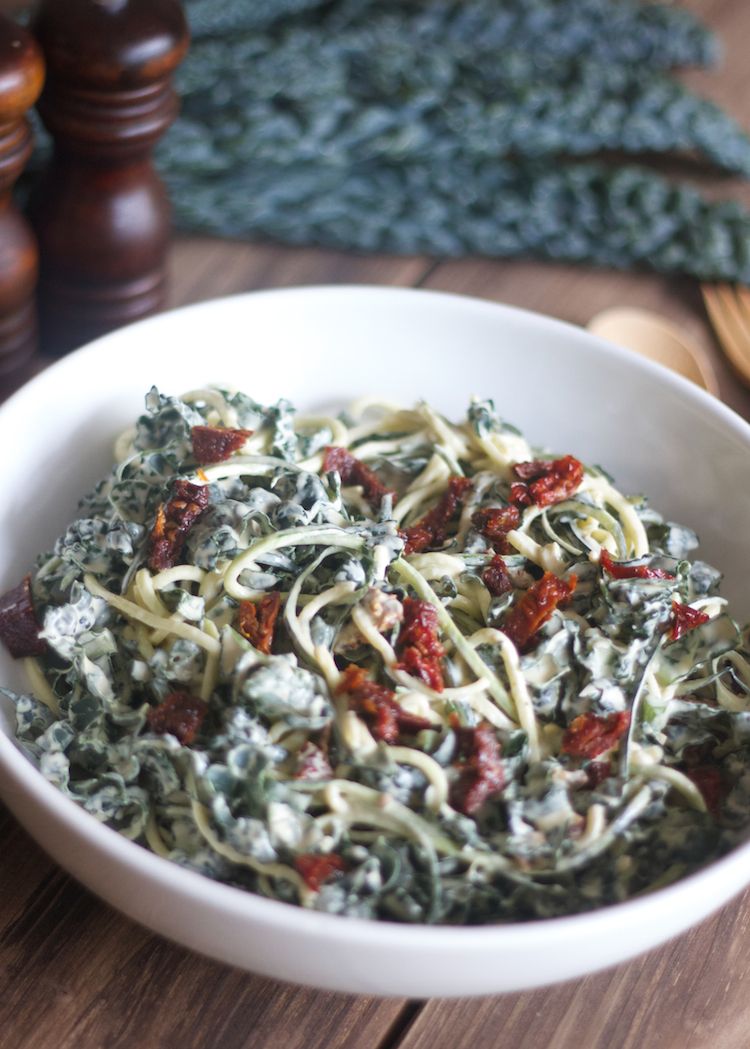 Raw Vegan Kale Alfredo with Sun-dried Tomatoes
Today I'm sharing with you how I get to enjoy the essence of Alfredo, minus the dairy and cheese. I started making this alfredo sauce when we were transitioning to a plant-based lifestyle. Then slowly added different ingredients to add to the flavor and health benefits. The lacinto kale makes the flavors come together even more since it's a long tradition in Italian cuisine and with the sun-dried tomatoes, it is simply, as the Italians would say, perfecto!
So what other ingredients give this recipe its rich flavor?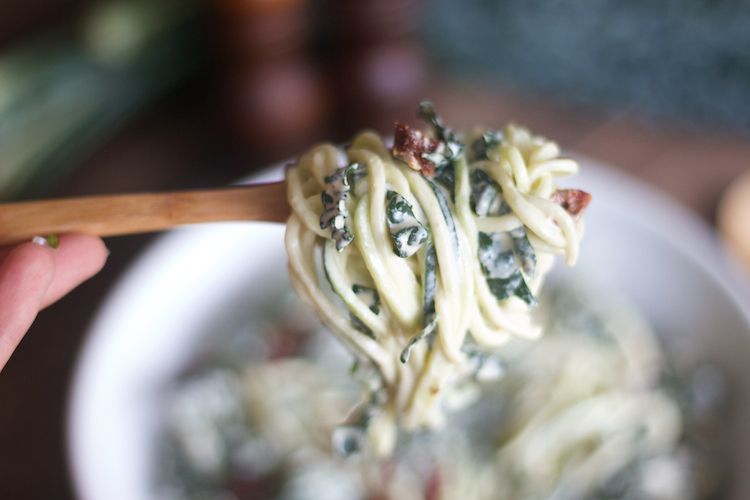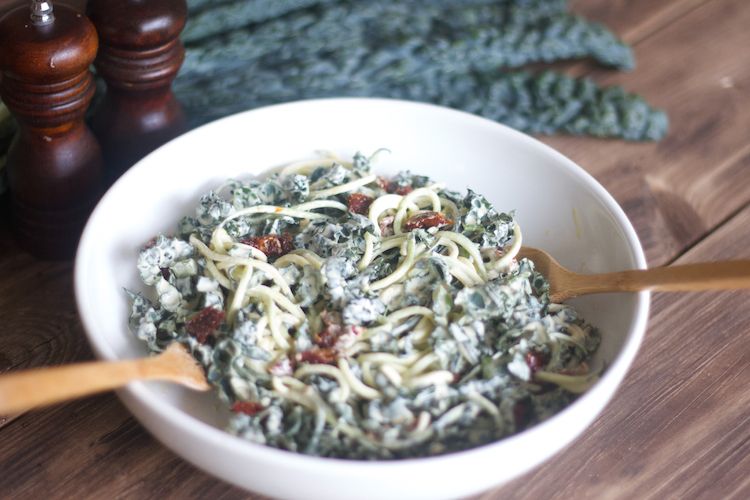 Cashews, of course, it's another key player in this recipe that adds to the creamy, buttery flavor. Also, don't forget the nutritional yeast which is what gives this recipe a cheesy flavor. It's our magical fairy dust that turns anything into a cheesy blend of goodness and it also gives a boost of protein and B vitamins. How awesome is that?!
I promise you will be surprised at how amazing this dish is. It's one that I'm most proud of and have received the thumbs up from my husband and kids :)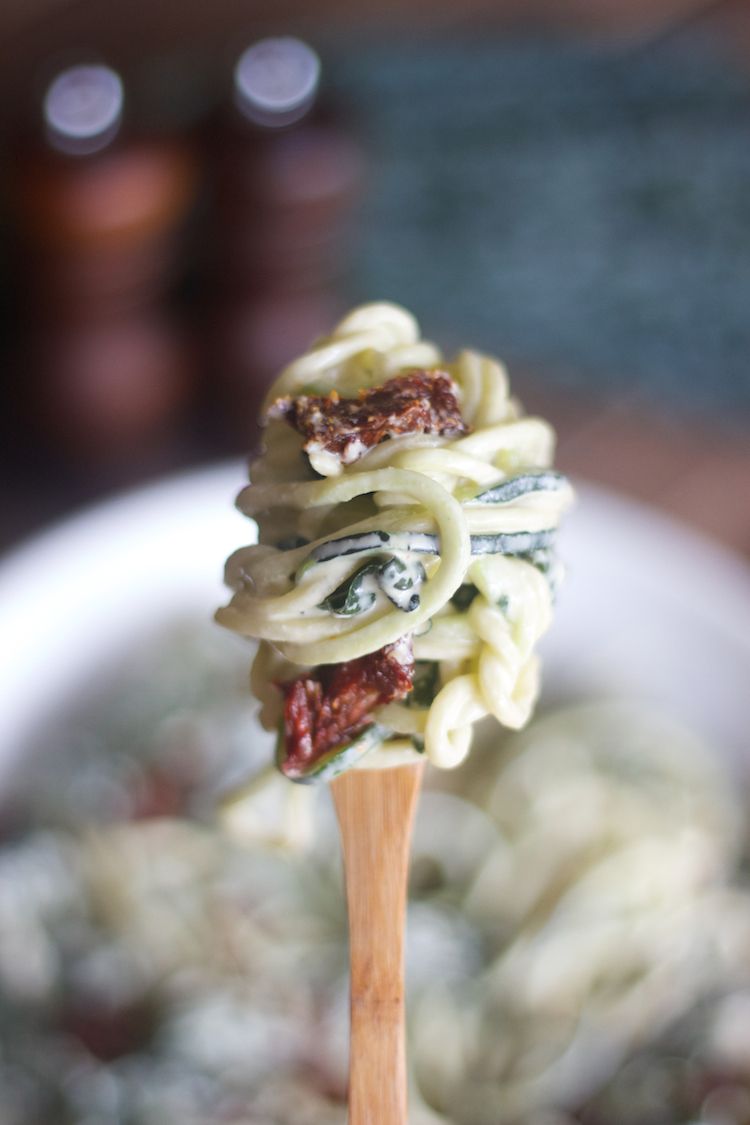 Why I love Cashews so much!
Cashews are high in proteins and essential minerals including copper, calcium, magnesium, iron, phosphorus, potassium, and zinc.
They are a good source of healthy dietary fats, which are essential for our body to absorb the fat-soluble vitamins A, D, E, and K and produce fatty acids that are vital for the development of the brain and blood clotting. The magnesium in cashews helps in maintaining a healthy blood pressure level, sustaining the immune system, maintaining nerve function as well as keeping the bones strong.
Cashews are a good source of iron which is vital for carrying out oxygen to the body and aids in the functioning of enzymes and the immune system.
Products I used in this recipe…
Disclaimer: This post includes affiliate links, and I will earn a commission if you purchase through these links. Please note that I've linked to these products purely because I recommend them and they are from companies I trust. There is no additional cost to you.
Print
Raw Kale Alfredo with Sun-Dried Tomatoes
2

zucchini

1

small bunch lacinto kale

1 cup

sun-dried tomatoes (chopped)

1 cup

cashews

2 tablespoons

nutritional yeast

2 tablespoons

olive oil

2

garlic cloves

1 cup

of water

1 teaspoon

Himalayan sea salt
Instructions
Cut off the ends of the zucchini and make noodles using a vegetable spiralizer or use a simple vegetable peeler to slice very thin thick fettucini-style noodles.
In a small blender, combine cashews, water, NY, olive oil, garlic, water, and salt. Blend until smooth and creamy.
Slice lacinto kale into thin noodle-like strips and combine with zucchini noodles.
Pour raw Alfredo sauce on top and toss in sun-dried tomatoes.
Mix well and serve at room temperature. Enjoy!
Notes
I like to throw the scraps of the zucchini from the spiralizer into the alfredo sauce that way we aren't wasting anything.
Nutrition
Serving Size:

2

Calories:

659

Sugar:

19g

Sodium:

1284mg

Fat:

48g

Saturated Fat:

9g

Unsaturated Fat:

36g

Carbohydrates:

49g

Fiber:

11g

Protein:

22g
You may also enjoy these similar recipes:
Raw Vegan Rainbow Pad Thai Salad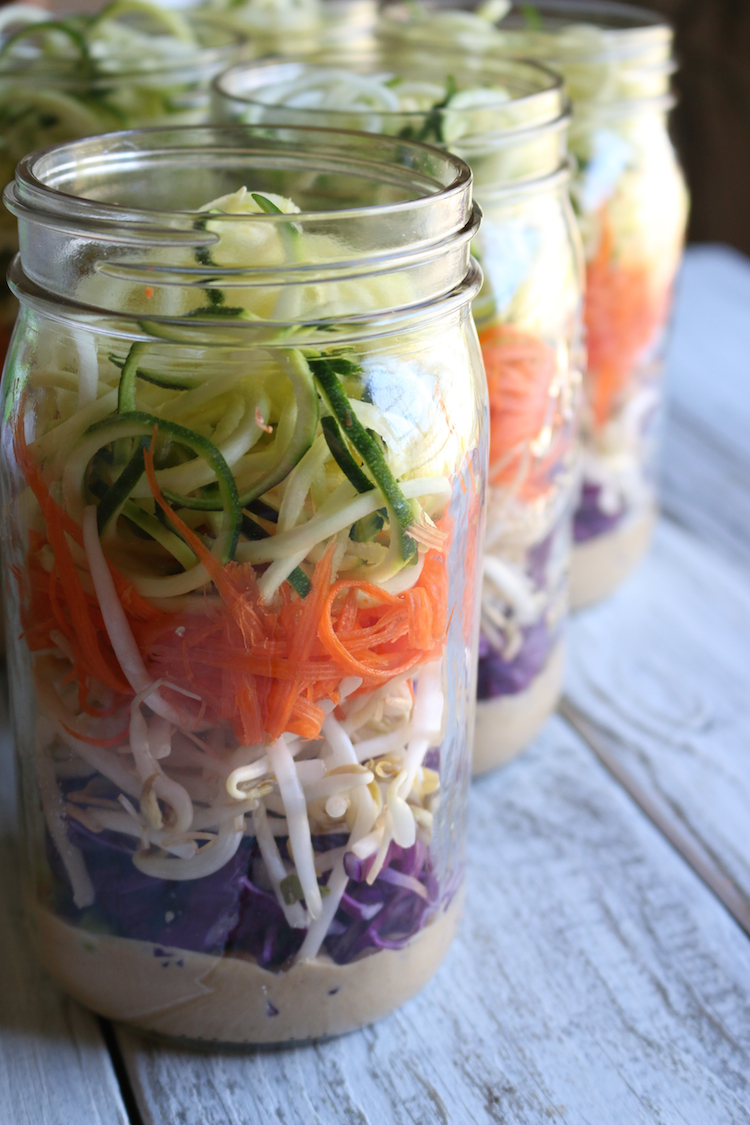 Raw Vegan No-Bake Spaghetti Sauce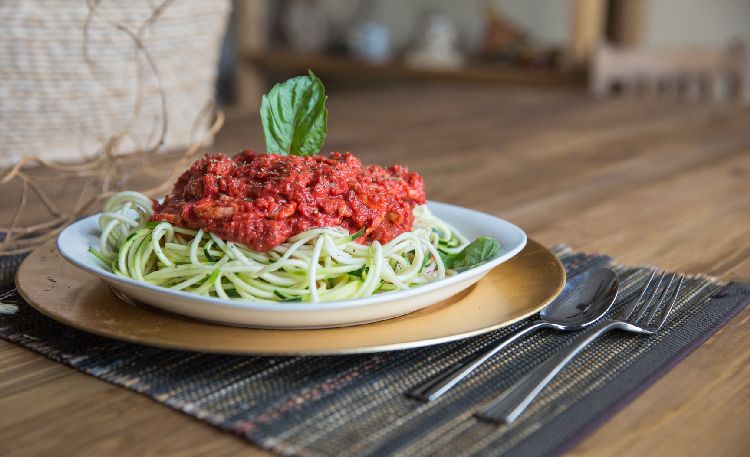 Let's Chat!
I hope you give this recipe a try and if you do, rate it, take a picture and tag me on Instagram @LiveSimplyNatural or pin it for later on Pinterest. I love seeing what you guys are cooking up in the kitchen. Stay tuned for more simple vegan recipes!
Hugs,