When starting your health journey one of the things you will often hear about is the healing benefits of wheatgrass. What you'll soon learn is that the taste isn't all it's cracked up to be. There are many that say it tastes good but let's be honest here, it's an acquired taste, that I haven't yet gotten used to. This wheatgrass lemon tonic recipe is to help make it taste better while still giving you the amazing health benefits that got you interested in it in the first place.
Wheatgrass Lemon Tonic
Even though I'd rather drink a tall glass of green juice, this small shot of wheatgrass makes a BIG difference in how my body feels. I feel so vibrant and full of energy! It's enough to keep me coming back for more. Here are some of the benefits.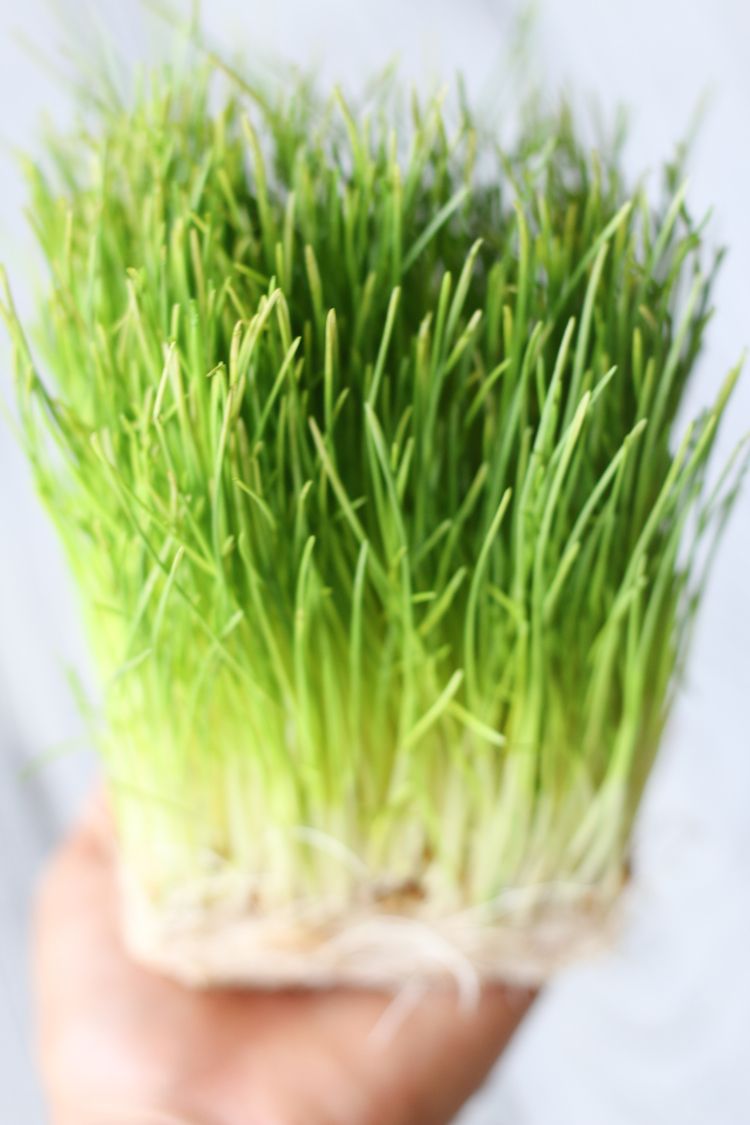 Benefits Of Wheatgrass Juice
Wheatgrass juice is nature's most powerful healing elixir. Some say that a shot of this green goodness is equivalent to 5 pounds of the best organic vegetables. I'm not sure if that's really true but it sure feels pretty close.
Wheatgrass is full of vitamins, minerals, antioxidants, enzymes, and phytonutrients. Wheatgrass is also a powerful detoxifier, especially of the liver and blood. I recommend adding this wheatgrass lemon tonic to your spring or summer cleanse. I do one every year when my body craves a reboot.
Wheatgrass contains 98 of 102 earth elements found in soil, which I think is so cool! This includes phosphorus, calcium, iron, magnesium, and potassium as well as essential enzymes and 19 amino acids. It also bears more vitamins A and C than oranges and carrots and is rich in vitamins E, K, and B. Wheatgrass is also a complete source of protein, supplying all of the essential amino acids, and about 20% of total calories coming from the protein.
One of the main benefits is… Chlorophyll. This gives it its dark leafy color and is what makes wheatgrass so powerful. Chlorophyll reverses aging, suppresses hunger, cleanses the blood, combats odor, and prevents cancer. Wheatgrass is 70% chlorophyll, making it a concentrated carrier of the sun's life force energy.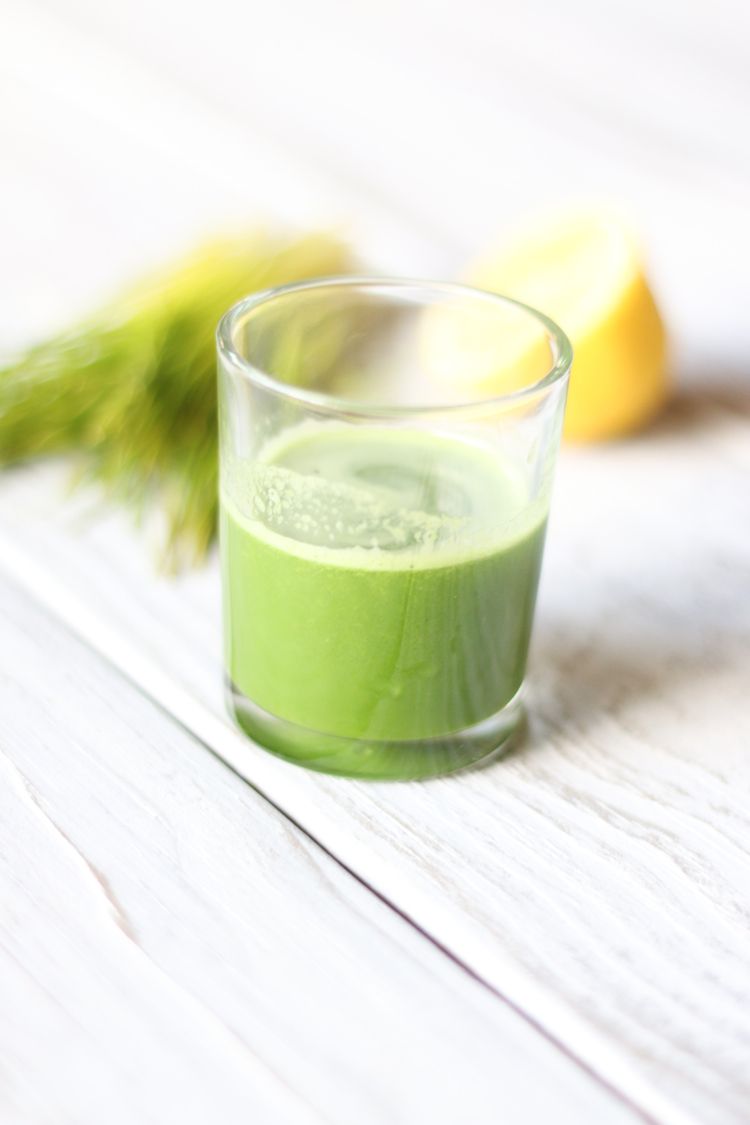 Benefits Include.
weight loss
reduced food cravings
improved immunity
improved digestion
minimized body odor
prevent tooth decay
cleanse the liver
minimize acne
fight infections
increase fertility
and so much more!
If you haven't jumped on the wheatgrass train, it's still not too late. Start with this recipe if you are struggling to add it to your routine and soon you will be well on your way to gaining all the powerful health benefits wheatgrass has to offer.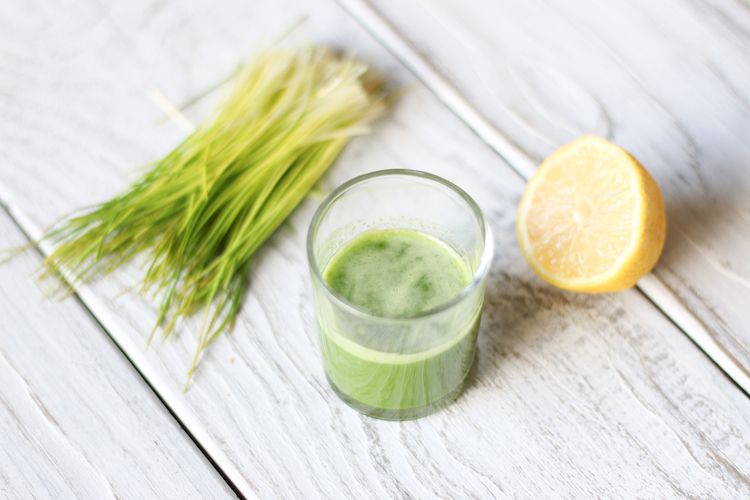 How To Buy Wheatgrass
Wheatgrass comes in many forms. You can buy frozen, powdered, or straight-up grass from supermarkets. I always recommend buying it fresh. When the wheatgrass is frozen or powdered you inevitably lose some of the nutrients. Which is really the main reason we drink these miracle greens. For the serious health enthusiast, which I haven't gotten to that level, you can even grow it in your own home.
But if you are just buying wheatgrass, make sure it is organic and grown outdoors. Organic wheatgrass will be free from chemicals, fertilizers, and pesticides.
For those that don't have access to fresh wheatgrass, wheatgrass powders still offer a lot of benefits. Here are some of the best ones I found.

How To Juice Wheatgrass
If you're growing your own wheatgrass and it's ready to harvest (usually 4-6 inches in height), cut them with sharp scissors above the roots. I recommend cutting the plant just before juicing. The fresher, the better!
When incorporating wheatgrass juice into your diet, start with 1 ounce per day and slowly graduate to 2 ounces per day. You don't need more. Many recommend getting a special wheatgrass juicer. I use my masticating Omega juicer and it works great.
If you don't have a juicer, you can still gain benefits by using a high-speed blender. Simply place the greens with a little water and blend them for at least one minute. I like to throw in a couple of ice cubes so that it does get too warm from the blender. Then strain it using a fine cloth or filter.
Print
Wheatgrass Lemon Tonic
Author:
Prep Time:

5 mins

Cook Time:

5 mins

Total Time:

10 mins

Category:

juice
1

handful or fresh wheatgrass

1/2

lemon (juice)
or

1

recommended serving of wheatgrass powder

1/2

lemon (juice)

1 cup

water
Instructions
To make your own wheatgrass juice, get a handful of fresh wheat grass and put it through a wheatgrass juicer or masticating juicer. Do not use a regular juicer, as the wheat grass could clog up the juicer and break it. If you use a blender, make sure to add water and strain the puree through a sieve or strainer.
To make a wheat grass powder shot. Simply pour approximately 1 cup of water into the blender and add the recommended daily amount of wheatgrass powder. Blend until the wheatgrass powder is uniformly mixed into the water. Squeeze half of a lemon. Pour in a glass and enjoy!
Notes
Optional: Add 4-5 grapes if you still are having problems drink.
How To Store Wheatgrass
When purchasing fresh wheatgrass you want to make sure that you store it properly. Be sure to clean and pat off dirt and soil and brush with a soft clean cloth. Place the grass in airtight containers or re-sealable plastic bags and place it in the refrigerator. This can be kept for seven days. Take out the required quantity, juice it and consume it immediately.
How to Preserve Wheatgrass juice
Not everyone has the time to make fresh wheatgrass juice every day. Me, I don't like the idea of so much effort going into one small shot.  So I like to make it all at one time and preserve it. This is pretty tricky since the wheatgrass juice loses its potency very quickly.
So, I recommend after making a big batch, freeze it right away by pouring it into ice trays. Place the trays in re-sealable plastic bags and place them in the freezer. The valuable nutrients get preserved and less oxygen penetrates the juice. After freezing it for about four hours, you can use the cubes easily by taking out a couple of cubes and placing them in a small cup to defrost, 2 cubes are sufficient for a serving size.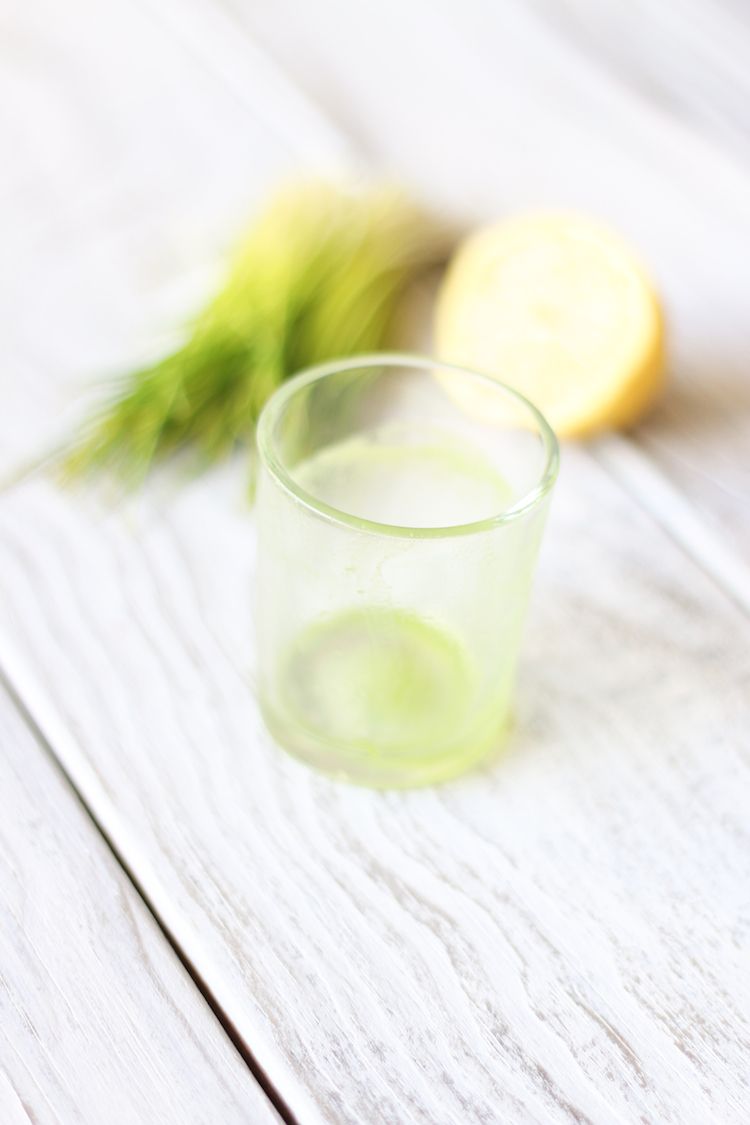 It has been a struggle for me to add this to my regular routine. It wasn't until I read on a forum that adding lemon was a great alternative to overcoming the foul taste and smell. Now I am able to drink this like normal (without the gag reflex). I usually buy fresh wheatgrass in cycles but always have powdered wheatgrass in my fridge. I also like to add it to my green smoothies some days but taking it on its own is always great.
I hope this post is helpful in getting you to down those wheatgrass shots. Hopefully, you will give it a try and if you do please tag me on Instagram @LiveSimplyNatural or, maybe you are not ready to try wheatgrass just yet, well pin it on Pinterest for later. I love seeing what you all are doing to stay healthy :)
Hugs,