My husband was the first to name this soup, and before I could think of a more proper name, this one just seemed to fit. The name represents this recipe well. I usually just throw in whatever I have left in my fridge before my weekly shopping spree (produce of course). My kids love it and request it more often then I can make it.
Before we go shopping we use to just juice all our leftover produce but after a couple juicing disaster, throwing in all in a big pot of soup was just more palatable. Plus who doesn't love fresh lentils!
We all get a bit busy at times, having this soup handy really helps with my daily to-dos. Why, because I make a butt load. Leftovers make my life easier. And who doesn't love things easy!? So since I know you can agree with me on this one, you will find this recipe to come in handy. Our everything but the kitchen sink lentil soup can be tweaked and modified to your liking. It's rare that I make it the same each time. I really just throw in whatever I have, sometimes the ingredients are a bit odd but it still comes out perfect.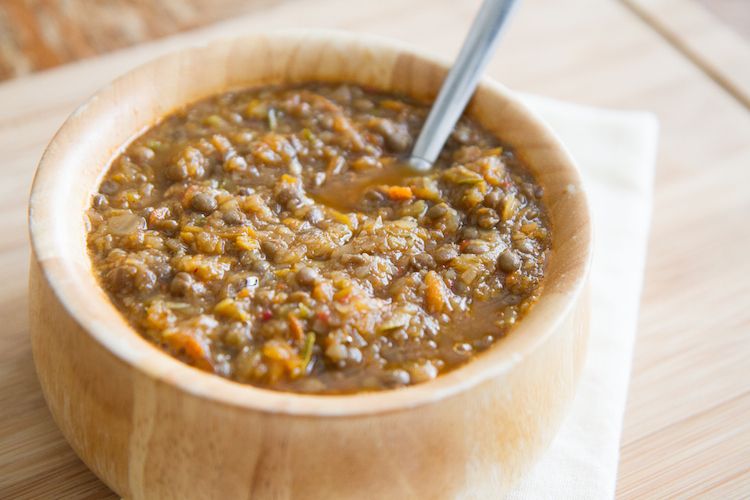 You can also throw all the ingredient in a slow cook if you have one. I usually just use my pot since I'm at home during the day but if you are a big fan of slow cookers, this recipe works well with those. Just throw all you ingredients into your slow cooker before you leave for the day, or before you go to sleep, set it on low temperature and by the time you get home/ wake up it will be ready and waiting for you to take a bite. I've utilized this a few times and I must say that it makes meal prep much easier.
[yumprint-recipe id='22']
Health Benefits
Lentils contain one of the highest amounts of protein from any plant source. The amount of protein found in lentils is up to 35%, which is comparable to red meat, poultry, fish, and dairy products making it a great source for vegan & vegetarians alike. They are also a great source for dietary fiber which helps to reduce the risk of diabetes. Other nutritious components found are magnesium, which helps in relaxing cardiovascular muscles and lowering blood pressure. Lentils are a good source of many vitamins, including vitamin B3, which plays a significant role in boosting the digestive and nervous systems. High in iron, phosphorous, copper, vitamin B1, and potassium. Lentils start fermenting after entering the digestive system and subsequently releases gases, too much lentil consumption should be avoided unless you don't mind being a bit gassy!